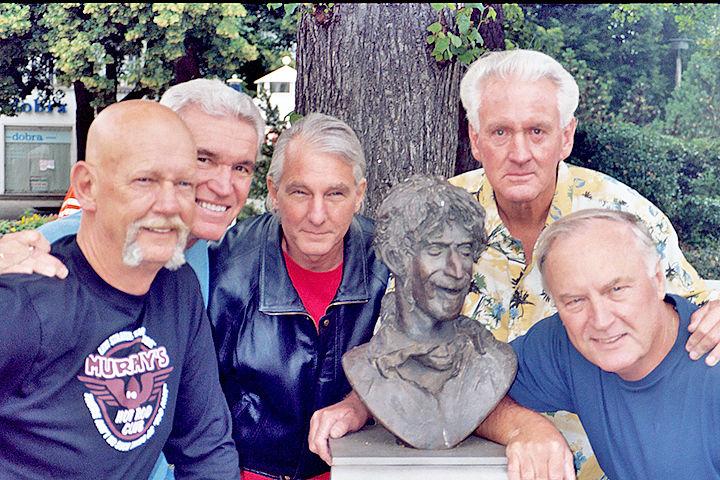 In 1944, a whirlwind was born to a musical family in Alabama, a young man by the name of Jesse Sanders. On June 7, 2020, he passed on from the little town he and the Sanders family have called home for more than 60 years, Redlands. He was 76.
Survived by his wife Rhonda, his daughter Shelley, son Jesse Jr. and a full house of grandchildren, his life at home was rich in love and family. Little would anyone know just looking at those bare facts about Sander's life that there was so much more vibrant history to him than anyone might assume at first glance. Sanders is one of the most important figures in rock 'n' roll history and to the history of this town. In 1960, Sanders hadn't yet graduated from Redlands High School, but he and his cousin Norm "Roly" Sanders had already picked up instruments together and were planning to start a band with their brother Gerald, who resisted playing an instrument at first.
" Jesse and Norm started playing together first back in 1959 or 1960," Gerald Sanders reminisced.
"When they became more able to play I tried singing with them. We learned a few tunes together and I was still not interested in playing bass. I just liked singing. Jesse was an excellent rhythm guitarist and Norm was learning to play lead. I didn't play bass for a couple more years."
That band once called the Vaqueros, along with friends Leonard Delanay on drums and George White on sax, became the original American surf legends, The Tornadoes. Delanay died in 2014.
The Tornadoes quickly released the album "Bustin' Surfboards" in 1962 and became one of the first surf bands to get an instrumental on the radio. The title track "Bustin' Surfboards" is a keystone of the genre to this day. To lock down that wave of tone which is basically the sound of surf music before spring reverb was invented, The Tornadoes invested a whopping $300 into an Echoplex tape delay. Where did they shop for all things musical in the Inland Empire? Leers, Cheney's, Sliger's and House of Note (Jesse Sander's brother Roly ran the location in Banning).
"Jesse wasn't one to write songs by himself, but he would always contribute in a group setting," Gerald Sanders said.
"Norm was the more talented songwriter although I wrote two or three tunes and contributed as a group member. I think our mom and dad inspired us musically. My mom and Jesse's mom had a band back in Alabama when they lived in Birmingham and she taught us the guitar and how to sing."
Being from a musical family the note selection and tone Jesse and The Tornadoes hummed with, much like surf music itself, isn't your standard 1960s pop music.
For example, the song "Malegueña" on "Bustin Surfboards" is the echo of the Russian folk song "Dark Eyes," made famous by Django Reinhardt's French version "Les Yeux Noirs."
Popularity eventually rolled back on Jesse Sanders and The Tornadoes so the band went back to their day jobs. Jesse Sanders worked and retired happily from UPS. Gerald Sanders became a marriage and family counselor. Roly Sanders is a professional pilot. Leonard Delaney was in construction. George White went back to surfing and moved to Paradise. However, the sound waves they cut just like a tide goes out before a massive wave, were bound to come back in.
In 1994, Quentin Tarantino brought the surf genre back to popular culture through his film "Pulp Fiction" and the song "Bustin' Surfboards" became an important part of a new generation of Surf Rock fans. The band went platinum more than 30 years after the band was founded and Joel Willenbring of The Lively Ones (also on the soundtrack) joined them in the wake of that success.
During this new wave of success, they still remained a staple part of events in the community. Jesse Sanders and The Tornadoes also traveled the world playing their 1960s rock, while he and some of the other members were in their 60s. This included a gig at the Zappanale Festival, in Bad Doberan, Germany. Why did they play that particular international festival? Because the young man who recorded a large portion of "Bustin' Surfboards" at Pal Recording Studios in Cucamonga, (now known as Rancho Cucamonga) was none other than Frank Zappa.
Discography Singles
"Bustin' Surfboards" (Norman Sanders, Leonard Delaney) / "Beyond the Surf" (Dave Aerni)[4] Aertaun Records (1962)
"The Gremmie Pt. 1" / "The Gremmie Pt. 2" Aertaun Records (1962) (Issued as The Hollywood Tornadoes)
 "Moon Dawg" / "The Inebriated Surfer" Aertaun Records (1963) (Issued as The Hollywood Tornadoes)
"Phantom Surfer" / "Shootin' Beavers" Aertaun Records (1963)
"Phantom Surfer" / "Lightnin'" Aertaun Records (1964) ("Lightnin'" is an instrumental version of "Shootin' Beavers")
"The Swag" / "Rawhide" Sundazed Records (2000) Albums
 "Bustin' Surfboards," Josie Records (1963); CD reissue: Sundazed Records (1993)
"Charge of the Tornadoes," (2006), 26 songs including a version of "Johnny B. Goode."