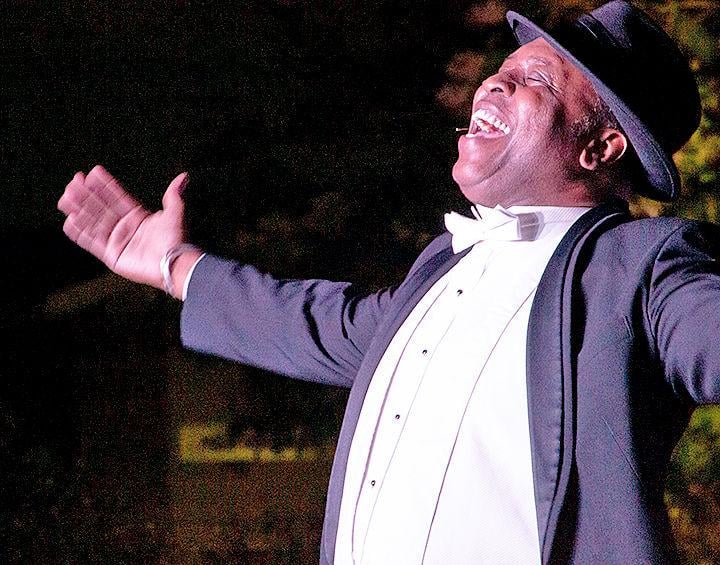 It was the first night of summer, softened by warm and gentle breezes that calmed the air while a masked crowd of audience members took their seats in front of a newly constructed stage at the north end of the parking lot outside Redlands Footlighters Theater.
The men and women had gathered for the privilege of being entertained by world-class theater performer and seasoned storyteller Stogie Kenyatta.
His one-man performance centered on "The World is My Home — The Life of Paul Robeson," black attorney, athlete, musician, activist and famous black man in American history.
The play outshone anything I had ever seen before, and was an exquisite blend of drama, talent, and genius.
"We have never had an event like this in the 75-year history of our Footlighters Theater," announced theater President Ali Rafter. The theater was forced to cancel shows. Rafter was seeking some way to present live theater to audiences while still observing social distancing, something that is not possible to attain indoors because the of the theater's size.
Father's Day Benefit performances were held on June 20 and 21, and Rafter announced that half of the proceeds would be given to Black Lives Matter, Los Angeles.
Kori Kamiyama commented on the evening, "I really appreciate the opportunity to enjoy a play like this outdoors. Many of us are thinking about the terrible racism we still have in this country."
Gina M. Jackson, of the San Diego Commission for Arts and Culture, said, "From the opening scene to the end of the production, Stogie Kenyatta fully embodied the spirit of legend Paul Robeson!
The award-winning one-man play clearly exemplified not only the life of Mr. Robeson but also the man — the black man — who lived each experience throughout the history of this country and world."
Stogie Kenyatta has toured his one-man show throughout North America and Central America, all the while capturing the essence of Robeson, whose life was filled with triumph and tragedy. Kenyatta portrays 14 characters as he leads the audience through Robeson's life from when he was 5 to 70 years old.
Even though Robeson was valedictorian from Rutger's University, he was tragically denied the opportunity to live on campus because he was black. He said, "Mankind isn't kind to men like me. My skin is my sin."
Rafter proved herself to be the master of improv for having brought this incredible story to the theatergoers of Redlands.