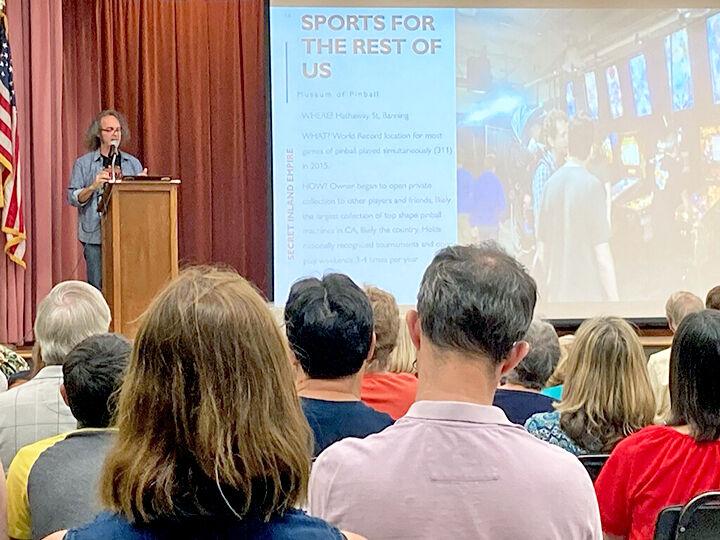 Author Larry Burns of Riverside has spent close to 18 months looking for the weird, wonderful and obscure in the Inland Empire. Ninety such locations were mentioned in his 2019 book, "Inland Empire -A Guide to the Weird, Wonderful and Obscure." Redlands was mentioned seven times.
A book tour was set to begin just as the pandemic hit in March 2020 and all the planned events were either canceled or turned virtual. In August, A.K. Smiley Public Library had invited Burns to talk about his book at what turned out to be his first public event in 18 months. About 125 people showed up.
"It was a very good event. I actually didn't bring enough books," Burns mused. "I had a lot of good conversations."
Burn explained his reasons for writing the book.
"I wanted to change the narrative about the Inland Empire," he said."So many stories were negative or not complementary. So, I wanted to tell stories that really showed us as the prominent, as the star, as the driver of change and innovation."
He found the special places in Redlands via personal contacts and by following Garner Holt Productions, which is also mentioned in the book.
"It's a good example of quiet places that have changed the world," he said of Garner Holt Productions, the largest manufacturer of animatronics in the world. "It really demonstrates the quality of the people in this region. The talent that he needs likes living out here, in Redlands, in the mountains and the deserts," Burns said of the company being located here.  
"One of the things that interested me was additional history of citrus in this region, so Redlands has a lot of good citrus history," he said. "A lot of the early wealth of African Americans was through citrus. The few that were able to prosper were landowners.
A couple of places are mentioned in adjacent Mentone as well. The quirky origin story of Mentone Beach and the first hydroelectric plant ever built in North America in 1893 are both described.
A few candidates from Redlands didn't make it into the book though, either because similar places were already mentioned, or they were not a proper fit. Taylor's Bar and Grill almost made it.
"They've got a neat little history there from the prohibition era. And it's the oldest tavern in San Bernardino County," Burn said.
Also, The Gay '90s pizza pub was up in the air because of its background of having inspired the creators of the hit 1980s TV show "Cheers."
"It's those hidden places where you think it's going to be a hole in the wall, and it turns out to be a real treasure," he said of Redlands Vinyl Records. "The people working there have all this knowledge and tools and equipment."
The store is mixed-use that not only has vinyl records, CDs and DVDs, but also a large selection of 16mm and 35mm films stored alongside gold records on display and vintage posters.
Currently, Burns works on an art project on homelessness as part of the 52 Project at Riverside Art Museum.
The seven wonderful Redlands locations
The Lincoln Memorial Shrine.
Kimberly Crest House & Gardens
The gnome homes on Normandie Court.
Garner Holt Productions.
Redlands Vinyl Records.
The historic Redlands Post Office on Brookside Avenue
The historic orange groves established by Israel Beal
About Larry Burns
Larry Burns is a local author and artist from Riverside. He teaches English at Riverside City College and Humanities at Southern New Hampshire University.
Website: larryburns.net
Social media: facebook.com/larrymarkburns and look up @larrymarkburns on Instagram.
About the book
The book is part of a "Secret" book series that Reedy Press publishes by working with local authors to write about their part of the country.
'Secret Inland Empire – A Guide to the Weird, Wonderful, and Obscure' by Larry Burns, published 2019, Reedy Press, 208 pages. Available on Amazon.
The Reedy Press also publishes a similar book series called "100 Things," which Larry Burns wrote a Riverside version of in 2017. "100 Things to Do in Riverside, Ca Before You Die" by Larry Burns, published 2017, Reedy Press, 141 pages. Also available on Amazon.