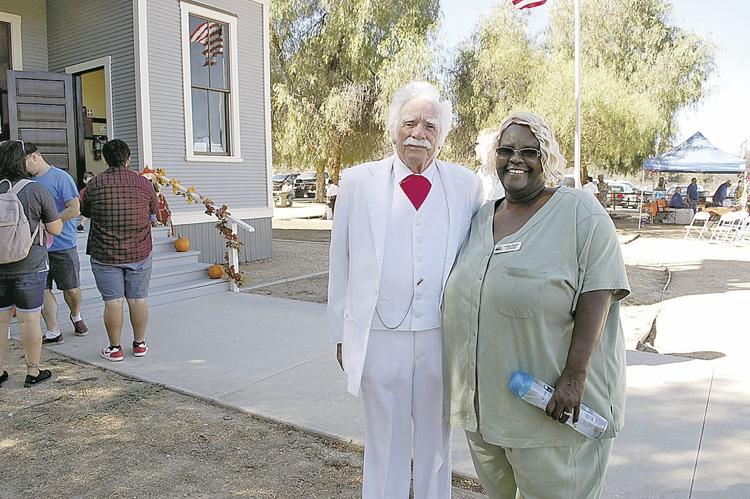 Jerry Cody took a moment to address visitors at the San Timoteo Canyon Schoolhouse last Saturday.
He had just received a memento — a framed picture of himself seated at the teacher's desk inside the one-room schoolhouse — from San Gorgonio Pass Historical Society President Sean Balingit.
Cody credited former Redlands mayor Bill Cunningham for helping his schoolhouse restoration committee move forward on renovating the building, which reopened in 2011.
Reflecting on the time when Cody's late wife Lee felt that he had been playing too much golf in retirement, and suggested he take a walk past Casco Lake and check up on activity taking place at the old schoolhouse.
He happened to come across a group of workers fixing a rotted porch, and a movement to rally the schoolhouse renovations was born.
The past fast-forwarded and caught up to visitors at the San Timoteo Canyon Schoolhouse last weekend as a couple hundred people stopped by the historic one-room building to celebrate the San Gorgonio Pass Historical Society's 30th anniversary.
The Gilman Ranch Hands displayed their reproduction stagecoach, the maypole was set up for folks to wind up; the Inland Empire band Inside Straight performed country oldies, and Special Attraction, a barbershop quartet from Sun Lakes Country Club in Banning, performed throughout the morning.
Visitors who had not seen the schoolhouse since it was renovated dropped by to see what had changed.
Long gone is the grove of pepper trees that lined the property.
Casco Lake, which is close by, has dried up.
The one-room schoolhouse, which was originally red, is now sky blue.
And, presumably, there are no longer bats flapping around in the belfry.
Samuel Clemmens amused himself — and those paying attention — by introducing himself, as Mark Twain.
Twain, played by Dick Meinhold of Catch A Star Theatricals, then fired off well-known quips from the famous author, bringing the spirit of Twain's writings alive.
The Beaumont Kiwanis Club gave away sno cones and cotton candy.
Riverside Parks and Recreation Department, which owns the San Timoteo Canyon Schoolhouse, provided pumpkins and clay pumpkin pendants for guests to paint.
Visitors sat at old wooden desks — the kind that the seats are attached to them —and practiced writing penmanship. In long hand.
Redlands resident Anthony Pierrucci, a curator with the Riverside County Park and Open Space District, was given a token $100 donation to the county for hosting the event.
Thanks to Cunningham's assistance, Cody is excited that the schoolhouse remains a venue where people have a "lot of good times, and will be sure to have many more."
Kevin Hughes of Anza, a member of the schoolhouse committee that fundraised for the renovation efforts, was excited to be at the event, and see Cody receive accolades.
The San Timoteo Canyon Schoolhouse was built in 1882 and closed as a weekday school in 1936, though it continued to offer Sunday school services until 1987.
Riverside County Parks and Recreation invested at least $1.5 million to renovate the facility.
Staff Writer David James Heiss is a board member of the San Gorgonio Pass Historical Society.