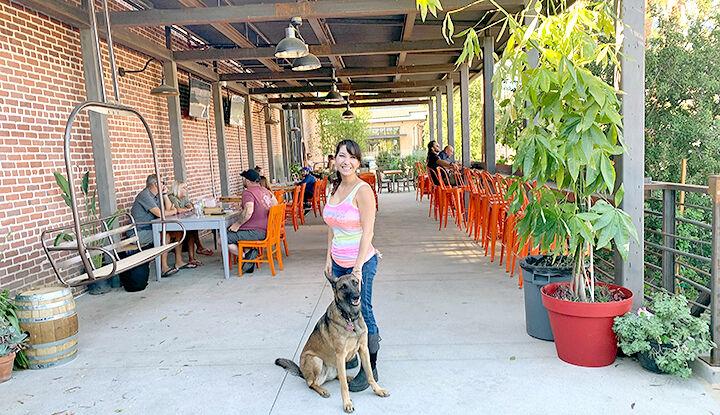 "Escape to your happy place!" touts Escape Craft Brewery's website. And now you can do just that in their lush, relaxed atmosphere in downtown Redlands at the former location of Rondor Auto Repair. Their soft opening night was Monday, April 26 with an official opening following on May 4.
The new production equipment is visible both from the restaurant and the street. "It's all custom built," owner Melissa Fisher explained, she owns Escape with her husband, Josh. "We went from a tricycle to a Harley. It's so much better, more efficient, more effective, with so much more control," she added.
Eight fermenters brew their beer, five days a week.
The new location is designed in orange and teal colors
"I like how it looks because it makes you happy and excited. It's kind of tropical to me," Fisher said. The lush green landscape around the building is why they call it the Oasis. "Escape and Oasis just works."
When you arrive, you will first notice the tables lining the spacious patio, but it's not just any tables. The tabletops are made of parts from the original bowling lanes at Empire Bowl in Redlands.
These are their 1955 original bowling alleys. They were replacing their lanes a couple of years ago and when they pulled up their old ones, she said. "They found the original ones and were giving them away."
The lane parts were in their warehouse since then and now a piece of Redlands history can be found on the new patio.
There are historic treasures found throughout the building. Two retired ski lifts from Snow Valley hang on the front patio. Chairs and trash cans are from a university in L.
"We made all the tables from cypress trees from Redlands. A tree fell and the owner donated some pieces," Fisher said. She epoxied the wood.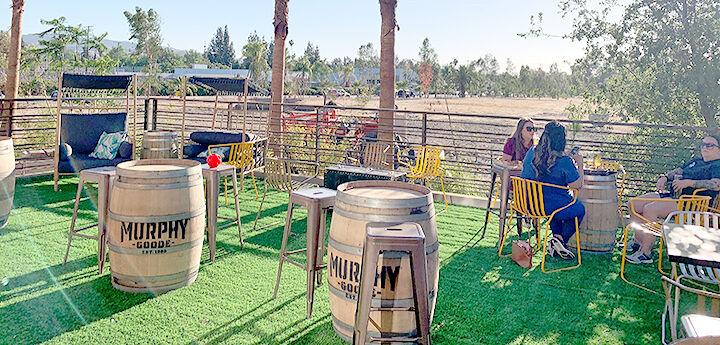 The back patio to the west is turned toward an area that will become a public park promising spectacular views. There is room for 250 patrons inside and 150 on both patios outside, though currently they keep the numbers below 200 because of pandemic restrictions. Garage doors can open for added airflow at both ends of the building.
About eight years ago, even before Escape had opened its first location, Fisher went and talked to the previous owner at Rondor Auto Repair.
"He had been here since 1981. It's so cool talking to people because they all remember bringing their cars here, he was a great mechanic," she said.
As a homage to the former owners, a couple of car hoods hang on the wall by the bar. Rondor wasn't ready to retire at the time. The nickname of the building is a tribute to the owner and his wife, Ron and Dorothy.
Unbeknownst to the Fishers, Property One, owned in part by Jack and Laura Dangermond, had begun the process to acquire the location to restore it.
Three years ago, the Fishers heard back from the Dangermonds, who liked the idea of a brewery and restaurant and that the intention was to stay for a long time.
"There's no reason for us to ever leave here," she said. "It's a great spot."
Property One oversaw the restoration, while the Fishers had a say in the design. The Fishers toured of the archeological site during the restorations.
With Escape Oasis and J. Riley Distillery are opening on the site of Chinatown off Oriental Avenue, the discovery of several alcohol bottles on the property seemed fitting, she said,
"And then I feel cool because my grandparents were Chinese immigrants. I realized my grandfather owned a bar, too!"
Melissa Fisher's own history has come full circle at this location.
Their old brewhouse equipment is moving to their newly opened Laguna Nigel location, where it will make special beers just for that location. The original location on Nevada Street will stay as it is. It will be used for additional storage and special events.
They plan to bring in bands, dog adoption and craft classes to the Oasis as well as car shows hosted with neighbor J. Riley Distillery. The Oasis is kid and pet friendly with a game room in the back. There are pinball machines, board games, shuffleboard, corn hole, giant Jenga, giant Connect 4, and eventually Skee Ball lanes, too.
"We like it when people get to have an experience where it's not just alcohol," she said. There are a few TV screens tuned to sports channels inside and out.
Josh Johnson, a former chef of Lounge 22, is the chef at the Oasis. He was part of the design process when they built the kitchen and leads a team of nine.
"He loves fresh, local produce and cooking seasonally, which is important to us," Fisher said. The menu covers lunch and dinner. Weekend brunches will be added later.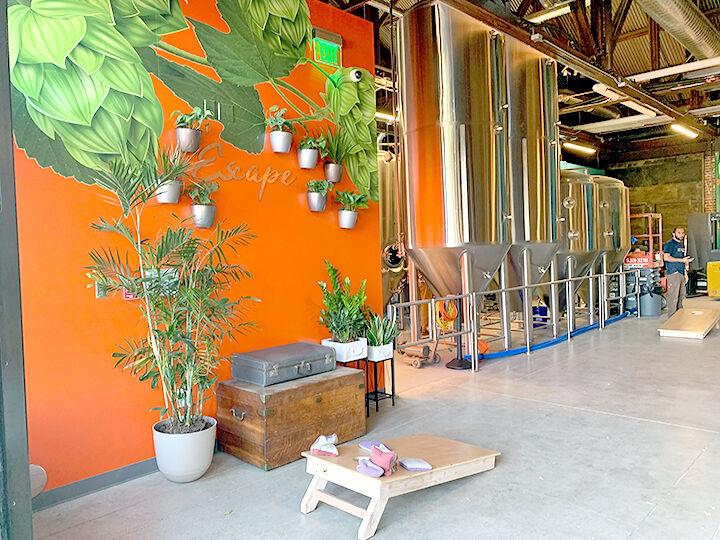 "The level of support and excitement has been crazy. Just to be able to welcome people that we've known at our other location and then the new people who have never been to our place, that's really cool," Fisher said.
The Oasis opening was supposed to be last year on their fifth anniversary in January 2020. After constructions delays and a global pandemic, a little over a year later they are finally here.
Escape Craft Brewery history
In 2008, Josh Fisher worked as a firefighter at San Bernardino City Fire Department and began his own home brewery with a kit in the garage. Melissa and Josh met at Redlands High School in 1995.
"All of our friends knew that if the garage door was open, the bar was open — mostly so we could get our friends to drink the beer fast enough, so he could make more beer," she said.
Their retirement plan was to open a brewery, but seven years later they jumped into it.
"The day we opened we had $300 left on our accounts. And it was like sink or swim, it's gonna happen. And it started off great. We had people show up and every day the beer has gotten better," she said.
Six years later, they have three locations, two in Redlands and one in Laguna Nigel.
Each has its own unique identity, profile and swag.
Escape Brewery Downtown Oasis
Address: 440 Oriental Ave, Redlands.
Hours: Noon to 9 p.m. with reservations, which will be expanded to 11 a.m. to 10 p.m. on weekends.
Prices: $5 to $7 for draft beer and hard seltzer. Wine and non-alcoholic drinks available too. Hard cider, hard kombucha and mimosa will be added soon.
Wine: Murphy Goode (California), Wycliff (California), La Perlina (Italy) and Famille Perrin (France).
Menu: Small bites for $8 to $10, salad $6, burger & fries $15, little Escapees (kids) $6, Escape from New York round pizza or Detroit pizza for $13 to $18. Vegan, vegetarian, gluten-free options available.
Pizza dough: Made from scratch every day using fresh local produce and quality ingredients. Pretzel appetizer and potato buns for the burgers: Made by Village Bread Bakery.
Social media: @escapecraftbrewery on Instagram and Facebook. @EscapeCraftBrew on Twitter.
For more information: Visit escapecraftbrewery.com or call (909) 713 3727.