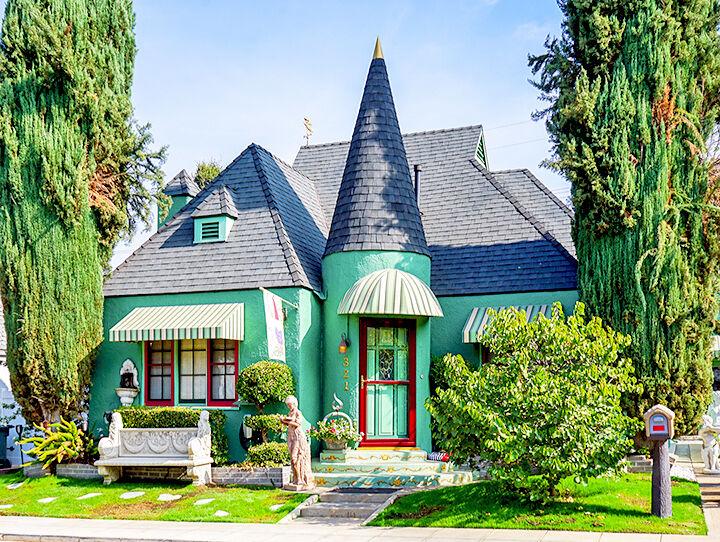 Munchkinland. That's what locals have dubbed the cul-de-sac of storybook-like cottages in Redlands' Fourth Historic District.
The narrow street of 13 petite French chateau-like single-family homes and two duplexes caught Danny Martinez's eye when he started shopping for a house.
"I knew I wanted a house here," Martinez said. "I even had my eye on this one," he said of the house he bought in 2000.
Martinez's house is among four featured on the Redlands YMCA's first "virtual" Holiday Home Tour, Dec. 5 and Dec. 6.
F.E. Carson and C.R. Hudson of Loma Linda built the homes as rental properties in 1926, according to San Bernardino County records.
There were four floor plans, offering between 800 and 1,200 square feet. Each came with a single-car garage, fully landscaped, and could be rented furnished or unfurnished. The homes remained rentals until 1949, when they began being sold individually.
The original tract included 16 single-family units on the cul-de-sac, but a 1970s fire has left one lot vacant. Three similarly designed cottages are on an adjoining street.
Martinez's house is one of three that have received Heritage Awards from the Redlands Area Historical Society.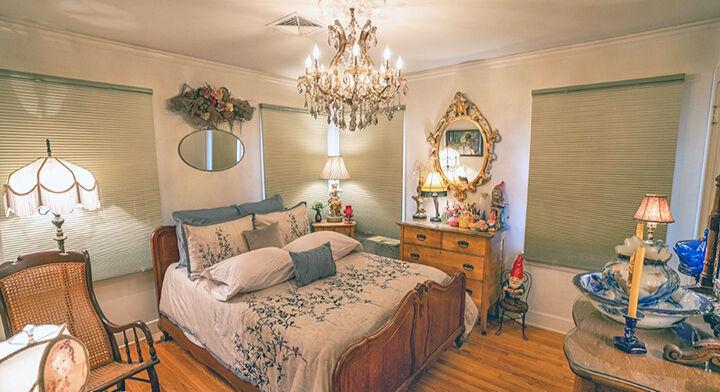 "Historical records indicate this house was the first to be occupied," Martinez said. "It was the flagship, or model, unit shown to prospective renters."
Like the other homes along the street, Martinez's house features typical French Normandy architectural details: a steeply pitched roof of varying heights; dormer; and divided pane windows. A tall, round tower with a metal cap houses the front entry.
Prior owners Michael and Suzanne Sneary restored much of the house. Martinez remodeled the kitchen, restored the original red oak floors, replicated the original redwood frame window screens, and restyled the awnings.
Martinez has carried the enchanting charm of the neighborhood inside. Whimsical decorative pieces — including a few gnomes and art, blend with the French-style crystal chandeliers and furnishings. The house is chock-full of interesting pieces.
Repeating that sense of whimsy outside is the broom riding witch weather vane on the roof and the Wicked Witch of the East and ruby slippers tucked under a step outside the front door.
Concrete garden benches and sculptures decorate Martinez's driveway. "The driveway is decorated because the garage is too small for today's cars," Martinez said.
53rd annual YMCA Home Tour
When: Saturday, Dec. 5, and Sunday, Dec. 6
Tickets for the virtual home tour: $20 in advance and $25 after Nov. 30. Tickets are on sale now at ymcahometour.org.
41st annual boutique: The Redlands Y's Holiday Boutique features more than 40 vendors offering curated handcrafted creations. This year, with many returning past participants, the boutique will showcase 40 plus vendors. A preview is available on Facebook @RedlandsHolidayBoutique. It will be held from 9 a.m. to 4 p.m. Saturday and Sunday in the Y gymnasium.
n The pantry: Will not be held this year.
Legal Aid Clinic: To donate to the YMCA's Legal Aid Clinic, the beneficiary of these events, visit ymcahometour.org or text HomeTour to 91999.
For more information: Visit ymcahometour.org or call the Redlands Y (909) 798-9622.
Sponsor of the Martinez home: Ally Financial.