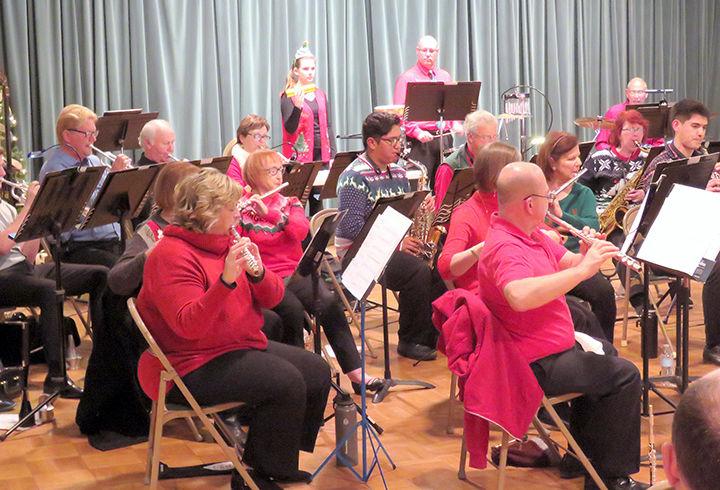 About 36 members of the Empire Wind Ensemble, conducted by Jessica Swanson, performed Christmas classics on Wednesday, Dec. 18, at the First Congregational Church in Redlands.
A large room in a building next to the church was filled to listen to songs of the season. The group consisted of brass, flutes, clarinets, percussion and woodwinds. Swanson animated with the audience, who received her humor with laughs and giggles.
At one point in the concert, Swanson declared a competition between the assistant conductor and herself.
In a tongue-and-cheek stand-off, she asked the audience to decide whose rendition of "A Christmas Carol" was better. One was a Brazilian style version, and the other was a Ukrainian-styled piece.
The audience applauded loudly for both renditions.
The group played a flavorful version of "Merry Little Christmas" with a jazzy flare. In the middle of the piece, there was a smooth flugelhorn solo by Mark Sczublewski that captivated the audience.
As the song "We Wish You a Merry Christmas Around the World" played, it was apparent that it was not the standard version. The tempo, time signatures and moods of the piece were constantly changing. The feel of the song went from bouncy, to melancholy, to a bombastic exchange between the brass instruments, then concluding with an upbeat crescendo finale.
When the ensemble played its last song "Christmas Festival," the lights in the room went out during "Silent Night."
Without skipping a beat, the audience started singing, while the ensemble continued playing softly.
Swanson joked that the audience should join the group, after hearing how beautifully they sang.
The wind ensemble concluded the night with an encore, "Sleigh Ride".
Swanson thanked everyone that attended the evening's concert and wished everyone a happy and safe holiday.
The inception of the group came out of a need to share classical music performed by advanced musicians in the area.
"I wanted to have a space where high quality music can be performed and enjoyed for free," said Swanson, the founder of the group. "I love being able to create and play music with people that are passionate as I am.
"We've been together for four years."
According to Swanson, the band has very little turnover.
"People enjoy playing in our ensemble."
The ensemble is an amalgam of players that are teachers, counselors, physicians, high school, college and university students and people who own companies.