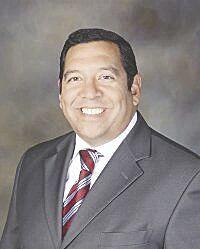 Redlands Board of Education Area 4 candidate Alex Vara wants to increase mental health services in the district.
Vara, 49, is the principal at Morgan Elementary School in Rialto. He has served on the Redlands school board since 2016.
"As a current school board member, I am involved with the needs of our community and take pride in the accomplishments that Redlands Unified has undertaken for all our stakeholders, students, parents and staff," said Vara.
Vara said maintaining safe learning environments for all students and staff is his top priority.
"I want to increase student support by hiring more nurses, social workers and counselors, which are needed to enhance mental health services and special education," said Vara. "I will work with all school board members to find additional revenue at all levels, especially statewide funding for public education, which is far behind most states in per-pupil funding."
Vara said continuing the district's push for innovative learning is also a priority.
"I will continue to improve and develop innovative spaces with cutting-edge technology to prepare students for the 21st century," said Vara. "I will advocate for lower class sizes and the elimination of combination classes. I will ask the tough questions and base all my decisions on the premise that I am elected by constituents and have been trusted to look out for the Redlands Unified's continued improvement."
Vara said the district is handling the pandemic as best it can.
"The pandemic hit the entire world by storm," he said. "As a school district, we have to navigate through many challenges and parameters. There is always room for improvement. My expectations are to continue to evolve and make necessary changes to adapt and meet the needs of our students, even if it means making changes midstream to address any shortfalls."
Vara said despite its challenges, distance learning is working.
"Teachers, administrators and support staff have been hit with a freight train," said Vara. "They have been forced to push the reset button with distance learning. My hat is off to all teachers who have learned new technology, new software and have done an excellent job of undertaking obstacles to meet the curricular needs of our students. Distance learning is working, and we are making a difference.
"During a typical school day, we would get to physically see our students and check in on them daily," Vara continued. "We know when they are happy, angry or sad. Distance learning adds another layer, which makes it more difficult to read those cues. I have asked for more staff development and support for our teachers to address the need for social-emotional learning."
Vara said the district needs to be compassionate with the struggles students face due to the lack of social interaction.
"We must do things differently to continue making a positive change in the lives of all our students," he said.
Vara said he learned many things in regards to race and racism over the past three months.
"Our students should be taught about race and ethnicity," he said. "As a principal, I strive to help teachers develop well-informed students. Adding classes on race and ethnic studies to Redlands' K-12 curriculum would bring more compassion and understanding. We need to produce scholars that will leave our campuses well informed on topics that will affect them throughout their lives. This topic has been swept under the rug too many times. It is time to shine a light on the underrepresented racial groups."
Vara said another one of his goals is to secure a stadium for Redlands East Valley High School.
"For the last four years, I have been promoting and asking that we build a stadium for REV," said Vara. "I have worked at a high school without a stadium. I quickly learned that the heart of a high school is its stadium. A stadium will help bond the community by supporting high school sports and band competitions. Redlands has funds that can only be used for construction. Let's use those available funds and move forward with a REV stadium."
Vara has received endorsements from the Redlands Teachers Association, Redlands Educational Support Professionals Association and San Bernardino County Democratic Party.
Alex Vara
Age: 49
Occupation: Principal at Morgan Elementary School in Rialto
Education: Bachelor's degree in political science and master's degree in education administration from California State University, San Bernardino.
Family: Married for 28 years to Yadira Vara, daughters Briana Vara, a CSUSB student, Julian Vara, a junior at Citrus Valley High and Emma Vara, eighth-grade student at Beattie Middle School.
Area 4: North of Lugonia Avenue and east of Orange and Church streets and the east side of Highland.
Editor's note: On the unofficial list of candidates released after the filing period closed, David Nesmony was listed as a candidate for Area 4. However, he tells us he is not a candidate and is not on the official final list.