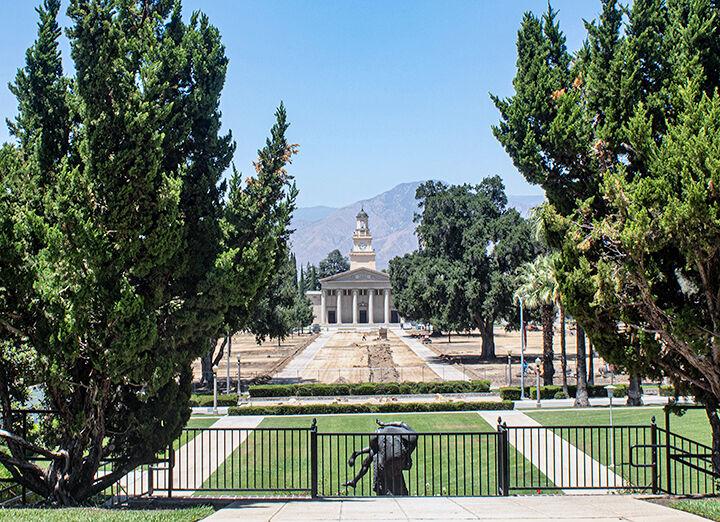 The University of Redlands Facilities Management Department has begun replacing lighting fixtures and its aging, inefficient irrigation system on its iconic quad between the Administration Building and Memorial Chapel.
A sign at the site says, "We are saving water" and "We are improving safety."
Since the water was turned off, the now-brown grass has been removed.
"The project has been in an active-planning status for the past 18 months, though it has been under consideration longer," said Roger Cellini, senior associate vice president, facilities management & real estate. "We hope to be near completion as we welcome students back to campus for the fall term."
Students arrive at the end of August.
"The quad is an iconic location on the University of Redlands campus where students study and socialize and the community gathers for events," he said. "In recent years had become obvious that the aging irrigation infrastructure has been losing the ability to properly water and maintain the quad."
The project will include an entirely new system that separates tree irrigation from turf irrigation, allowing for more precise and efficient watering of the Coastal Live Oak trees and grass.
It is part of an annual investment in major campus infrastructure upgrades, which also includes plans to replace a 500-ton chiller in the university's central plant, and resurfacing the track at Ted Runner Stadium.
The general contractor is KAR Construction, based in Ontario, and the landscape subcontractor is LSCO Inc., based in Rancho Cucamonga.
 "The project created an opportunity to replace the lighting system with new, architectural LED light fixtures which will increase security for students and the campus community while saving money, creating less waste and enhancing the beauty of the quad," Cellini said.