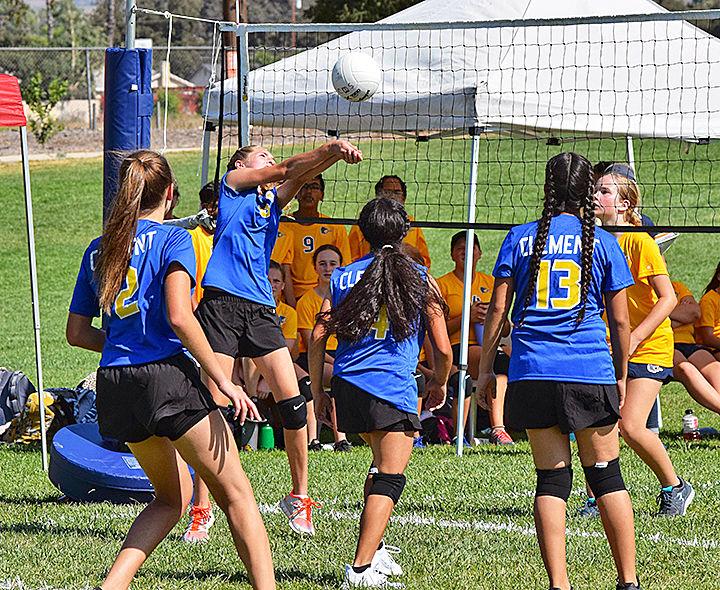 Cheers could be heard coming from Clement Middle School on Wednesday, Aug. 28.
The Redlands Student Connections league kicked off its winter quarter with girls and boys volleyball.
The sideline was filled with parents of both Cope and Clement athletes. Umbrellas, EZ-Ups and lawn chairs lined the grass. Kona Ice, a snow cone truck, was parked outside serving cold colorful refreshments to spectators.
The first game of the season was a family affair.
The Clement girls faced off against the Cope girls first. A group of Clement friends cheered on their classmates as the opening serve was made.
"You guys better win!"
With each impressive pass, dive or point scored, the parent sideline would erupt with cheers.
Who knew middle school volleyball could elicit such a reaction? These families mean business.
"I love that kids can start playing sports in middle school. For a long time they had to wait until high school to play for a school, so this is pretty cool," said one uncle of a Clement Viking.
The Clement girls went on a point run in the first set, and continued to be dominant in the second set to notch a 25-19 victory.
Clement girls coach Michelle Gansert said how she was proud of her team but they still need to work on cleaning up their play.
"I told them we made a lot of errors but we still played well. Since you have to switch sides of the field there is going to be a good and bad side. I think we played better once we were out of the sun."
After the girls were finished the boys took the field.
One Clement mother who used to play volleyball, was yelling pointers to her son. A Cope father was taking a video on his phone while encouraging the team to "talk out there!"
Cope took the victory on the boys side, winning both sets.
Down the road, Beattie Middle School took the win over Moore with both girls and boys teams.