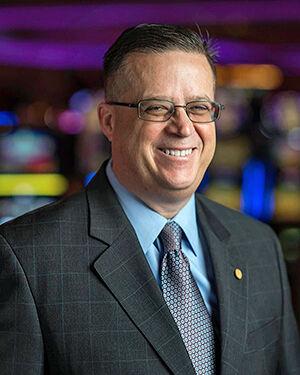 San Manuel Band of Indians' Fire Chief Michael Smith got his start in the paramedic program at Nearly two decades later he is paying back as a director on the CHC Foundation.
He graduated from the program in 1992 and went on to study at the University of Redlands, where he earned a biology degree. He earned a master's in leadership, with an emphasis in disaster preparedness and executive fire leadership, in 2016 from Grand Canyon University.
Smith helps raise money for scholarships, emergency assistance and program enhancement support at CHC. He credits his success to getting his start at CHC and said he hopes to help the college make dreams come true for countless future students.
"I really got my start in my career field at CHC," Smith said. "As a graduate of the CHC paramedic program, I acquired not only the knowledge, skills and abilities to enter emergency services, but moreover the passion for doing so. My support now is driven by the desire to pull up the next generation so they can enjoy the same opportunity and rewards that I have."
Last year, Smith helped the organization launch the "Because of You" campaign with the goal of raising $1 million for an endowment to provide longterm financial strength for the college.
The endowment fund is an investment that will provide a perpetual source of unrestricted funds for the college to use as future needs arise.
Smith brings an extensive background in fire safety and prevention to the San Manuel Band of Mission Indians. Prior to his position with the tribal government, he took on numerous roles within the fire service, including serving as the executive officer and a colonel for the California National Guard's California Cadet Corps. Smith is one of only a few dozen certified by the state as a fire chief and has been designated by the International Commission on Professional Credentialing as a chief fire officer.
How to help