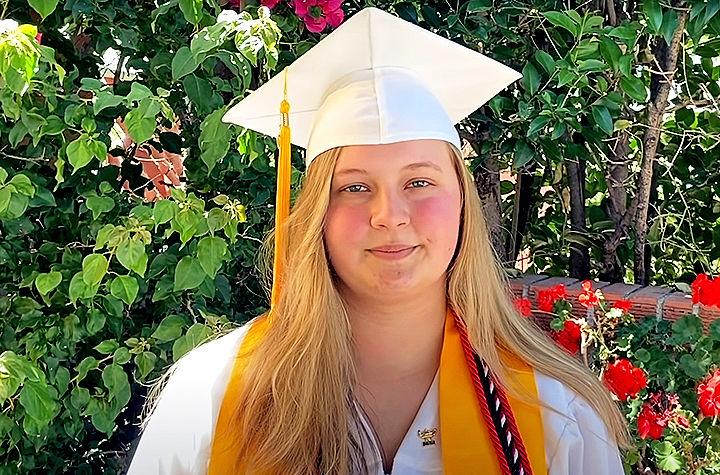 Redlands East Valley Wildcats graduated with the help of modern technology during their virtually streamed graduation.
On Wednesday, June 24, REV conducted its livestreamed ceremony, which included student speakers and choir and band performances.
Though each member was in a separate household, REV's choir gathered over Zoom to sing the national anthem for the audience.
Principal Robert Clarey gave an emotional speech to his seniors.
"I am truly humbled to speak at my first ceremony at REV," he began. "I am speaking to you from my kitchen table, which has become my office. None of us could have imagined the adventures you had over the past four years would end the way it has. Instead of a prom dress, you had to wear a mask.
"You sacrificed many of the events that mark the high school experience, but in exchange, you saved the lives of people you love and people who are loved by others," Clarey continued. "You are a special group of young adults who will change the world. REV is a great school because of you."
Redlands East Valley's class of 2020 boasted some impressive numbers. The senior quote was, "Let the rest of our lives be the best of our lives."
Student speaker Katharina Napoletano highlighted how well her fellow students were able to adapt to the world they suddenly found themselves in.
"None of us could have imagined we wouldn't be able to enjoy the rites of passage," said Napoletano. "Although it has been disappointing, it has also highlighted the fact that the class of 2020 is flexible, adaptable, resilient and ready to take on challenges.
"These qualities remind me of the redwoods along the coast," continued Napoletano. "These redwoods have not only survived but thrived amidst adversity. Together we will continue to use our strength, flexibility, adaptability and resilience to weather current and future storms."
REV teacher Juliann Ford spoke on embracing change.
"Class of 2020 has a great sound of importance and impact," said Ford. "I hope as time lengthens and you look back, you don't focus on moments we lost together. Rather, I hope you feel pride for the culmination of all your work. I hope you remember how the Wildcat family rose to this moment together with the spirit of community."
Lily Cao, senior class president, led students in the turning of the tassel.
"The last four years have proven that each and every one of us is more than adequate to take on the future," said Cao.