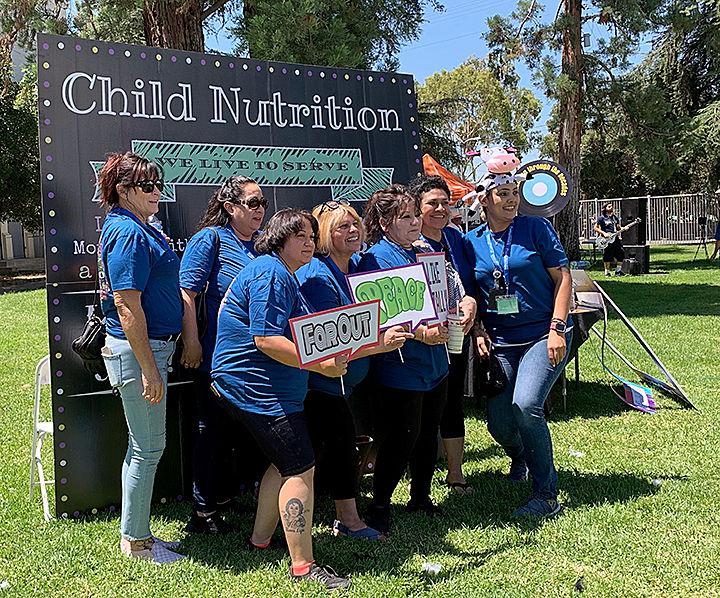 Six school districts gathered at Redlands High School for the School Nutrition Association's School Lunch Hero Kickoff on Friday, Aug. 2.
Fontana, Palm Springs, Redlands, San Jacinto, Upland and Yucaipa school districts were all in attendance to celebrate school nutrition for the 2019-20 year.
The kickoff was so big, Redlands Police Department shut down Citrus Avenue for the event.
Hundreds of school food service workers from the six districts gathered outside and inside Clock Auditorium to participate in the 6 1/2-hour occasion.
First there was a continental breakfast and networking event provided by the No Kid Hungry organization. Then there were presentations by Schools First Credit Union, Redlands Unified School District Mauricio Arellano and Cara Lane, a former kindergarten teacher turned international life trainer.
The kickoff event was centered around celebrating the employees of the six districts who serve their school's children the best meals possible. The employees are called "school lunch heroes" because they have given their lives to something bigger than themselves in working in child nutrition. Lunch catered by In-N-Out Burgers to the sound of live band "Shout." District employees danced on the lawn to classic rock tunes, taking a short break from the day's busy schedule.
The highlight of the day was the final guest speaker Dennis Snow, who delivered a fun and humorous presentation on how to give world-class customer service. He used his experience as an employee at Walt Disney World and translated it to serve the district employees and their workforce.  
"You want those you serve to have a good experience. You as school lunch employees have an impact on young lives that is very powerful," said Snow.
Snow vocalized how while the quality of the food served in schools has to be excellent, so does the experience.
"Every interaction we have is important and if we do it with an experience mentality rather than a task mentality, the interactions are visibly more enjoyable," said Snow. "We want kids to feel valued."
Snow offered four principles to help a child feel valued by the school employees.
The first is looking through the lens of the customer. Understanding when a child is upset or out of their comfort zone.
The second principle is paying attention to details. The third is to create moments of "wow."
For example, Snow recounted a story his adult son still tells to this day about his elementary school lunch lady and how he was in awe when she remembered his favorite food was mashed potatoes.
"My son still talks about how when he would go through the line and see the lunch lady, she would pile on the mashed potatoes onto his plate. It made him feel special and it was something so simple," said Snow.
The fourth and final principle is to know what frustrates a customer.
"For a lot of children, lunch is their favorite part of the day, but for some it is not," said Snow.
A child is sometimes frustrated by the food selection or by not having a place or friends to sit with. If a school employee recognizes those things and find ways to counteract them, they will be making a positive impression on that child's life.
"Today is really about the kids," said one Upland employee. "We are here to celebrate our service to them, there is something so pure about simply feeding a child."