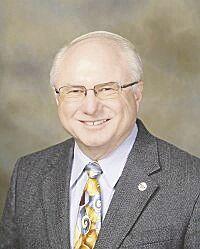 Redlands Unified Board of Education candidate Jim O'Neill brings 38 years of educational experience to the Area 5 race.
O'Neill, 68, has served on the Board of Education since 2016, when he came in second in a field of eight candidates seeking three seats in an at-large election. Now retired, he has taught at every level, served as principal at Bryn Mawr, Mentone and Lugonia elementary schools and served as a district office director of instructional technology.  
"I am known in the community," said O'Neill. "I am not going to make a big deal with my campaign. I am here to serve the public. If people are confident in me, I hope they will want me to continue."
Area 5 covers parts of Highland and Redlands east of University Street, south of Lugonia Avenue and north of Reservoir Road
O'Neill also serves as president of the Redlands Kiwanis Scholarship Foundation.
"It is rewarding to be able to give scholarships to our high school seniors,"  said O'Neill. "Last year, Kiwanis gave a total of $71,000. To meet the amazing kids gives you hope and encouragement for society."
O'Neill said the district is handling the pandemic as best it can.
"Superintendent Mauricio Arellano has been methodical with our comprehensive distance learning plan," said O'Neill. "Though it is a huge challenge for everyone, our teachers have responded positively."
O'Neill said they were fortunate the pandemic hit in the spring.
"It is a good thing it happened at the end of the school year," he said. "We had time over the summer to learn how to do everything we needed to do for distance learning. The superintendent provided awesome training opportunities. Now everyone is better prepared."
Distance learning is challenging for both students and teachers. But is it working?
"I am proud of the entire operation," said O'Neill. "I have seen what other districts are doing. Redlands is way ahead of the pack. It's not the best form of learning, but it is the only thing we can do right now. We will be able to hit the ground running when we return to campus."
O'Neill said the level of participation is as high if not higher than if campuses were open.
"Out of 21,000 students, only 450 have still not enrolled or started our program," said O'Neill. "The district provides hotspots for students who don't have internet access, so we know our homeless student population is participating."
O'Neill said when the district gets clearance to reopen campuses, it will be ready with its hybrid plan.
"Our emphasis is on safety," he said. "We have stockpiled safety supplies and increased custodial services. Our hybrid plan will have 50 percent of students on campus one week, while the other 50 percent is watching from home.
"This is an extremely difficult time for parents, no matter what we do. There is no perfect solution.
"The district continues to evolve and adapt," continued O'Neill. "We have already adjusted the length of break times for students. We received feedback that five minutes was not enough time, so that has already been changed."
If re-elected, O'Neill said one of his biggest priorities is continuing the district's vision of equality through equity.
"As a board, we have had discussions on race and formed a committee to involve groups and develop a resolution that complements our 2025 plan," he said. "I believe our curriculum needs a required ethnic study class, but we also need to look beyond that. We need classes throughout K-12, so it is not just a one-and-done thing. We need to go in early to speak to students."
O'Neill said the district could accommodate residential growth, but another school will be needed if it continues.
"We have money set aside for another middle school near Loma Linda if it is needed," he said.
A stadium for Redlands East Valley is also on the board's list of considerations.
"We were so close to figuring out how to get a stadium, and then the pandemic hit," said O'Neill. "What we need to do now is identify what funding is available. We may need to develop a phase-in plan to break it down year by year. REV will have a stadium. It is going to happen."
Jim O'Neill
Age: 68
Occupation: Retired principal/teacher/district office director. 38 years in education.
Public service: Member of Kiwanis and president of Kiwanis Scholarship Foundation. Coached swimming, trapshooting and baseball. Serves on Regional Occupation Program board.
Education: Beaumont High School, bachelor's degree from University of Redlands in music and biology and teaching credential. Master's degrees in educational technology and school administration from California State University, San Bernardino.
Family: Married 43 years. One son.