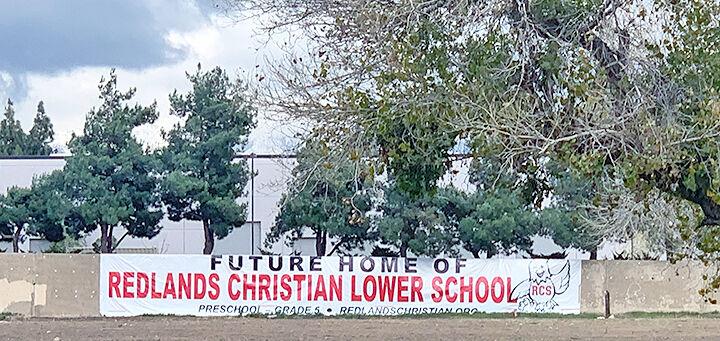 The vision started eight years ago, when the board at Redlands Christian Schools (RCS) imagined the lower, middle and upper schools all on the same campus.
 "At that time, it was just wishful thinking," said Dan Cole, head of schools emeritus.
"There was no set plan yet," perhaps, because only a miracle from God could make so much happen at precisely the right time, he said.
First, the board needed a separate campus for middle schoolers, who at that time were split between the lower and upper schools.
In 2015, it found one, adjacent to the upper school.  
That move allowed room at the lower school for the implementation of the Spanish immersion program, which grew so fast that after three years it became evident that the campus on Church Street, home to the lower school since 1948, would no longer suffice.  
As enrollment in that program continued to grow, the school was forced to turn its library into classrooms.
Then, two years ago, the miracle the board had envisioned happened: Several properties on Kansas Street, across from the existing middle and upper school soccer fields were up for sale.
RCS purchased them and leased them back to the current occupants while it sold the Church Street campus.  
Meanwhile, Cole, who is overseeing the transition to the new campus, along with lower school Principal Bill Johnson and two lower school teachers, formed a committee charged with making decisions about how to best use the new campus.
Together, they visited seven sites, including private, public and charter schools in Southern California and gathered ideas.  
Second-grade teacher Staci Bottomley, a former RCS student herself and whose own children also attended RCS, said, "it was super exciting to think that we could cherry pick what we loved about each location and now some of those things are actually happening. It's amazing to see God's hand in it."
Construction to transform the former industrial warehouse buildings on Kansas Street into a suitable elementary school began in November.
Timing has been tight and the pandemic has created its own set of challenges.
Nonetheless, RCS must vacate the Church Street campus by July 1, and expects to have its first day of school on the new campus on Aug. 18.    
Johnson said he would miss the old campus as they leave behind "a wonderful campus that is perfectly set up for a lower school with a gym, music and art rooms, library and playground/field space."
"But looking forward, we have the opportunity to continue to work toward our mission," he said. "We don't just build them in reading and math, but also in their talents, gifts and abilities, academically and spiritually."  
Head of Schools Brian Bell spoke on the meaning of the timing of the move to the new campus coinciding with the school's centennial celebration taking place this fall.
"It's exciting to be able to build a campus that meets current and future needs and to have an opportunity to have something new to start with for the next 100 years," he said.
"What's fun for me personally is that RCS has envisioned all campuses being together for a long time." "This was not just my dream. We need schools that support Christian values and God's hand has been in the development of this so that the school is in a position to serve for the next 100 years. "It's miraculous."

The new school
More room: The move will nearly double the space, taking it from roughly 43,000 to 85,000 square feet.
The new four buildings:
• Early childhood and preschool.
• Grades K-3.
• Grades 4 and 5.
• Kitchen, separate music and choir rooms with a built-in stage, a library and media center, an art room, and a designated area for theater, and a gym.  
Places to play: The campus will also have multiple playground areas for each age group, a soccer field, basketball courts and an outdoor covered patio eating area.   
Other possibilities: Cross-campus collaboration and interaction among all three campuses; the expansion of Science, Technology, Engineering, Arts and Math (STEAM) offerings either during or after school, and the addition of new extracurricular options to the schools' enrichment program known as­ Eagles Soar. Possible lessons include coding, website design, robotics, Legos, culinary arts, music and arts, and sports.