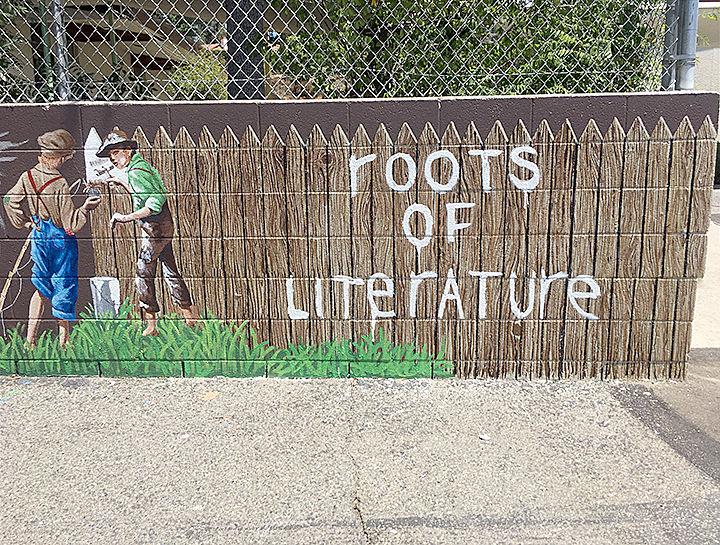 By the time College of Arts and Sciences students return to the University of Redlands main …
Something that stands out about Redlands Unified School District schools is the abundance of colorful and intricate murals gracing the sides of classrooms and playground walls.
Almost all schools in the district have at least one painting that turns boring grays and browns of school walls into something more eye pleasing.
The fun thing about murals is that there are so many options for scenes or people for artists to paint. Artists can tailor their paintings to the specific school site, the city or state.  
Smiley, Mariposa and Judson and Brown Elementary Schools feature murals depicting children playing, favorite characters from children's literature books and a view of Redlands.
Clement, Cope and Moore Middle Schools feature a few more intricate murals.
for artists to paint. Artists can tailor their paintings to the specific school site, the city or state.  
Smiley, Mariposa and Judson and Brown Elementary Schools feature murals depicting children playing, favorite characters from children's literature books and a view of Redlands.
Clement, Cope and Moore Middle Schools feature a few more intricate murals.
Clement has an elaborate painting on the outside of its library. It features two walls covered in historical images.
Murals are so popular in Redlands that Moore celebrated its 50th anniversary with a new art piece in 2016.
The three-paneled mural shows students interacting with historical images. The first panel depicts two girls looking at prehistoric cave drawings. The second shows two friends looking at art from ancient Egypt. The third mural shows two boys playing on a wooden ship.
The artist, Larry Dierdorff, has painted dozens of murals in Redlands. His art is featured at schools such as Clement, Cope, Mariposa, Moore and Smiley.
The artist
A former high school and elementary school teacher at A.B. Miller High School in Fontana and Mariposa Elementary here in Redlands, Dierdorff has been painting school murals since the 1980s.
It all started when he would see blank walls around campuses.
"I thought to myself, that is a blank canvas," said Dierdorff.
"During that time art programs were being taken out of schools. I wanted my murals to be a way that kids could be exposed to art."
Dierdorff has done six or seven murals just at Mariposa .
"I've painted almost the entire campus," he said.
He noticed that the administration at Mariposa enjoyed his artwork and thought that other administrations around Redlands might share the same sentiments.
"I was commissioned to do a mural on a ball-wall at McKinley Elementary. The wall was exposed to Center Street, I thought that was a good location because maybe someone from another school would see it and contact me," said Dierdorff.
(A ball-wall is a wall that students bounce balls off of.)
Redlands' local muralist became a fast hit around the school community.
From Mariposa and McKinley came commissions at Cope, Clement, Judson & Brown, Moore and Smiley.
How much does a common ball-wall mural run a school's administration? Dierdorff says he charges anywhere from $750 to $1,200 depending on how complex the school wants the artwork.
Who decides what images to paint? Dierdorff says sometimes schools will give him guidelines, other times he has free reign.
"A lot of the time a school's administration will commission an art piece without consulting the teachers, so I meet with them and ask what they think would be a good fit for their school."
Whatever the theme, Dierdorff likes to celebrate the past in his paintings. Most of his murals have some sort of historical aspect to them, whether they are paying homage to Redlands or world history.
Clement Middle School
Dierdorff's biggest school mural lives on the outside of Clement's library. The two front walls of the building are completely covered in the artist's handiwork, painted in 1997.
Dierdorff said that particular mural took all summer, which he painted from left to right in the sense of a historical timeline.
The yellow ship at the beginning of the painting is meant to be sailing off the end of the world. Referencing a time when humans believed the Earth was flat.
From there, Dierdorff took the same shape of the Viking ship and painted a picture of a saxophone.
There are a few underlying messages in the mural.
The pig wearing pearls Dierdorff says references the biblical verse in Matthew 7:6 "Do not give what is holy to the dogs; nor cast your pearls before swine, lest they trample them under their feet, and turn and tear you to pieces." Or, in layman's terms, value yourself.
As you run your eyes from left to right, there is a small tree with a hole in the sky depicted. Dierdorff says the tree underneath the hole represents unlimited growth.
Two hands embracing, one green and one orange, embody races helping each other.
California is symbolized by the image of two bridges with cracks in them, which Dierdorff says is referencing the Golden State's abundance of earthquakes. The rainbow shown above also has a crack.
One of the final images you see is a man sitting on a boat, dressed in a blue and white star spangled vest. He is looking through a pair of binoculars, which Dierdorff says are positioned in a deliberate way.
"Across from the mural is the hallway that leads to the library. I painted the man with binoculars in that particular spot so that when kids are walking, they feel he is looking at them."
Judson & Brown and Cope
When Judson & Brown Elementary School opened in 2006, Dierdorff says Principal Cynthia Quezada originally wanted a big window in the library.
"When the builders left it a wall, she contacted me and asked me to paint a scene that looked like a window's view," said Dierdorff.
The result was a mural that illustrated orange groves, hills, mountains and a river basin.
While most of his murals are historical or scenic, Dierdorff also delves into the abstract from time to time.
"People need to see different styles," he says.
When you drive past Cope Middle School on Cypress Avenue, you can see one of Dierdorff's larger murals.
On the outside of the auditorium walls are three colorful panels. Art buffs may recognize Dierdorff's method of design if they think back to a certain early 20th century French artist.
The three-paneled mural pays homage to Henri Matisse.
"I painted the Cope murals during a time when I was infatuated with Matisse. He began to make art by cutting out large pieces of colored paper," said Dierdorff.
If you look at the auditorium's murals it does look like Dierdorff painted different shapes of colored paper.
Palm trees, cacti and leaves are all things that might come to mind when looking at the shapes.
Mariposa
Mariposa Elementary School is filled with paintings by Dierdorff. The campus seems like one big art show if you combine the murals with the topiaries and other garden decorations.
Dierdorff recently finished a mural on a retaining wall on campus, after fifth grade classes collected money.
The classes wanted Dierdorff to paint characters from their favorite literature, so they started to throw out some ideas to him.
Along the wall you will find Madeleine, the Hungry Caterpillar, the Cat in the Hat, the Cheshire Cat, Tom Sawyer and the three sisters from "One Crazy Summer."
Dierdorff says his wife gave him some tips when painting the young ladies.
Originally Dierdorff had painted the the three sisters without any jewelry, something his wife said he needed to add to make it more realistic.
"She said, 'You're such a guy.' Guys don't think about things like jewelry,'' laughed Dierdorff.
Lasting effect
Murals can offer more than just a colorful escape for your eyes. Dierdorff says you never know how they can influence or affect people.
"I painted a ball-wall mural at Smiley of a girl walking along the top of a wall, carrying a baseball bat. Hanging from the bat is a pair of ballet shoes," said Dierdorff. "I wanted the message to be that girls can do anything."
Dierdorff has his name at almost all of the schools in the school district. People in Redlands love murals and everything that comes with them, he said.
­RUSD Superintendent Maurico Arellano supports school murals too. The district is working on a mural policy protocol to establish even more artwork in Redlands schools.
"Our schools should be the jewel of our community," said Arellano.
Like Dierdorff, the superintendent feels that artwork has a positive effect on children.
"Murals that create motivation and ones that showcase school accomplishments, can be an outlet for kids to say what they are proud of," said Arellano. "They will come to school excited."
Luckily for artists and art lovers, Redlands takes pride in creativity.
"The beauty of Redlands is the people who give it art," says Dierdorff.
"I think my murals affect people in a positive way. Otherwise schools just look like institutions."