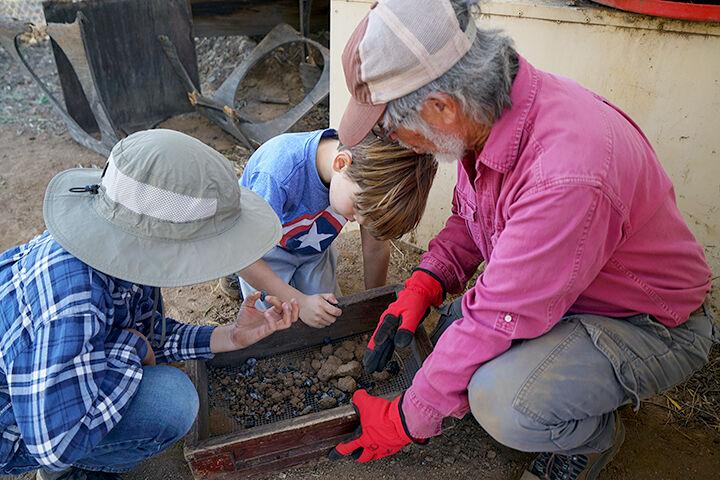 La Sierra University's Archaeology Discovery Weekend returns with in-person events this month, including the popular Kids Dig that brings real-world excavation experiences to youth.
The 13th annual Archaeology Discovery Weekend will be held Saturday, Nov. 13, and Sunday, Nov. 14, under the theme "Southwest Turkey: Famous Cities, Churches, and Synagogues."
The two-day event will include the Kids' Dig from 2 to 4 p.m. on Nov. 14, at the Center for Near Eastern Archaeology.
Archaeologist Craig Lesh will lead the kid-centered archaeology class in defining what archaeology is and how it works. Outdoor instruction will include supervised digging in a simulated excavation site where participants will use archaeological tools and processes to unearth artifacts buried at the site for the purposes of the class.
Lesh is the founder and director of Heritage Education Programs, a partner organization with La Sierra's Center for Near Eastern Archaeology.
Illustrated presentations by noted archaeologists and scholars from La Sierra University and other parts of the United States as well as from Austria and Turkey will be held from 3 to 6 p.m. Saturday, Nov. 13, and from 1 to 4 p.m. Sunday. Nov. 14.
In-person presentations will be held in Troesh Conference Center of the Zapara School of Business and will also be available on line via Zoom video conferencing. A Bedouin hospitality tent and refreshments will be available each day outdoors at the Center for Near Eastern Archaeology.
Archaeological lectures will cover a wide range of topics including religious sites in Southwest Turkey, Ephesus in late antiquity and the early Middle Ages, the great synagogue of Sardis, coins and sculpture, early Christian art in Southwest Turkey, among others.
Archaeology
Discovery Weekend presenters
• Mark Wilson, founder and director of the Asia Minor Research Center of Antalya, Turkey.
• Helmut Schwaiger, senior academy scientist at the Austrian Archaeological Institute of the Austrian Academy, responsible for the research project: Ephesus in Post Antiquity.
• Tom Davis, professor of archaeology at Lipscomb University, Nashville, Tennessee, and associate director of the Lanier Center for Archaeology, and former director of the Cyprus American Archaeological Research Institute.
• Charles Anthony Stewart, art historian and archaeologist specializing in the development of Late Roman and Early Medieval architecture.
• Kent Bramlett, professor of Archaeology and History of Antiquity, La Sierra University, H.M.S. Richards Divinity School; Center for Near Eastern Archaeology co-director and of the Balu'a Project, Jordan.
• Kendra Haloviak Valentine, professor of New Testament Studies, La Sierra University, H.M.S. Richards Divinity School.
• Theresa Shaw, J.D., frequent museum volunteer and at the Center for Near Eastern Archaeology, numismatic specialization.
Lectures are free admission and the Kids' Dig is $5 per attendee.
Registration is required for all events and COVID-19 safety protocol is in effect for in-person activities.
Details and registration for Archaeology Discovery Weekend is available at https://lasierra.edu/cnea/discovery-weekend/.
Where: La Sierra University is at 4500 Riverwalk Parkway, Riverside.
Sponsors: 91.9 FM/NPR, Versacare Foundation, Archaeological Institute of America, Orange County Society; Archaeological Institute of America, Inland Southern California Society, American Schools of Oriental Research; Biblical Archaeology Society, Los Angeles; HMS Richards Divinity School; Western Science Center; World Affairs Council of Inland Southern California; Zapara School of Business; Najwa's Mediterranean Cuisine; Society for California Archaeology.
For further information: Email archaeology@lasierra.edu, or call (951) 785-2632.