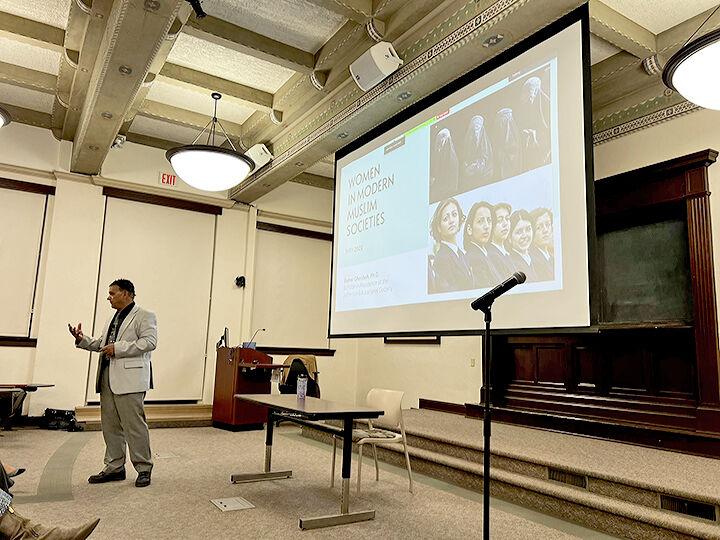 The four-day Jefferson Educational Society (JES) global summit series hosted at the University of Redlands concluded with Baher Ghosheh's talk on women in modern Muslim socieities, which debunked common misconceptions Americans have about their role and lifestyle.
The society, a nonprofit institution based in Erie, Pennsylvania, invites speakers from around the world to speak on a broad range of globally important issues each year as part of the global summit speaker series.
Ben Speggen, vice president of JES, opened the event, which was hosted in person at the U of R and livestreamed.
"We got to know so many of you over the course of these four nights and Redlands is a special place," Speggen said. "I feel very at home here and that is because you as a community have welcomed us and we are really grateful."
Sheli Stockton, director of alumni and community relations at the U of R, said the series generated positive feedback from attendees.
"Learning opportunities like these enhance our collective understanding of issues and make us better citizens of our community and the world," she said.
University of Redlands President Krista L. Newkirk praised the partnership with JES.
"We have seen the impact the Jefferson Educational Society and the Global Summit have had in Erie and are excited to welcome this partnership and programming to our community," she said.
Ghosheh, scholar in residence at JES and professor of Middle Eastern studies, cultural and economic geography at Edinboro University, near Erie, led an intriguing discussion, with a goal to inform the audience of the perception versus reality many hold about Islam.
"This may be a shock to many of us," he said. "The three largest Muslim majority countries, Indonesia, Pakistan and Bangledesh, have already elected a women president. How many women presidents have we had in this country?"
He explained the difference between Arabs and Muslims, which are often confused to be the same. Arabs are people who speak the Arabic language, regardless of which religion they practice.
Muslims are people who adhere to the religion of Islam. Ghosheh shared that many people in America have an assumption that all Muslim women are forced to cover themselves.
"The Quran talks about modesty in dress for all people, men and women," he said. "The vast majority of Muslim women dress like us and you in this classroom. We don't notice them because people have an ingrained image of what they should look like."
By 2060, Islam is expected to become the world's largest religion, according to the Pew Research Center.
"When we think of Islam and Muslim women, we have to think of the many different variables and realities. Some Muslim countries are democracies and some are ruled by dictators that do not allow women to have basic civil rights."
"The Taliban rule in Afghanistan is the most extreme example, and prime source of the negative Islamic perceptions people have," he said.
Eighty percent of women in Afghanistan are illiterate and not allowed to attend schools.
"I know we have shows here like 'Married at First Sight' and it is an exciting show, but in Afghanistan, it is not an exciting show. It is the reality."
Ghosheh said out of the 57 Muslim majority countries, three have extremely strict rules against Muslim women: Saudia Arabia, Iran and Afghanistan.
He shared excerpts from the Quran that state a women's role in society, which says they should have equal rights as their counterparts.
"Islam is a reflection of history and culture," Ghosheh said. "If we look at what Islam says about certain social issues in the Quran, we might be surpised because it is contrary to the stereotypes we hold here in America."
Ghsoheh acknowledged the advancements made in the U.S. and abroad but pointed out there is a long road ahead.
"I certainly expect that in the future, women will be the dominant gender in politics and economics," he said. "I hope it won't take long for women to become the majority. If Brazil, Argentina, Indonesia, Bangladesh and Pakistan can elect women presidents, so can the United States."
To learn more about the Jefferson Educational Society and its upcoming events: Visit jeserie.org.
Shelli Stockton, director of alumni and community relations at the University of Redlands, s…