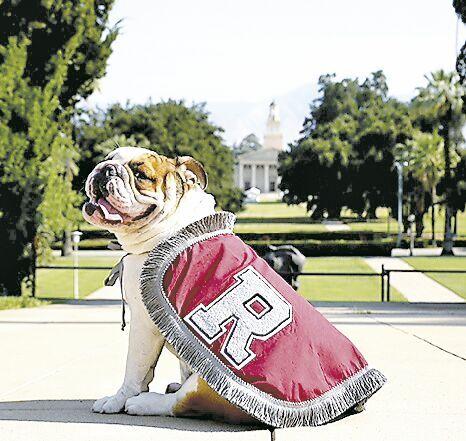 Four years ago Mary Littlejohn had a tough decision to make.
When the University of Redlands live Bulldog mascot Thurber retired in 2017, she considered taking on the task of finding and handling a new Bulldog for the position.
As assistant director of alumni and community relations at U of R, Littlejohn already had a full-time job, and she already had two dogs and a bearded dragon at home.
After careful consideration she decided to take on the task.
The first step was attempting to find a rescue Bulldog to no avail.
"We finally found and adopted a Bulldog puppy from a family in San Bernardino," said Littlejohn. "She is the first female U of R Bulldog mascot, and we named her Adelaide, 'Addie,' after the founding first lady of the University and wife to the first President Jasper Newton Field."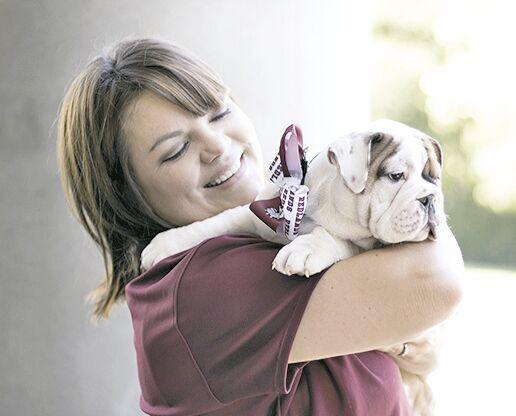 Addie has become a beloved personality on campus and on social media. In normal times before the COVID-19 pandemic she attended U of R events, posing for selfies and entertaining everyone with her antics.
She has a full-time job working from 9 a.m. to 3 p.m. in the admissions office where she greets prospective students before or after their campus tours.
She also autographs birthday cards and coloring books by pressing her paw on an inkpad and then on the document. From 3 to 5 p.m. she hangs out with a student until Littlejohn gets off work in the Alumni and Communications Department.
"We are hoping to resume in-person appearances starting with homecoming on Oct. 23, depending on COVID-19 developments," said Littlejohn.
Because of COVID-19 restrictions, Addie's fourth birthday on April 5 was low-key. Normally her birthday is a special event on campus that includes an annual rescue animal adoption fair.
Meanwhile, Littlejohn has her hands full attending to Addie. She notes, Addie is:
• High maintenance. Her grooming schedule is intense: bathing every two weeks with waterless deodorizing baths two to three times per week in between. Wiping her face folds daily. "Buttering" her nose to keep it moist and nail clipping twice a month.
• Noisy! She snores and snorts, purrs like a kitten and is a very noisy eater.
• Not cheap! PAWS generously supports her monthly kibble, but treats, leashes, toys, outfits and other expenses add up. Addie has five buckets full of costumes including an array of bandannas, tutus and five Halloween costumes.
The largest expense is travel costs to ensure that Addie can be at university events throughout Southern California.
A Mascot Fund was established for Addie's fans to support her throughout the year. (Go to redlands.edu/givenow and indicate "Mascot Fund.")
Addie's antics can be followed on social media platforms such as Facebook, Instagram, Twitter and Tik Tok.
Videos of Addie rolling downhill through grass and into fans on the sideline of a lacrosse game recorded more than 6 million views. And she is in a "fauxmance" with Butler University's live Bulldog mascot named Trip in Indiana.
Addie will retire as U of R Mascot in four years. Meanwhile, Littlejohn says, "She just makes people happy."
Addie is seventh official U of R mascot
Addie is the first female bulldog to hold the position of mascot for the University of Redlands.
The U of R Bulldogs name began with a football game in 1917 when Redlands beat a rival school 20-0. The opposing coach commented, "The U of R football team might well be called the bulldogs of the conference for the fight they put into the game."
The nickname caught on, and the bulldog tradition was born, with a bulldog named General Haig serving as the first official mascot in 1918. (General Haig was the chief British commander during World War I.)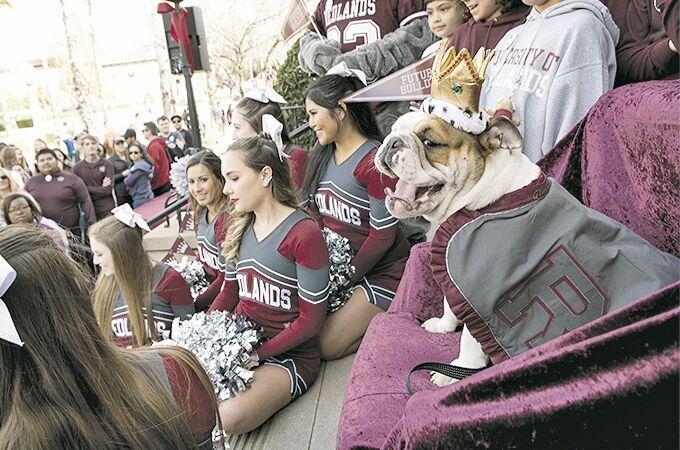 Official U of R bulldog mascots
1. General Haig, 1918
2. Deacon, 1946-1948
3. Jasper, 1991-1998
4. Newton, 1998-2003
5. Duke, 2003-2010
6. Thurber, 2009-2017
7.  Addie, 2017-
Unofficial bulldog mascots included Muggs, 1928; Blitz, 1964-1965; Winston Churchill, 1972-1976; and Woody, 1989-1990.