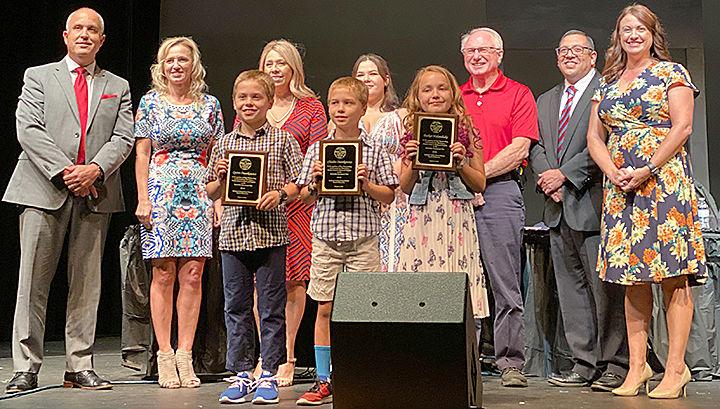 The Redlands school district had 84 students score perfect marks on the 2019 California Assessment of Student Performance and Progress standardized test. The students were recognized and awarded plaques during the Tuesday, Oct. 8, board meeting.
The district reported that 236 Redlands students scored perfect in English, 104 students scored perfect in math, but only 84 were perfect in both categories.
Elementary and middle school students from Bryn Mawr, Crafton, Mariposa, Smiley, Cope and Moore represented their schools in academic excellence.
After the celebration, Redlands Teachers Association (RTA) members and Redlands Education Support Association (RESPA) members spoke to the board to seek higher wages.
A Redlands bus driver told board members how she received a touching letter from a former student who had moved away.
This letter should show that we are worthy of the district's support, she said.
Another RESPA member reminded the board how the cost of living in California keeps increasing.
"It is time for us to talk about the reality of everything going up but our paychecks are staying the same. I am only asking for what is right, nothing more."
Redlands City Councilman Eddie Tejeda spoke in support of RESPA and RTA.
"I am here as an employee of Rialto school district standing in solidarity with you. I don't want to see a work stoppage or strike."
A 2019 Orangewood High School graduate spoke in favor of her former teachers she will not forget.
"All of you deserve more credit for what you do for students," he said.
"All of you are role models to me."
 A cap on the size of full-day kindergarten is also being proposed to be 24 to 1.
Also, one 50-minute preparation period per week is proposed and hourly teachers being offered regular teaching contracts.
On the table
As of Oct. 1 the district changed its bargaining position. The district is now proposing a 5 percent increase over two years applied to employee salaries. A 3 percent increase would be retroactive to July 1, 2018, and an additional 2 percent increase would be added July 1, 2019.
The district is also proposing a change to academic and athletic coaching stipends. All stipends would increase by 15 percent, effective July 1, 2019. The Professional Development Daily Rate would increase from $235 to $260, effective upon ratification of the contract.