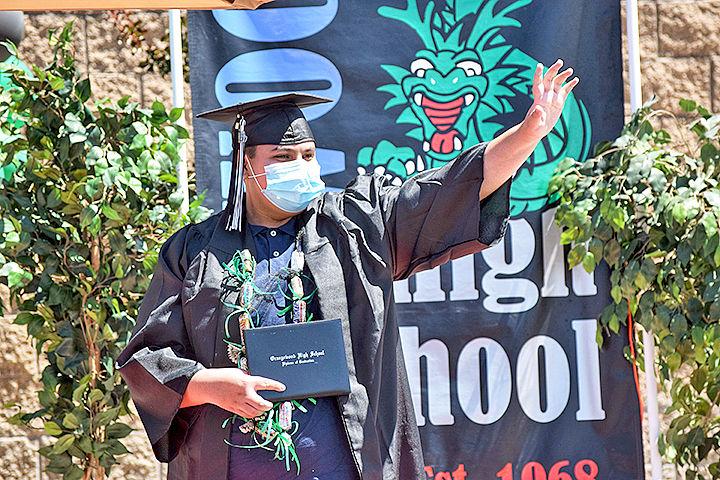 Coronavirus and public health regulations may have stopped traditional graduations, but Redlands Unified still banded together to host drive-thru ceremonies for its seniors.
"I want to give thanks to all the principals and students who organized and planned the ceremonies," said Superintendent Mauricio Arellano during the June 8 school board meeting. "They took into account all safety strategies to make it as special as they could."
Arellano also thanked the city and Police Department for their help in planning and mitigating traffic.
"It is a big community effort," he said.
Seniors who participated in the drive-thrus had their names announced by their counselors and photo taken by a professional photographer.
On Wednesday, June 10, Orangewood High School had its drive-thru ceremony.
Parents and families of Orangewood graduates drove through Citrus Valley's parking lot as they waited to snap pictures of their senior walking across the "stage" in caps and gowns. Cars were decorated with balloons, banners and streamers.
Patty Holohan, school board president, board members Alex Vara and Cristina Puraci and the superintendent attended the ceremony in their own academic regalia.
Orangewood's Achievement Via Individual Determination (AVID) class had 27 graduates, the most since 2018.
Twelve Orangewood students received scholarships from the Redlands Community Scholarship Foundation. The foundation gave 438 scholarships across Redlands schools, totaling $377,185. Each scholarship ranged from $200 to $5,000.
Orangewood's winners were Ajike Dele, Isaiah Bradford, Taylor Carmichael, Hailey Carnero-Jones, Malik Gaynair, Michaela Kalanzi, Anakaren Leos, Kalah Long, Destiny Lopez, Zachariah Maddas, Elizabeth Mejia and Kylie Roeder.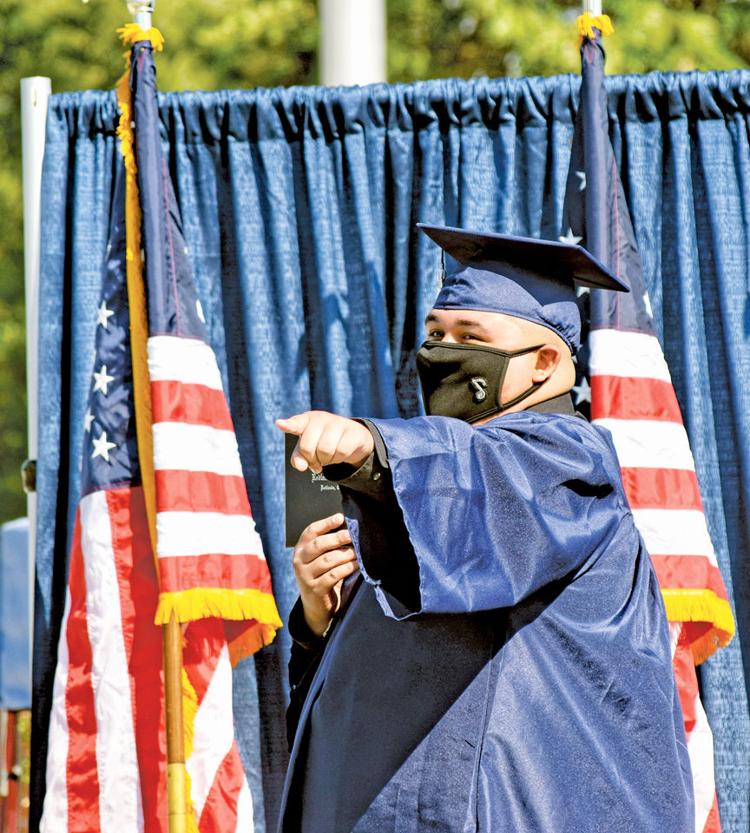 On Thursday, June 11, Redlands High School, Redlands East Valley and Citrus Valley hosted their drive-thru graduations.
Redlands High placed its stage in the bus loop in front of Dodge Field, making it easy for parents to drive through and stop for a photo.
Redlands High had 172 students receive scholarships from the Redlands Community Scholarship Foundation. Redlands High also had 67 seniors receive the California State Seal of Biliteracy on their diplomas.
"This seal celebrates students' bilingualism and multiculturalism," said Sonya Balingit, director of English learners and parent engagement at Redlands Unified. "It recognizes students for attaining a high level of proficiency in speaking, reading and writing in one more languages in addition to English."
The district is hosting virtual graduations for each of the high schools, which are being done by a professional production company. The high school principals and support staff are working to put together a special virtual ceremony, which will include many of the graduation traditions with the use of 21st-century elements. Each high school reached out to students to request or confirm information to include as part of the event. Links to the ceremonies are posted on the district website and on each school's website.
Virtual graduations
Orangewood: 5 p.m., Tuesday, June 23. redlandsusd.net/grad2020ohs
Citrus Valley: 7 p.m., Tuesday, June 23. redlandsusd.net/grad2020cvh
Redlands East Valley: 7 p.m., Wednesday, June 24. redlandsusd.net/grad2020rev
Redlands High: 7 p.m., Thursday, June 25. redlandsusd.net/grad2020rhs
More than 400 students and their families participated in a drive-thru graduation ceremony i…
The sun was shining on the smiling REV graduates in red and white caps and gowns standing in…