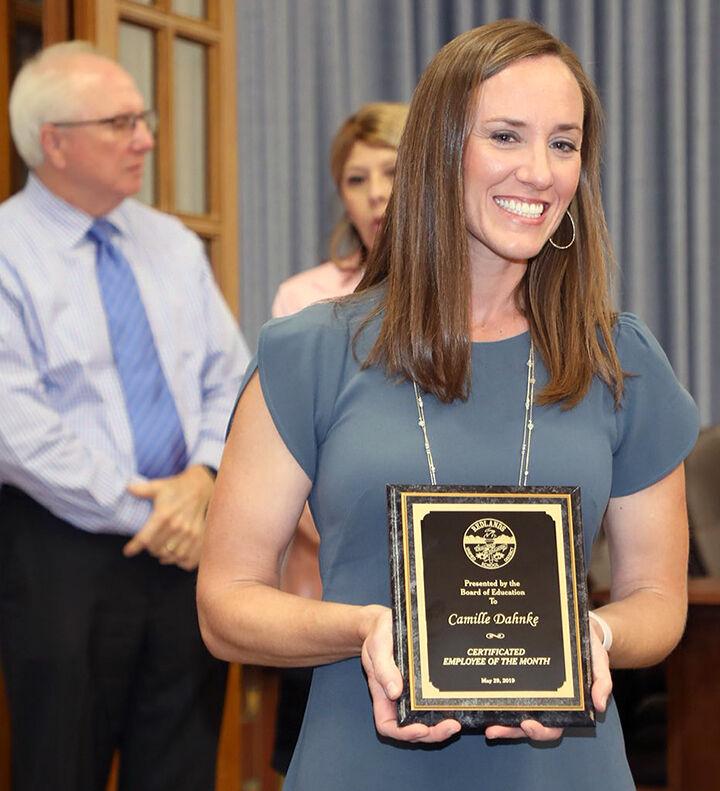 Judson and Brown kindergarten teacher Camille Dahnke was honored at Redlands Unified's school board meeting on Tuesday, Sept. 22.
Dahnke was recognized as one of the San Bernardino County Teachers of the Year.
"These teachers have demonstrated excellence in educational innovation while engaging their students with distance learning models," said Ted Alejandre, county superintendent. "Due to the pandemic, the more than 18,000 teachers in public schools in our county have taken on challenging circumstances to transform student success. These are extraordinary teachers in extraordinary times."
Superintendent Mauricio Arellano said Redlands Unified is proud of Dahnke and her work.
"Watching Camille's classes using WeVideo, Book Creator and Prowise, I've noticed 5-year-old kids learning responsibility, self-determination, independence and creativity," said Arellano.
Dahnke, who has been a teacher in the district for 17 years, said she never thought she would be a technology person.
"Something occurred to me when my principal saw I was willing to try new things," she said. "Learning doesn't have to be in a structured worksheet type of way. It can be fun with pictures or videos."
The school board approved the new Learning Continuity and Attendance Plan (LCP), which replaces the Local Control Accountability Plan (LCAP) for one year.
According to the district, the LCP is intended to balance the needs of educators, parents, students and community members. It describes the planning process for the 2020–21 school year as a result of COVID-19 and includes descriptions of how the district will address gaps in learning, conduct meaningful stakeholder engagement, maintain transparency, address the needs of unduplicated pupils, students with unique needs and students experiencing homelessness.
The LCP also describes how the district will provide access to devices and connectivity for distance learning, provide resources and support to address student and staff mental health and continue providing meals for students.
Arellano wanted to make it clear that the LCP was not an in-person learning plan.
"This is not an approval of the return to school," he said. "If we accidentally made people believe that was the message, it is not. A return to school plan with a safety plan would be a whole different document. We are in the process of updating our safety plan from July."
Arellano also spoke on the state's TK-6 waiver.
"Districts who meet certain guidelines can consider in-person learning for those grade levels," he said. We are still looking at COVID-19 data. We want to make sure it is safe. The district would have to present a safety plan vetted by the county and state public health departments before it could apply for a waiver."
Arellano said they are working on a contact tracing plan for the entire district.
"The district also must have consultations with labor groups and their consent to apply for a waiver," said Arellano. "Unions have the right to negotiate working conditions. Right now, the district and Redlands Teachers Association are having discussions."