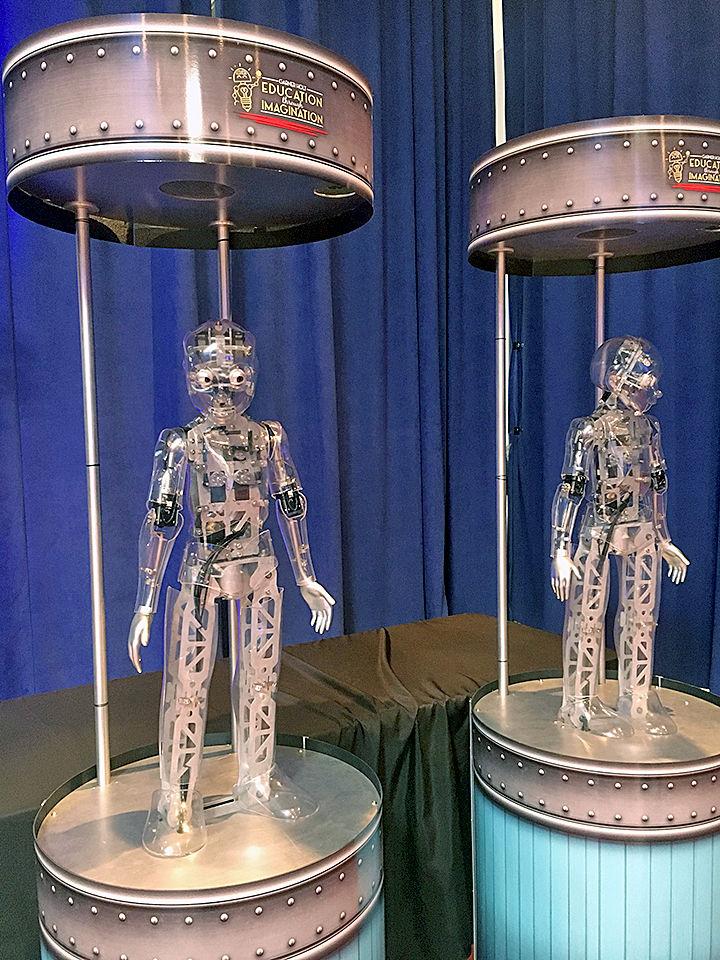 Garner Holt's Education through Imagination has been implemented at the elementary level in two Redlands schools — Victoria Elementary and Franklin Elementary. A few weeks ago, the Board of Education approved funding to install a Garner Holt animakerspace at Clement Middle School.
Robert Clarey, principal of Clement Middle School, is excited to see the level of student engagement that he anticipates Garner Holt's Education through Imagination Animakerspace will bring. Clarey suspects that the Animakerspace at Clement will be open by fall 2019.
"The idea of digital storytelling is big right now, it's a great way for students to show what they know," Clarey said.
According to Clarey, one reasons that the Animkerspace will be placed at Clement is that it's a Title I school, meaning almost 75 percent of Clement's students come from low-income families.
"My big thing is engaging students so that they come to school," Clarey said, "because if they come I can teach them."
Clarey thinks that Garner Holt's Animakerspace will encourage students even more and get them excited to learn. "We do pretty well, we have about a 96 percent attendance rate," Clarey said.
"We're very excited about this space coming to Clement, the type of programming that something like the animakerspace brings increases student engagement, and that's really what this project is all about."
Since elementary schools don't normally have scheduled class periods like secondary schools, the approach to using the animakerspace will be different in a few ways.
"This will actually be part of the students' days," Clarey said,  "We will include it in what we call our exploratory rotation."  
At Clement Middle School, exploratory stations are used to rotate the types of electives that students participate in over the school year. Right now, students at Clement rotate electives 3 times a year. The programs include computer, woodshop and theatre arts classes.
"Our plan is to include the animakerspace as our fourth rotation so we'll rotate each quarter of the year, and the classes will be nine to 10 weeks long," Clarey said.
"The vision, ultimately, is that all of the exploratory programs are going to support each other," Clarey said, "When they're in computers for example, why not learn the coding and the solid works that ultimately they'll use when they're in the space? When they're in woodshop they're learning some of the manufacturing tools they might use. In the drama class students can start writing scripts and doing some work with green screen and filming."
Ryan Rainbolt, director of educational programs at Garner Holt, explained that the technology involved at the middle school level will be brought up a notch.
"In the middle school version, the machines will be more sophisticated. Programming those machines will be slightly more difficult and the knowledge required to operate these machines will be at a higher level," Rainbolt said.
At Clement, the space will be built in between the woodshop and theatre classes. There's even a door between the woodshop and animakerspace, allowing for interdisciplinary collaboration.
"What's neat about Clement is that the physical layout of these three buildings will simulate that integration of building and engineering and visual and performing arts all in one," said Rainbolt.
Each of these disciplines will extend the other, and allow students to explore and hone their skills in a way that may relate to their passions in a certain career field.
"The idea is to get kids thinking about their futures. There's research out there that has been conducted that indicates how students respond when asked about their levels of hope is a better predictor of future success than academic test scores," Raindbolt said.
Rainbolt said that Garner Holt's Education through Imagination aims to expose students to a variety of careers and educational experiences early on, so that kids can see what's interesting to them and gain confidence in their strengths.
"We should be building on students' strengths rather than just always trying to fill their weaknesses," he said.
"How do we give students a more positive outlook on the future?" Rainbolt said "Well you can't focus on hope without focusing on the future and you can't focus on the future without focusing on careers."
Rainbolt said that academic gains would come naturally when students are more hopeful and engaged with their educations.
"Providing an emphasis on the future, which we hope instills a higher level of hope in the students that we serve, which we hope will engage them at higher levels. The more engaged students are, the more they come to school, and perform," said Rainbolt.
Jamie Cortz, director of instructional technology for Redlands Unified School District, spoke about how all of this fits into the district's mission and philosophy on education.
"We really like that the animaker space creates an exciting and engaging environment in our schools," Cortz said.
Accoridng to Cortz, enhanced learning through innovation is a part of Redlands Unified School District's 2025 vision.
Garner Holt's Education through Imagination contributes to this vision through the animakerspaces.
Definitions
A makerspace is defined as "a place in which people with shared interests, especially in computing or technology can gather to work on projects while sharing ideas, equipment, and knowledge."
An animakerspace is a makerspace with a focus on making things move. Special kind of makerspace, is a term that's used to describe an environment where all of the equipment that you need to be imaginative is in the makerspace.