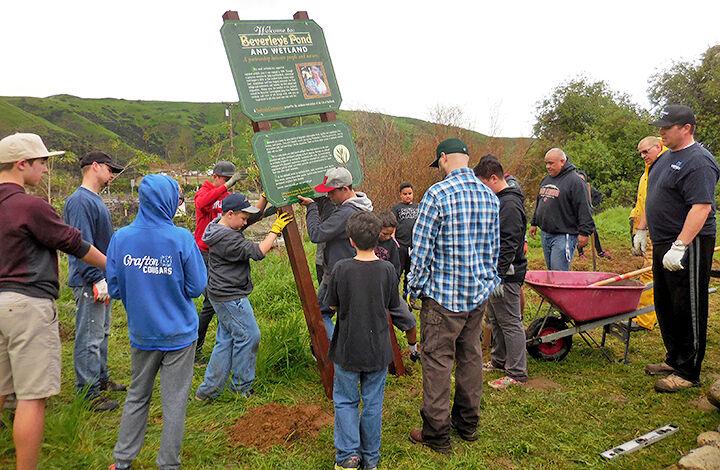 Eagle Scouts and trails and open spaces seem to go together naturally. 
Redlands Conservancy has the trails and open spaces, and Redlands has the Eagle Scout candidates. The conservancy invites potential Eagle Scout candidates to check out the project opportunities.
For several years, the conservancy has hosted Scouts who are seeking activities that will give them practical experience in all the critical aspects of planning and conducting projects which also benefit the entire community.
According to information from the Eagle Scout Service Project literature, activities could include all kinds of projects, including making birdhouses for an arboretum, conducting bicycle safety rodeos, constructing park picnic tables or benches, upgrading hiking trails, planting trees and conducting well-planned blood drives.
Over the years, projects completed in partnership with Redlands Conservancy have included providing and installing benches along the rural trails, the development of Bobcat Bowl at San Timoteo Nature Sanctuary, providing and installing interpretive signs and benches at lookout points, and constructing barriers along the trails to discourage social trails.
At San Timoteo Nature Sanctuary, Scouts can consider several opportunities for 2020 and 2021. On the Alessandro Road entrance, visitors are greeted with a kiosk, sign-in box, bench and box with bicycle bells. One project will tie all these amenities together with a small and attractive arbor.
Another project at San Tim will install a small interpretive display at Bobcat Bowl so visitors can learn about the native habitat and wildlife.
A third project involves mapping and installing mile markers along the 5-mile loop trail so trail users can assess their physical condition as they hike or bicycle.
Herngt "Aki" Preserve in Live Oak Canyon could also benefit from the mile-marker project, as the preserve has more than 7 miles of natural surface multi-use trails.
Another project at Herngt "Aki" involves developing an interpretive sign at the lookout point on Overlook Trail, while a third project would have the Eagle Scout candidate installing rest benches along the various trails.
Redlands Conservancy leases a 12-acre Live Oak Canyon Ranch from the city of Redlands and is developing an outdoor experience headquarters there with a native plant demonstration garden, connector trails to Herngt "Aki" Preserve and Saha'tapa Trail, and a facility for activities associated with the Canyon Environments Education Program.
While the activities at the ranch are on hold during COVID, the conservancy anticipates being prepared to host the public when restrictions are lifted. One possible Eagle Scout project there is to develop an outdoor setting where the programs and activities can be conducted.  
"Thanks to the Eagle Scouts, Redlands Conservancy has been able to enhance the trail users' experience at San Timoteo Nature Sanctuary and at Creekside Trail," said Sherli Leonard, Redlands Conservancy executive director. "Everything they do for us benefits the entire community."
Possible Eagle Scout projects
To inquire about Redlands Conservancy's possible projects for Eagle Scout candidates: Visit redlandsconservancy.org or call (909) 782-6208.