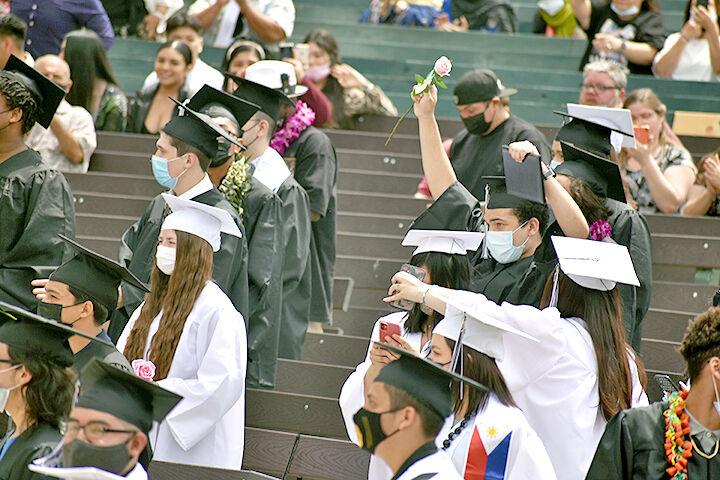 Approximately 80 Orangewood High School students became graduates in an in-person ceremony Monday morning at the Redlands Bowl.
Principal Carol Ruhm, who is retiring, congratulated the students for having the tenacity and grit to overcome the challenges in this year of the pandemic.
"Graduates, every year at the Orangewood graduation we reflect on the major accomplishments of the Orangewood students," she said. "But this year, this year was different than all of the other years. This year, the   challenges were more daunted. This year, the challenges felt more impossible. And yet, here you are."
Students cheered and parents clapped.
Orangewood is a California Model School that gives students a second chance at earning a degree.
"For some of you, this is the first time you have seen your classmates in well over a year," she said. "For some of you, you haven't even set foot on the Orangewood campus. And yet, here you are."
Sixteen graduates were awarded 33 scholarships totaling $37,300 from 73 organizations or individuals in our community.
Ruhm congratulated the 25 AVID (Advancement Via Individual Determination) students who were graduating. One of them, Yaideliz Medel, praised her fellow students for never giving up.
She quoted Conrad Hilton, founder of Hilton Hotels, who said, "Successful men and women keep moving. They make mistakes and don't quit." At Orangewood, she said, "We were told there is always a way, a place where we felt safe and supported."
Scholarship winners
Juliette Estrada, Rose Albert Memorial Scholarship
Azalea Esquival, Redlands Evening Kiwanis Club
Hailie Felix Lopez, Hartzell Memorial Patricia Wirz Memorial Rotary — AVID
Joshua Fernandez, Ba'Hai Faith Redlands Rotary Schools First Credit Union Redlands Teachers Union
Alexis Garcia, American Association of University Women
Jason Hernandez, Julia Moore Memorial
Joseline Manzano,  Redlands Rotary Assistance League Professional Women Robert Morlan' Redlands Interfaith Council
Yaideliz Medel, Redlands Teachers Association, Redlands Noon Kiwanis Club, Todd Thomas Memorial Scholarship — AVID
Marlene Mendoza, American Association of University Women
Nailea Rodriguez, Redlands Noon Kiwanis Club, Albert Ruiz Memorial, Soroptimist International of Redlands
Jose Rodriguez, Julia Moore Memorial Scholarship
Andrew Salgado,  Thomas Todd Memorial Scholarship, AVID, Redlands Evening Kiwanis
Kaya Sosa, Julie Moore Memorial Scholarship