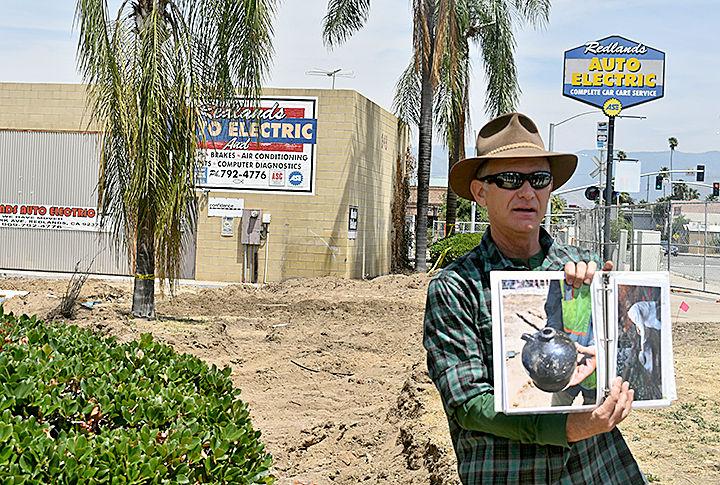 Archaeological company Statistical Research Inc. is conducting an excavation of Redlands' old Chinatown on Oriental Avenue.
Donn R. Grenda, president of the archaeological firm, gave a tour of the site on the corner of Oriental Avenue and Eureka Street near Studio Movie Grill in Redlands Saturday morning.
The excavation is being done on behalf of Property One LLC, the real estate company associated with Esri, which also owns the Santa Fe Rail Depot.
"There is a small project that a friend of ours, Donn Grenda, is involved in," Mayor Paul Foster said of the project at the unveiling of the new Redlands Public Market. "Donn Grenda and his company are doing all the cultural inventory work with some of the great projects that are going on downtown.
"Over the next several months he's going to be doing multiple sites, including the area that used to be Mexican town as well as some additional parts of the Chinatown area. So what he finds will be donated I believe by Esri to the city's museum and library, so we feel very fortunate," Foster said.
Grenda explained that the excavation has already led to some recovered artifacts, such as several large bottles used by Chinese workers to hold soy sauce.
"The center of Chinatown was right here on this corner," Grenda said. "The Chinese quarters was here from about the late 1880s to the 1920s. The Chinese population in the town ranged from 400 to 500. This is essentially what I would call an apartment complex, about 120 feet long, brick structure, had about eight rooms in it."
The excavation is taking place around the Redlands Auto Electric store, which will become the Jeremiah Riley Whiskey Distillery. Further down from the site is the Rondor building, a brick structure built in 1906 that will become the new home of the Escape Craft Brewery and a new restaurant.