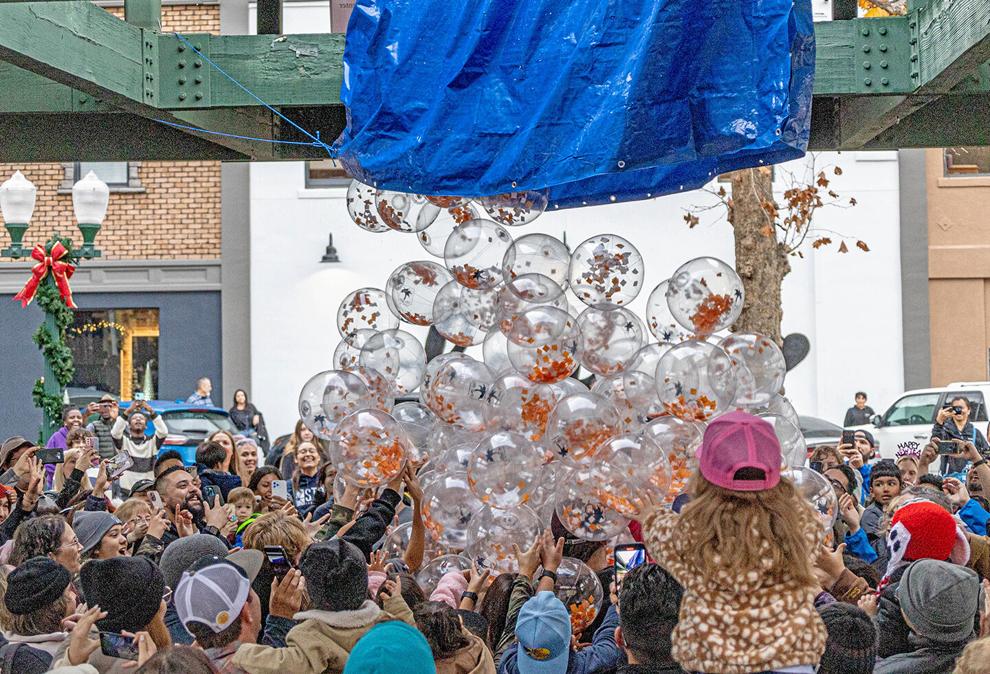 Cooler weather and a threat of rain did nothing to dampen the spirits of the hundreds of Redlanders who came out to welcome in the new year, London time.
For the second year in a row, Redlands Visitor Center hosted the downtown party, held at Ed Hales Park. In years past, the Redlands Chamber of Commerce organized a similar activity, but when the pandemic shut down gatherings, the Redlands Visitor Center took the ball and ran with it.
Before the 100 beach balls, filled with orange confetti, dropped at 4 p.m.,­­ families enjoyed cookies and dipped pretzels, playing games and having the opportunity to plant a cactus.
Robyn and Kristian Ekenes brought their four children out to get out of the house and to participate in a family friendly celebration. Thomas Jackson, there with his family, noted, "It wasn't bad for a free event." Local donors and sponsors made it possible for the activity to be free. Martha Green donated the cookies and pretzels, while Bean and Sprout helped kids plant their own cactus.
Children were also able to get a balloon twisted into one of many shapes, courtesy of a few locals. Others busied themselves with the games provided by Board Game Paradise or wrote their wishes for the new year on a large sheet of paper with Mansion Memories volunteer Dianna Lawson.
The wishing wall wishes ranged from whimsical to more hopeful. Some wishes were anonymous, while others claimed theirs.
Families and groups also took advantage of the selfie station, grabbing a selfie with professional equipment and then having it emailed to them. As the 40-foot Christmas tree and Santa's sleigh still stood at the park, others used those backdrops to get one last holiday picture.
Participants started to gather under the large bag holding the beach balls as the clock slowly made its way to 4 p.m.
With help from the DJ, the crowd counted down.
As the balls dropped, the crowd kept the beach balls going up, gently tossing the balls to others for a few minutes, keeping the spirit of community going just a little bit longer.
Other community sponsors include All About Redlands, a sister organization of Redlands Visitor Center, About Redlands Realty, Burgeson Heating and Air, Emerson Fine Jewelry and Alta Vista Credit Union.