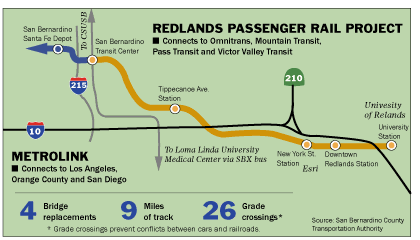 The San Bernardino County Transportation Authority (SBCTA) has begun mainline construction on the Redlands Passenger Rail Project, which will bring the next generation of passenger rail service to the East Valley.
 To celebrate this  occasion, SBCTA has planned a groundbreaking event at 10 a.m. Friday, July 19, near the corner of Third Street and Stuart Avenue in Redlands. The event is open to the public.
 The Redlands Passenger Rail Project will add a 9-mile rail connection between the University of Redlands and the San Bernardino Transit Center, a multi-modal transit hub that can provide access to all points west. When completed, the project will house the Arrow commuter line, featuring specially designed low-emission passenger trains that ultimately can be converted to zero-emission vehicles. The zero-emission units would be the first of their kind in North America.
 The Arrow system is expected to be operational in 2021.
The construction contractor for the Redlands Passenger Rail Project, Flatiron West Inc., has built rail lines across the world including recent work in San Diego along the North Coast Corridor and San Diego Blue Line,