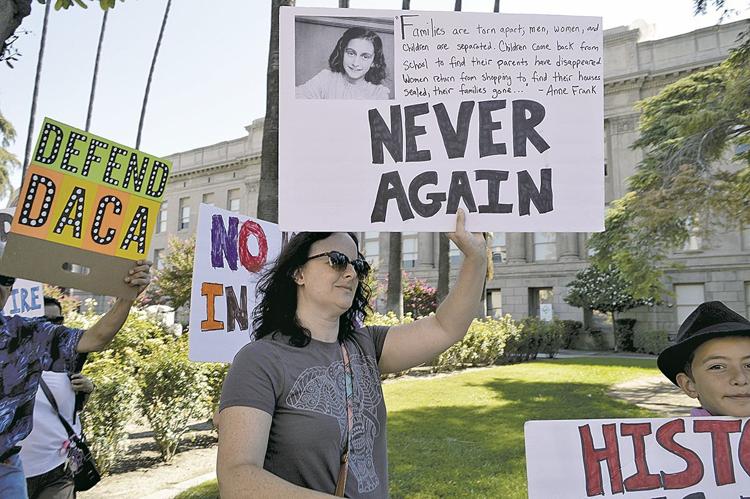 Inland Empire residents marched through San Bernardino streets on Tuesday, Aug. 20, demanding local leaders to oppose plans by the federal government to open a shelter for migrant children in the region.
The protest came after four Democratic Inland Empire members of Congress — Reps. Norma Torres, Raul Ruiz, Mark Takano and Pete Aguilar — expressed opposition to the proposal.
"The need for more facilities to house immigrant children is a direct result of the president's anti-immigrant agenda,"  Takano said.
According to federal authorities, at least seven children have died in U.S. immigration custody since last year. Emilio Amaya, executive director of the San Bernardino Community Service Center, worries that such negligence could be  repeated across the nation.
"We are concerned about the lack of supervision and control in such centers," Amaya said. "We know that abuse and neglect, even deaths, have occurred because of negligence by authorities,"
Tuesday's march at the county center where the Board of Supervisors was meeting was organized by Indivisible San Bernardino, which opposes Trump's anti-immigrant agenda, started after several pro-immigration rights groups spoke against the plan to open a 430-bed shelter somewhere in the Inland Empire or Los Angeles County.
"Kids should not be in cages," said Steve Walker, who represents Indivisible SB.
"I oppose this plan and I hope more people speak up against this to let the government know that we in the Inland Empire will not tolerate this behavior and we will fight this camp."
The rally occurred on the same day of the deadline imposed by the General Service Administration for property owners interested in leasing their land so that the shelter is placed.
According to GSA spokeswoman Pamela Pennington, information on who met the Aug. 20 deadline to express interest is "procurement sensitive information," and thus "we are unable to share."
 Jennaya Dunlap of the Inland Coalition for Immigrant Justice said the community should rise up to this "immoral" idea, especially after the Department of Health and human Services, which would operate the shelter if opened, revealed that from October 2014 to July of 2018 there were 4,556 allegations of sexual abuse inside similar shelters.
"We cannot continue to normalize incarceration and mistreatment of immigrants," she said.
"This administration has already arbitrarily expanded immigration detention by tens of thousands of beds, despite promising Congress that they would decrease detention capacity.
"We will fight this until the end."
Dunlap added that migrant children are sent to adult migrant prisons operated by Immigration and Custom Enforcement, such as the Adelanto Detention Center.
Protesters demanded San Bernardino County supervisors to take a stand against the plan.
County spokesman David Wert said, "The county has not been notified about a possible shelter for migrant children in the Inland Empire.
"The county can't have a position or comment on something like this unless the Board of Supervisors, meeting as a body in public with advance notice, has voted to establish a position for the county.
"And the information is too new and too uncertain for the board to consider a position at this time.
"It doesn't even appear that it is known in which county the shelter would be located."
Third District Supervisor Dawn Rowe, who represents Redlands, did not respond to emails.
On Monday, Aug. 5, GSA started seeking to lease space in Southern California.  
Documents outline a possible location for the shelter in San Timoteo Canyon, near Redlands.
The designated map includes cities such as San Dimas and Pomona in the Los Angeles County and eastern San Bernardino County cities such as Ontario, San Bernardino, Fontana, Rancho Cucamonga, Loma Linda and Redlands.  
The map also includes cities in Riverside County, such as Riverside, Jurupa Valley Moreno Valley and Norco.