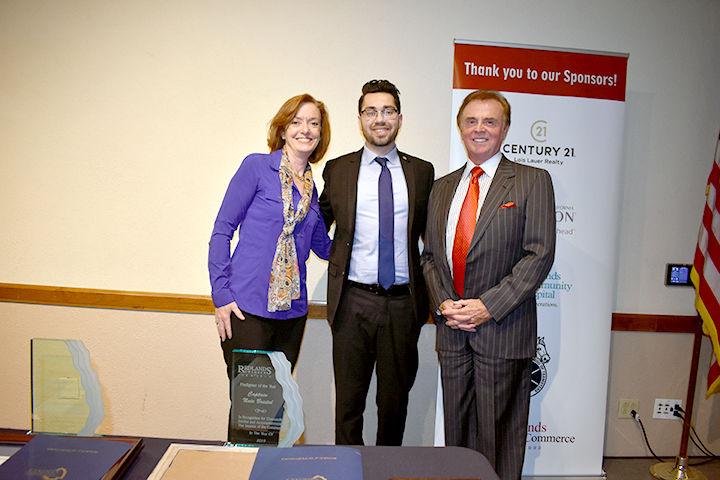 Tim Rochford, a Redlands High School graduate who amassed a fortune in the oil business and returned to town to become one of the city's leading philanthropists, was honored Tuesday as the Redlands Chamber of Commerce man of the year for 2019.
Lynn Whitmer, a dynamo for years with service clubs and other organizations, was named woman of the year.
Cpl. Corey Hunt, who has served with the Redlands Police Department for 27 years, was named officer of the year.
And Capt. Nate Bristol, a High Desert product who has been with the Redlands Fire Department for more than two decades, was named firefighter of the year.  
It also was a night to celebrate the new board of directors, including new President Justin Bouzane of the Results Group, a real estate agency. It was also the first installation dinner for Executive Director Chris Alvarez, who took over last summer.
The 2019 man of the year was selected by an independent committee led by Bill McCalmon and the woman of the year is chosen by a committee led by Marilyn Solter, working with the chamber.
Man of the year
Rochford has a hometown love and loyalty for Redlands and the youth of our city, according to his nomination papers.
He grew up on Campus Avenue near the University of Redlands, attended Franklin Elementary, Redlands Junior High and graduated from Redlands High School in 1965.
At a Redlands chamber breakfast meeting on Jan. 7 at the Burrage Mansion, Alvarez asked Rochford if he ever expected to be so successful.
Rochford laughed.
His mother was an accountant and his father worked in the service department of local car dealership.
"But any time there was something that I wanted, I worked for it," he said.
He demonstrated his work ethic at the tender age of 8. He set up a mistletoe stand on State Street a few days before Christmas. Young Tim knew where to find the fungus that grows on host trees. He scavenged a large cardboard box that he set up as a work station in front of what was the Harris' department store. He invested in bows and tied bows on the sprigs of mistletoe to sell to passersby.
Tim joined the Navy and married his former classmate and girlfriend, Carol Drewitz. They will celebrate their 50th wedding anniversary soon. The couple have a son, daughter, two granddaughters and four great-grandchildren.
A born entrepreneur, Rochford became active in the oil and gas industry in the Midwest in the early 1970s.
Tim has purchased and restored many historic buildings in downtown Redlands, underwritten city beautification projects and made significant contributions to the Museum of Redlands, helping support and maintain the city he loves so much.
While highly successful as a businessman, Tim is regarded as a philanthropist, particularly toward the youth of our city.
Tim coached youth sports and has financially supported local high school youth sports teams. But his greatest contribution began in 2008 when he and Carol fulfilled a lifelong dream and established the Rochford Foundation, a nonprofit dedicated to serving disadvantaged local children.
He and Carol purchased and renovated the Burrage Mansion, a historical Redlands treasure built in 1901 by industrialist Albert Burrage, which is now used for the sole purpose of carrying out the foundation's mission of service to children.
Woman of the year
Whitmer, a Redlands High School graduate who has deeply involved with the community for several years, was nominated on behalf of the Redlands Community Hospital and the Redlands Noon Rotary club.
"Lynn has been a dedicated volunteer for nearly 30 years assisting a variety of nonprofits in number of roles, and given her age and energy, likely won't be slowing down any time soon," says the nomination letter.
Whitmer graduated from Redlands High School and returned to Redlands after graduating from Cal Poly Pomona in 1984. Soon after she married Gary, and a few years later had the first of their two children. Working for the Redlands Daily Facts at the time, with some children in tow did not slow her down.
What started simply as helping out at Sacred Heart became being involved with Brownies, Redlands Day Nursery, Scouting and Redlands Baseball for Youth. She accepted the offer to join the Redlands Day Nursery board and served as its vice president, then President in 1999. During her presidency  Redlands Day Nursery was able to open a second location with the aid of a federal grant.
Whitmer was very involved with Brownies and Scouting. The Whitmer's son was in Troop 11 and she was there assisting with the annual Super Bowl Pancake Breakfast, the Family Christmas Dinner and Scouting for Food drive.  
She has been a longtime member of the P.E.O. Sisterhood, and has served Chapter PK as secretary, vice president and president from 1995 to 1997.
She volunteered with the Redlands Educational Partnership serving on a variety of committees, chairing the publicity committee, and finally served as their president.  
She also joined the board of the Redlands Community Hospital Foundation where she assists with the annual golf tournament, has co-chaired the Art Committee for the past nine years, and served as board chairwoman in 2016 and 2017, which was when the hospital foundation laid the groundwork for what now is a capital campaign raising more than $6 million for a new emergency department and new surgical rooms.  
In 2011, she joined the Redlands Community Foundation, initially as a board member, later serving as the secretary, then in 2018 agreed to serve as chairwoman. During her tenure on the board, the asset base has grown fourfold to just under $4 million.
In 2012, when she agreed to assist Shirley Harry in her real estate business along with work came volunteering right beside Shirley in creating and implementing the Redlands Festival of the Arts.
"She is positive, upbeat, and approaches any task with a can do attitude. Best of all, if Lynn is working on it, it will get done and done well," said the nomination.
Tim Rochford's awards
City of Redlands, grand marshal, 2011 Redlands Christmas Parade.
Shamrock Club: 2011 Irishman of the Year.
Redlands Noon Rotary: 2016 Extra Mile Award.
Redlands Sunrise Rotary: 2016 Paul Harris Award.
Redlands Town & Gown: 2014 Award of Distinction.
University of Redlands: Honorary doctorate, 2015.
Benchwarmers: 2017 Marshall Phelps Award.
Association of Redlands Veterans: 2018 recognition and appreciation.
Carol and Tim Rochford Awards.
Forest Home: 2013 recognition and appreciation.
Olive Crest: 2016 Brinton Child Advocacy Award.
Children's Network of San Bernardino County: 2016 Shine a Light on Child Abuse Award.
Loma Linda University Children's Hospital: 2017 Discover Award.
City of Redlands: 2018 Hero Award.
Loma Linda University Children's Hospital: 20118 Lifetime Achievement Award.
Redlands Community Hospital Foundation: 2018 honorary co-chairs for RCH 36th  annual Golf Classic for the Ken Corwin Cup.
Unforgettables Foundation: 2018 Summer Austin Award.
Boys & Girls Club of the Inland Empire: Be a Great Mission Award.
Association of Fundraising Professionals, Inland Empire Chapter: 2019 Philanthropists of the Year Award.
More honors
Redlands Area Historical Society: 2012 Heritage  Award for the Burrage Mansion.
Redlands Conservancy: 2016 Adaptive Reuse Award for 25 E. State St., Redlands.
City of Redlands: 2015 Beautification Award for the Burrage Mansion.
The Redlands Police Department Officer of the Year for 2019 is Corporal Corey Hunt.
Nate Bristol, who has served as a captain in the Redlands Fire Department since March 2012, …