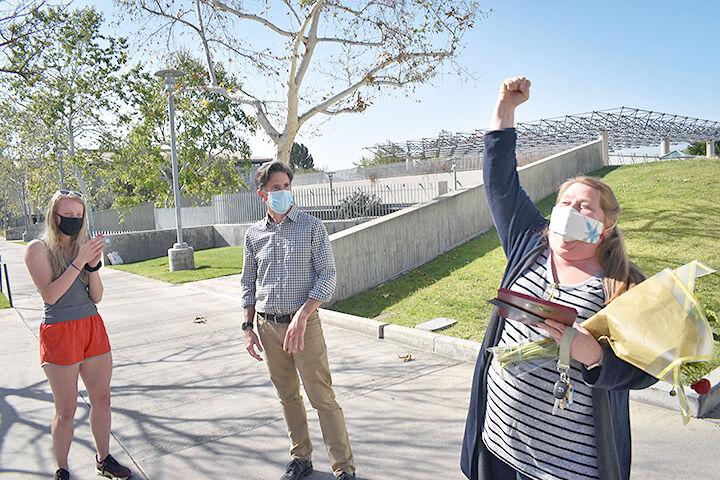 The University of Redlands Mortar Board Honor Society has named Candace Glendening as Professor of the Year.
Glendening, a senior lecturer of biology in the College of Arts and Sciences, has been teaching at the University of Redlands for nearly 17 years.
While Mortar Board members couldn't throw their annual wine and cheese event to celebrate the award nominees and winner, they wanted to make the experience as special as possible. Hannah Albrecht, president of Mortar Board, Amy Moff Hudec, adviser for the club, and Steve Wuhs, interim dean of the College of Arts and Sciences, surprised Glendening with the award in the courtyard outside the science center.
"I am so honored to be able to give professor Glendening this award on behalf of Mortar Board," Albrecht said. "Students had so many wonderful things to say about her."
Upon hearing the news, Glendening said, "I have the best students. They don't mind me sending them mold to work with at home for [my class] Mother Earth Chemistry. I did have to pivot this year, but my students are the reason we made it work."
This year, the seniors of Mortar Board worked to collect nominations and voted on the winner for this distinguished prize all from home due to the pandemic.
"We all know that professors must be good communicators, have a passion for and a great deal of knowledge in their subject area, and be effective mentors," said Wuhs during the short celebration on Tuesday, March 30. "But the reality is that a professor needs to be so much more than that — especially during times like these. A great professor needs to be compassionate and empathetic, all while maintaining the highest of standards for students.
"Candy is one of those who manages to be all that and more. Her students are lucky to have her."
In one anonymous nominee form, a student wrote: "I hate science. It's never been my strong suit and I have dreaded every course I've had to take that is science-related. But Candy changed my opinion of both biology and chemistry."­
About Candace Glendening
She earned a bachelor degree in biology at Oberlin College and another in flute performance at Oberlin College Conservatory of Music, both in Ohio, and a master's in biology at Morehead State University in Kentucky.
She focuses her teaching on introductory courses for non-science majors. She enjoys designing courses that engage students in scientific concepts while learning about subjects that interest them. For example, students may learn to calculate the distance of a blood drop travels as part of learning forensic science or they may investigate the presence of antibiotic resistant bacteria in ground beef purchased from local grocery stores in a microbiology class.
Throughout her time at the university, Glendening has taught courses such as Genetic Engineering; Exploring Microbes: The Good, the Bad and the Tiny; Whodunnit: An Introduction to Forensic Science; and Mother Earth Chemistry/Science.
The Mortar Board: This was the 63rd year that Mortar Board undergraduates honored a distinguished faculty member who embodies the group's ideals of scholarship, leadership, and service.
Other finalists Women, gender and sexuality studies professor Jennifer Nelson.
Religious studies professor Bill Huntley.
History professor Matthew Raffety.
Business professor Vernon Stauble.