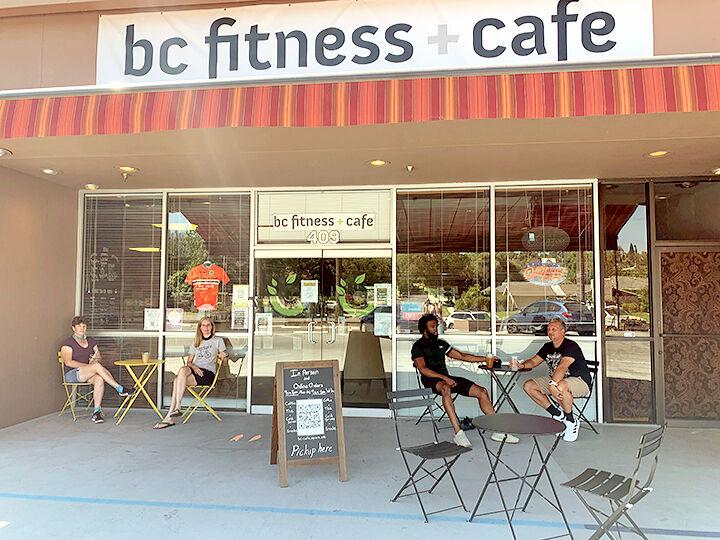 A second shutdown and downtown cafés closing are making it hard to get a well-brewed cup of coffee in Redlands these days. But there is a new place in town serving up lattes, pour overs, Americanos and specialty teas: BC Fitness + Café. Conveniently with ample parking and outdoor patio just behind the Albertsons shopping center on Palm Avenue .
Rachael Wilson opened her bike coach fitness studio four years ago and has been in the current location since August 2019. On Feb. 28, their café opened as well. There is easy parking and room to sit outside as well as plenty of seating inside. Normally they can seat 40 people, which was cut down to a third in the first reopening phase. Now, with the second COVID-19 shutdown they operate with curbside pick-up and outside seating.
"We are super excited to expand and welcome the community for better service options," Wilson said of their outside seating. "We want to create an environment for the whole community."
She is searching for a partner to provide pre-prepared food and treats for the café, she said. At the studio they offer several services besides the café. Wilson is a professional bicycle coach, which includes doing bike fittings, providing skills clinics and personal training. Her fitness studio hosts a variety of classes with eight instructors, though currently all are happening on Zoom. Additionally, BC Fitness is a Silver Sneaker facility, serving senior members of our community. They have not yet resumed club rides.
"Our focus is on small class sizes to provide personal service and attention," Wilson said, but for now they want everyone to stay safe. Their Zoom classes have had great results.
"It is not just about exercise, but the whole package, the whole picture," Wilson explains of including a café to the mix of classes, bike fittings, coaching, etc.
She hopes cyclists will come before and after their bike rides to enjoy social time with specialty coffees, teas and snacks, "We found out that people want to stay and give them that."
There's even dedicated bike parking inside.
A different part of the business is supporting junior riders through a nonprofit junior development program to get kids to be safe while riding, provide access to bikes through a loan program and teach kids to do bike repairs through an apprenticeship program.
The mentorships help with getting kids and teens to enjoy being outside, be physical, become more independent and have more confidence. It plays well with the karate program that is also offered at the facility, a focus of teaching respect for elders in the community and encouraging mentorships.
Wilson's background is with an art degree from the University of California, Davis, and she taught ceramics for 25 years. When fitness was getting popular she switched her art studio at home to a fitness studio and eventually opened the BC Fitness + Café.
BC Fitness + Café n Hours: 8 a.m. to 4 p.m. Monday through Friday, 9 a.m. to 1 p.m. Saturdays and Sundays,
Classes at BC Fitness: Indoor cycling, Pilates, strength, core and stability, yoga, Zumba, karate and self-defense.
Menu: Wild Goose Coffee, Summit Tea, light snacks, Naked juices, kombucha and other refreshments.
Coffee price range: $2.50 – $5.75 Information Online
On Facebook: BikecoachFitnessStudio
Website: www.bcfitness.studio/