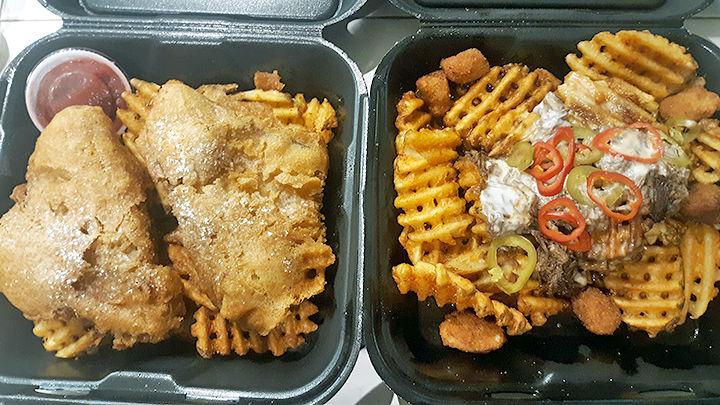 Not all rebellions need to be darkly lit and hidden underground. Like a flower fighting it's way out of the concrete, sometimes bright beauty is its own rebellion and the strength to relax is all it takes. That calm beauty is the first aspect that will not hit, but embrace you, inside Batter Rebellion in Redlands.
Located in the historic Cope Building on Citrus Avenue, Batter Rebellion has softly opened during a repressed time when opening a new restaurant would seem an act of rebellion against stubborn marketing mavens and the social norms. However, inside it is spotlessly clean, well spaced and well prepared, ready to keep diners in its bright atmosphere comfortably safe and well fed.
Local buzz about the restaurant has been humming on the streets and the many incredible restaurants in Redlands for just over three years. Owners Steven and Jennifer Kramer have carefully taken their plan to bring Redlands the classic comfort of a waffle spot in Portland, Oregon, and add to it the rebellious nature of Alice Waters, the famous owner of Chez Pannisse in Berkeley.
The light clean atmosphere of the restaurant is balanced by a robust menu of items structured like a rock 'n' roll concert venue from Openers (appetizers) to Headliners (main courses) and wild "Rocktails" from the bar.
The simple perfection of a waffle with bourbon maple syrup is the first thing to try because it will stamp on your palette that the foundation of every menu selection at Batter Rebellion is cooked with the truly expert culinary skill of keeping things simple first.
Customers who are not accustomed to the globally inclusive nature of California and New American cuisine are in for a treat. It's all the great things about traditional cooking as a foundation (like the waffle) mixed with localized ingredients and international flavors.
Braised beef short rib, smothered in demi gloss and specialty sauces, over a stack of waffle fries mixed together with midwestern cheese curds, topped with pickled southwestern peppers, becomes a rebellious "Obscene Poutine" from Canada.
A full reading of the menu at Batter Rebellion is encouraged because there is so much to try and of course, as with many California and West Coast cuisines, there are veggie and vegan options as well.
The grand opening of Batter Rebellion is scheduled for Saturday, July 11. Follow them on Instagram and Facebook for any changes or updates, and enjoy the enticing food pictures.
Batter Rebellion
Redlands Address: 5 E. Citrus Ave., Suite 110
Phone: (909) 748-600
Website: batterrebel
Soft opening underway
Planned grand opening: Saturday, July 11
New safety-related hours as of June 30: 3 to 10 p.m. Tuesdays and Thursdays, noon to midnight Fridays and Saturdays, 11 a.m. to 9 p.m. Sundays. Closed Mondays
Price: $10 to $20 n Style: California and New American Cuisine
Reservations recommended