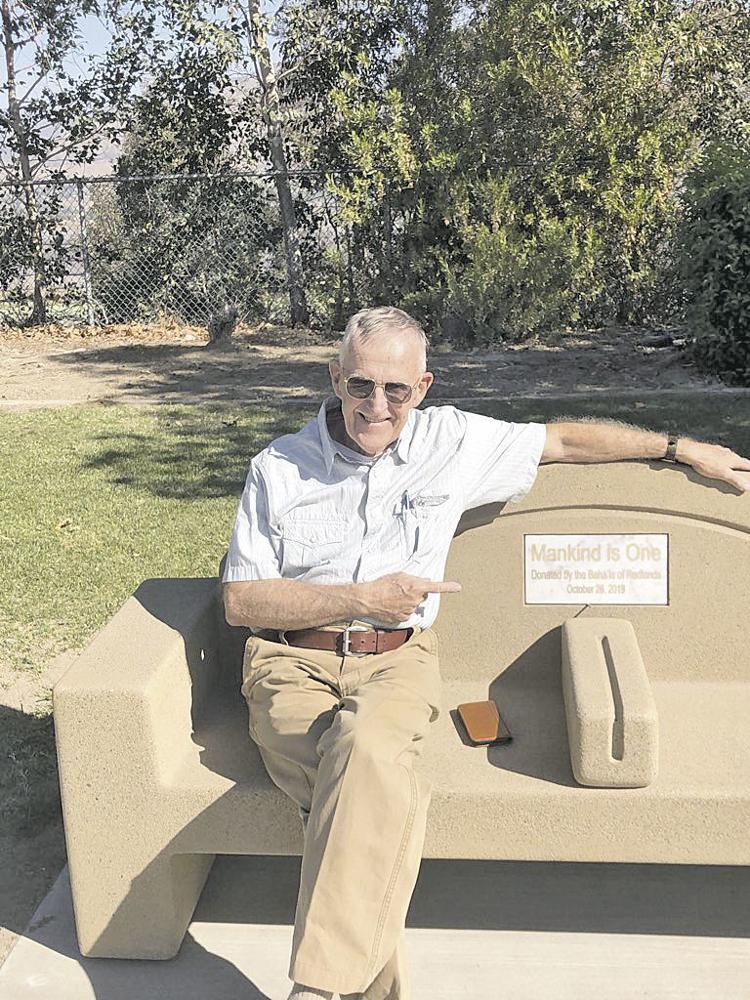 The Baha'is of Redlands are commemorating the 200th anniversary of the birth of the Bab, the forerunner and herald of the Baha'i Faith, at Israel Beal Park at 2 p.m. Sunday, Oct. 27, at Israel Beal Park.
As part of the commemoration, a donated park bench with a plaque proclaiming "Mankind is One" will be dedicated. The public is invited to share in this event at Israel Beal Park on River View Drive just west of Kingsbury Drive in Redlands.
The dedication is in keeping with Baha'i core teaching and belief in the oneness of humanity expressed as "One God, one human family, one unfolding religion." This core belief in oneness calls Baha'is to "actively work to overcome all prejudices and the systemic inequalities that divide people of different ethnic backgrounds, national origins, genders and social classes."
Baha'is believe their faith and community hold particular relevance in regards to present worldwide social conditions and challenges. To this end, Baha'is are collaborating with an increasing number of movements, organizations and individuals who likewise are working to further the causes of unity, promote human welfare and contribute to world solidarity.
Locally the Baha'is are a contributing member of the Redlands Area Interfaith Council. Internationally, they are active in advocacy and education in human rights, the advancement of woman and sustainable development.
The Baha'i Faith is organized without priests or clergy. These are replaced by elected local and national councils known as Spiritual Assemblies. A minimum of nine members constitutes an assembly. Democratic consultation upward and downward within this structure is of utmost importance.
Regular local meetings are held in private homes or at community centers offering opportunities for worship, learning and community service. Members are encouraged to daily pray, read from scripture, meditate and reflect on how to translate their faith into action. Each person is responsible for his or her own search for truth and relationship with God.
Baha'is "link personal growth with social transformation"' and "consider work done in the spirit of service to humanity as the highest form of worship." They believe that "lasting social change starts in the family and at the neighborhood level when relationships are established based on love and mutual respect."
Thus there is almost this imperceptible and continual interchange between personal faith and social purpose, conduct and goals. Each is reflective and conducive of the other.
"In the Baha'i teachings, refining one's inner character and offering service to humanity are inseparable. This twofold moral purpose helps to shape the endeavors of Baha'is in all areas of life." They anticipate a soon-coming time when humankind is destined to live as one family.
(Note: Quoted material and factoids are taken from The Baha'is, a publication of the office of Public Information of the Baha'I International Community.)
For more information visit facebook.com/TheBahaisOfRedlands/ or bahai.us
The Baha'i Faith
• The Baha'i Faith originated in Persia (today Iran) in the mid-19th century.
• In less than 200 years, it has become a universal faith present in every country.
• Its two founders were Baha'u'llah (1817-1892) and the Bab, who heralded his coming in 1844.
• The Kitáb-i-Aqdas or Aqdas is the central book of the Baha'i Faith written by Baha'u'llah.
• Baha'i Faith adopted its own global calendar in 2015 thus symbolizing a new era. Known as the Badi Calendar, it is a solar calendar of 19 months of 19 days each.
• The Baha'i New Year called Naw-Ruz falls on the first day of spring in the Northern Hemisphere.
• The Baha'i world center and shrine of the Bab is situated on Mount Carmel in Haifa, Israel.
• The shrines and gardens of this world center have been named UNESCO World Heritage Sites for their "outstanding universal value."