The 14th annual Red Dirt Art Festival at Smiley Park featured works by painters, photographers, mixed media artists, pottery, jewelers, sculptors, and leather craftsmen. The festival is another great meeting-of-the-minds, where artists come together to showcase their work and their expressions through different mediums.
Susan Graves, a classical guitarist, composer and music teacher at the University of Redlands, was commissioned to perform during the festival, playing Christmas songs, classical pieces by Bach and Austin Barrios, as well as compositions she arranged by combining classic songs together with worship songs to form an amalgamation of works she admires.
"You know, like 'All the Father' is very close to my heart as a worship song that I learned in the '80s. And it means a lot to me," she said. "And one of the very first classical pieces that I learned to play with any proficiency was the 'Cello Suite' by Bach. And it was at one point I just realized, 'Hey, you know, these two really go together.' If I edit Bach down a little bit in certain areas and rearrange it, it will make the perfect accompaniment for All The Father. And then I could have two in one of my favorite pieces."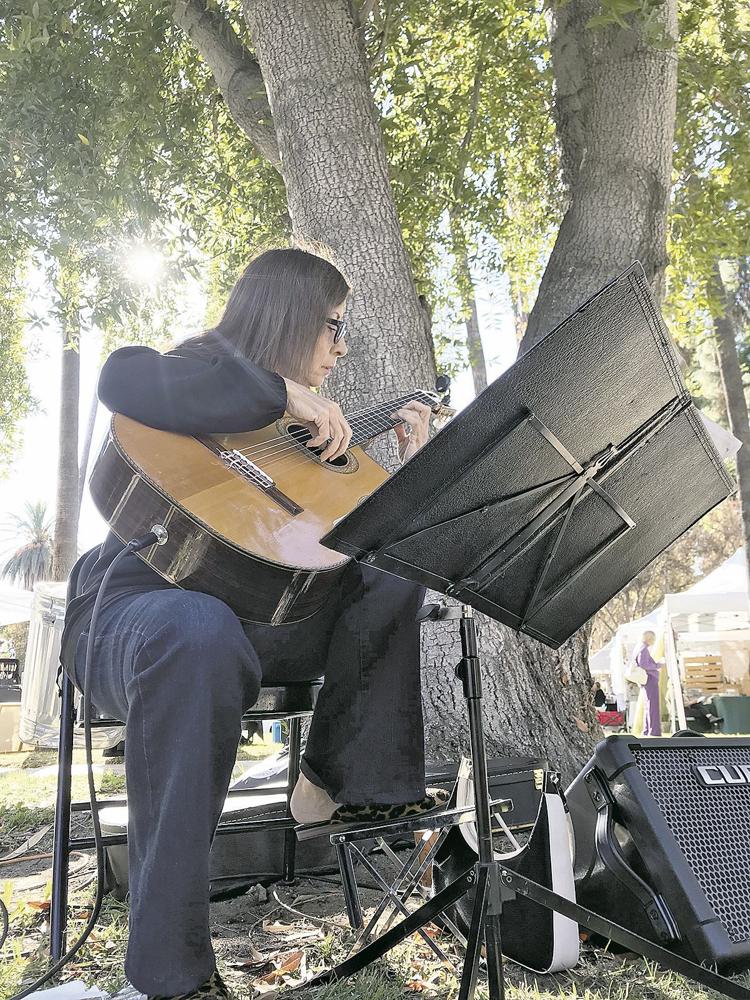 Graves is putting out two books, one of Christian arrangements combined with classical pieces, and the other is a classical guitar music theory reference book for those interested in further pursuing classical guitar.
"It's also something that doesn't really exist in a user friendly form, you know. So I'm hoping that this will be kind of a popular resource for classical."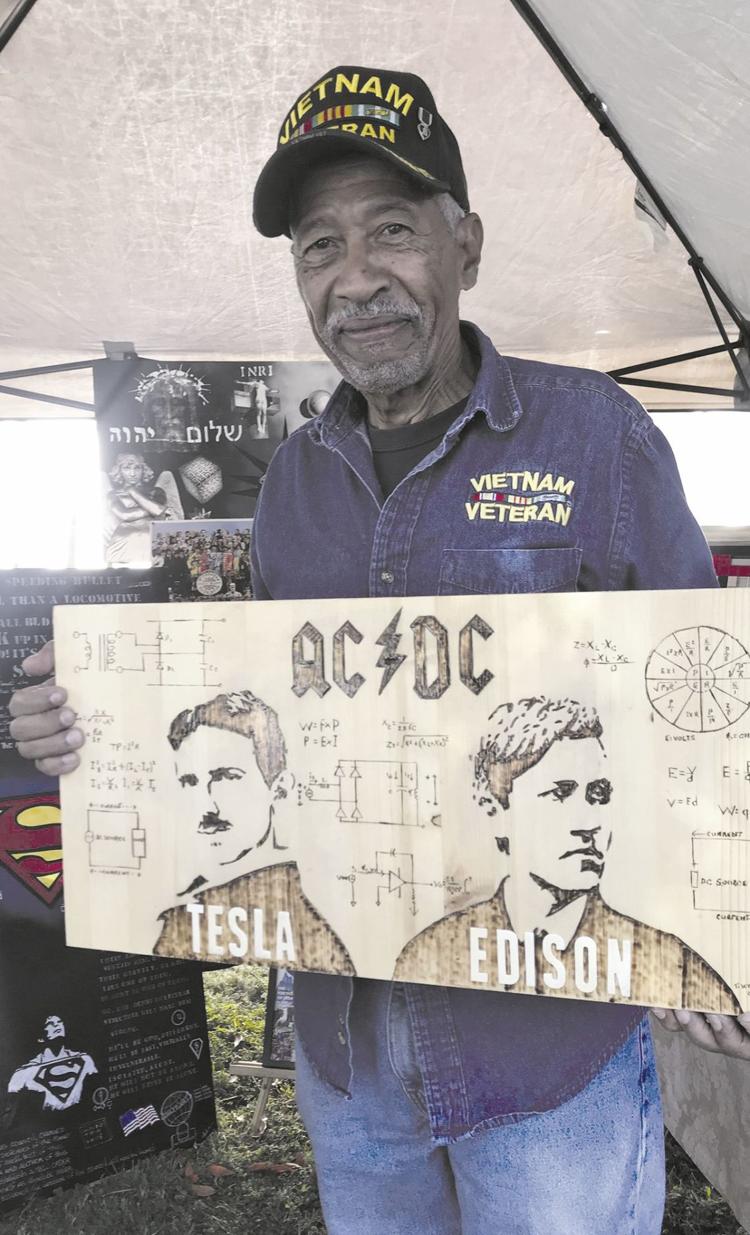 Among the various artists was Tom Fontanes, a Vietnam veteran who transplanted to the Redlands area with his wife from New York. Fontanes' work focuses on the past. It is a multi-media expression of retro-art, inspired by urban graffiti artists like Banksy and Basquiat. Like his fellow urbanites, Fontanes' Pulp Art collages and wood burnings are educational. His AC/DC wood burning, a three-part play on Edison, Tesla and the Australian rock band AC/DC, is an example of his wit and wisdom.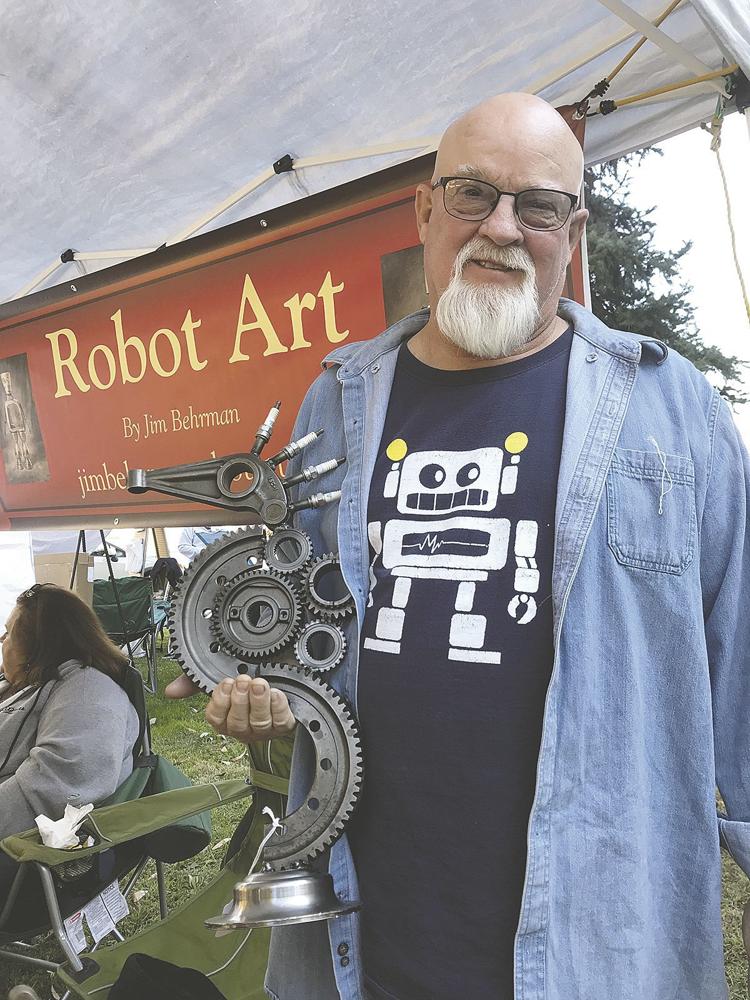 Jim Behrman, a sculptor of sorts, welds his creations together with the flotsam and jetsam of yesteryear. They are robots with an antiquated quality, some with the heads of old 8mm cameras, and others a rusted axe head. Behrman's favorite piece is a two foot tall seahorse made from old transmission gears from a Honda welded with spark plugs and a big rig rocker.
"I have a buddy who rebuilds diesel engines so he gave me a bunch of these rockers. And I buy the gears from a factory that's going to scrap the old gears from transmissions when they rebuild them. I lay out the pieces in various ways and then put them together. Each one is different though."
One of the most impressive booths featured Raku pottery. Raku comes from an ancient Japanese tradition. The pots are thrown on a wheel and then fired to about 1,800 degrees. After it cools various glazes are applied and then the pot is heated again to about 1,900 degrees.
The Raku pots are then placed in a container filled with paper or wood shavings which catch fire before the pot is sealed.
The process creates a metallic-looking pot.
Among the booths there was a station for children where they could create art of their own. Paintings hung on a clothesline as kids showed off their creations.
Another highlight was Harvey Erdle's Mimbres ceramics. Mimbres pottery is considered the pinnacle of Native American ceramic art according to Erdle. It features geometric designs in black and white. The style was popular from around 1000 to 1250 A.D.
Redlands resident Diana Roth said she looks forward to the festival every year.
"Art should be celebrated and I love that Redlands agrees," she said. "The talent you see here is amazing, perfect timing too as I have bought some Christmas gifts for friends."