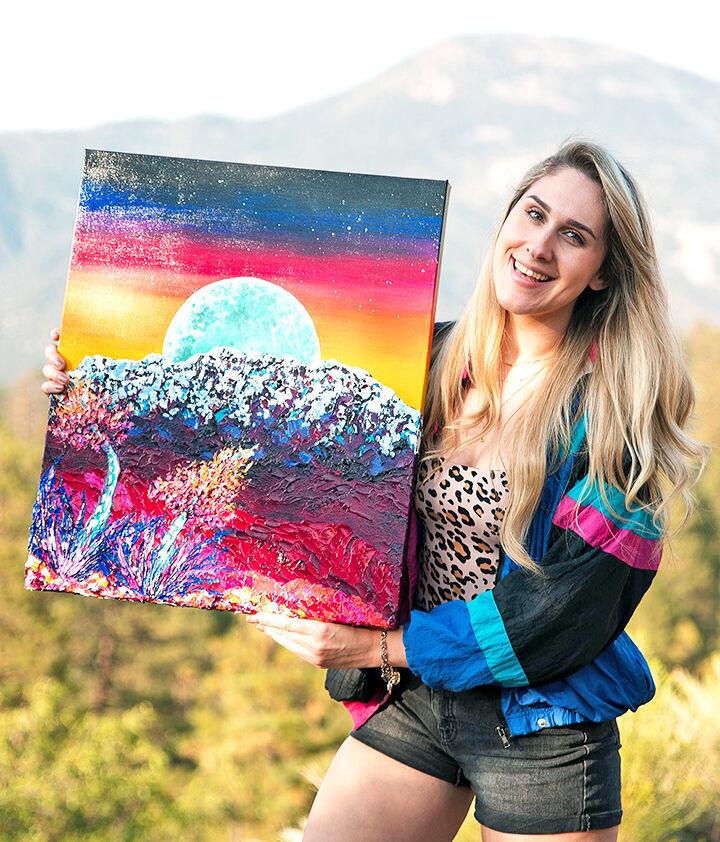 In September, visitors are being greeted at the Redlands Art Association with paintings of highly vibrant and textured dreamscapes with natural and cosmic imagery by artist Ashley Wright.
She is one of the newer members at the gallery and a quickly emerging young artist.
"My paintings have varying styles that create unique stand-out dreamscapes that give you a sense of comfort and warmth while also giving you a sense of unease," she explained. The juxtaposition is her way to bring awareness, advocacy and education about complex post-traumatic stress disorder.
Born and raised in Redlands, Wright began painting in her senior year of college. She earned a bachelor's degree in music at the University of Redlands.
"I took a painting class for the first time, and I haven't stopped painting since then," she said. That was three years ago.
"My paintings are visually inspired by the natural landscapes of Southern California, 1980s and '90s nostalgia, and sci-fi artwork," she said. "I am surrounded by the beautiful San Bernardino National Forest, Joshua Tree National Park, Santa Rosa Wilderness and the Angeles National Forest. These natural landscapes have played a huge part in my life and continue to inspire my art."
She has a passion for raising awareness around mental health.
"Each painting is a peek into how my mind perceives the world while struggling with dissociation, derealization, depersonalization and maladaptive daydreaming," she said.
Her biggest accomplishment so far was selling an original painting internationally to Finland via the Fine Art America website. This fall, her art is not only featured at Redlands Art Association, but also at Los Angeles Art Association's online exhibition: CHESTNUT and Menduiña Schneider Gallery in Los Angeles: 6th Salon of Painting.
The featured show with Ashley Wright and Rod Buell will run through Friday, Oct. 8 at the Redlands Art Association gallery.