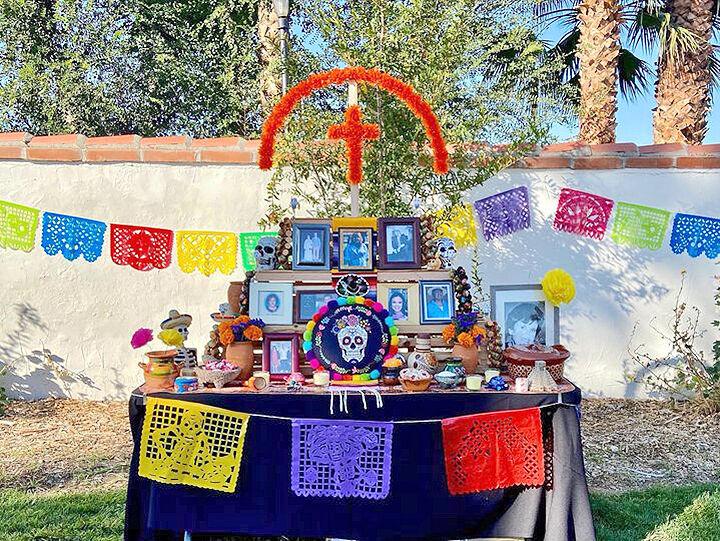 From noon to 7 p.m. on Saturday, Nov. 5, and Sunday, Nov. 6, the Asistencia will host a Dia de los Muertos celebration. In 2021, the Asistencia held its inaugural Dia de los Muertos celebration.
The event was well-received by the community, so this year it will be expanded to a two-day event.
Dia de los Muertos is a Mexican holiday that honors ancestors and deceased loved ones with altars called ofrendas. The creation of this table may include photos of the deceased, favorite foods, or objects used or beloved by them.
If you would like to participate in this ritual to honor your loved ones, you can reserve an ofrenda via Eventbrite. The purchase of an ofrenda includes use of a 6-foot table and black tablecloth. You and your family will be allowed to decorate the ofrenda prior to the event.
The Asistencia will have entertainment from Ana Gonzalez de Jorgenson, Los Romeros and Ballet Folklórico Cultural. The Asistencia asks participants to support by making a donation, volunteering, reserving an ofrenda or a corporate sponsorship.
Contact Heather Ross (info@redlandsconservancy.org) to coordinate or for any questions. All funds raised at this event will go toward the Asistencia's operations and restoration. The Asistencia has a long list of projects that need attention, so visitors can continue to enjoy the 200 year old landmark.
A.K. Smiley Public Library will host a Dia de Los Muertos event on Tuesday, Nov. 1. From noon to 3 p.m., there will be live music from Los Plateados Mariachi and Paty Luevano, a free lunch and family activities at Smiley Park. There will also be a genealogical research assistant at the event.
From 6 to 8 p.m., there will be a special program featuring ofrendas in the Contemporary Club, next to the library. There will be remarks from Dr. Rosa Gomez, Eloise Gomez Reyes, Mauricio Arellano, Socorro Contreras and Dr. Jenna Cortez Aguirre. There will also be performances from Ana Gonzalez de Jorgenson and St. Mary's Ballet Folklorico.
This event is free and open to the public.
Mock skulls, colorful altars, copious amounts of food, lively music, poetry, costumes and ga…
The A.K. Smiley Public Library will host two Día de los Muertos celebrations of love and res…