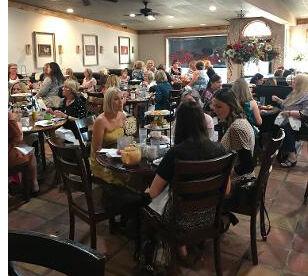 Angels' Closet's 11th annual tea party fundraiser will be a "Tea to Go" event from 4 to 6 p.m. on Wednesday, Sept. 30, Thursday, Oct. 1, and Friday, Oct. 2 at Martha Green's Eating Room.
Tickets are $35 per boxed tea with sweet and savory treats from the bakery and are available through Eventbrite. Donors are encouraged to purchase tickets early. Physical distancing will be required at pickup.
"The quality and quantity of food will be consistent with our tea events from the last decade except it will be packaged in a special box ready be picked up on the day you choose," Angels' Closet leader Pat Williams said in an email. "What a fun evening for you, your family, and your friends to be able to share a tea in the comfort of your own home — prepared especially for you by Martha Green's."
Raffle tickets at $5 per ticket or five tickets for $20 will be available for sale at the time of the pickup. Items for the raffle will be on display at Martha Green's.
Angels' Closet is nonprofit organization that provides clothing, shoes, socks, toiletries and underwear to high school and middle school students. It has helped more than 3,300 students and its mission continues during the pandemic.
"It has been a challenging time for all of us and to be able to continue serving the students has been of primary importance to Angels' Closet," Williams said. "Even though they are not currently in classes, basic clothing remains a need."
Martha Green's Eating Room is at 107 E. Citrus Ave., Redlands.
For more information on Angels' Closet, visit angels-closet.org, email Pat Williams at angelscloset08@aol.com or call her at (909) 794-7967.