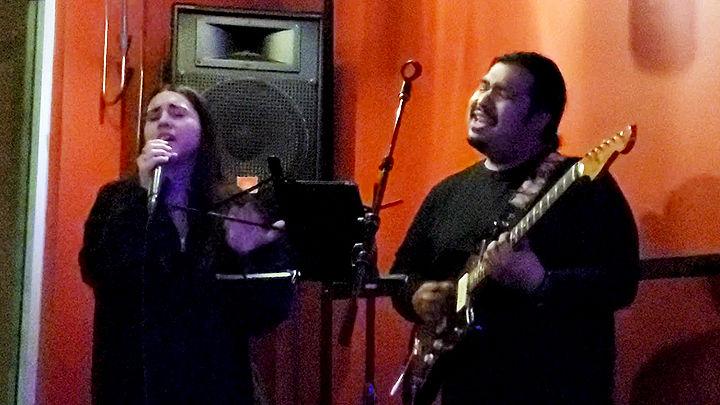 The Redlands area as a creative community is so vibrant in the arts and culture, that it hosts unlikely avenues for finding great live music.
This fact is no better exemplified than in the Andrew Sandoval performance at La Volata Pizzeria that was scheduled for Saturday night.
Sandoval is a familiar presence in the local art and music scene.
Having performed in Redlands at events such as the Festival of Arts and a few casual local spots such as Hangar 24. To back up his musical prowess, he is a graduate of the Berklee College of Music in Boston — a highly acclaimed school which has produced a long list of grammy award-winning songwriters such as Gillian Welch, Quincy Jones and Trey Parker.
Examples of the musical skill and mastery he has honed over years of songwriting and live performances can be easily found online in original songs such as "Temporary People" and "La Llorona."
Sandoval's tone and musical stylings walk that razor-sharp edge of being both uniquely relaxed but yet still electrifying at the same time.
He pulls off this balance without falling into the abrasive tendencies and dull tones that often trap less skilled musicians.
As a live venue, La Volata Pizzeria fits Sandoval's style like a well-made cannoli. This somewhat secret culinary haven has been producing both authentic Napolese wood-fired pizza and edgy culinary delights for years.
This spacious, yet still strangely intimate, foodie-gem sits off the normal beaten path of downtown restaurants, and in the most unlikely spot right off the highway on Ford Street.
The high ceilings of this artful venue mingle both the reverberating musical tones of its bi-monhtly performances, with the wood-fired essences of its intensely delicious menu of plated food and kaleidoscope of incredible Napolese style pizzas.
The only strong suggestion before Sandoval's performance is that you jump on making reservations at La Volata immediately.
If your focus is to directly experience his music ask for a place at a booth, spaced out tables or high stools in the bar area.
If ambience and conversation is on your menu of experiences try sitting in the area near the imported Italian pizza oven. From there you can easily talk with friends or watch the magic happening in the oven and the kitchen at the same time.
The cover charge at the door? There isn't one. The long line outside? Maybe, but only if you didn't heed the advice.
There is truly nothing that makes living life more worthwhile than surrounding it with beautiful music and excellent food.