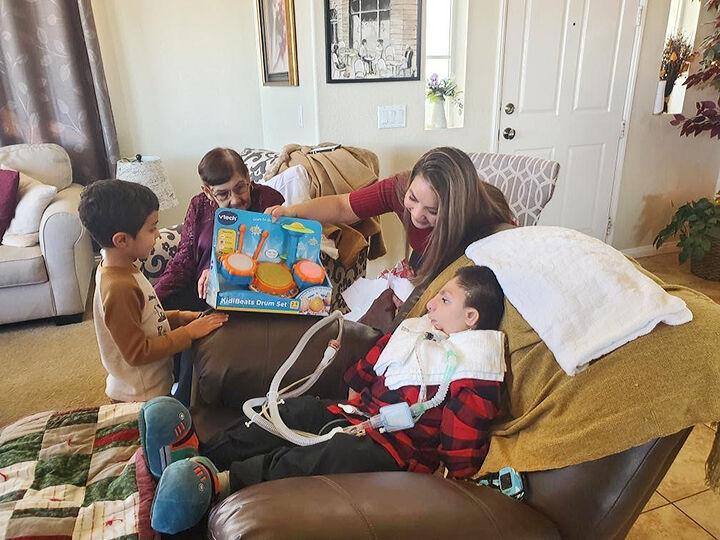 American Medical Response (AMR), Redlands Operations, was able to grant a Christmas wish this year to one pediatric patient — 9-year-old Edgar, a quadriplegic who is ventilator dependent.
He is a resident of Children's Subacute Center at Community Hospital of San Bernardino. Edgar had the opportunity to go home for a few hours on Christmas Day to spend time with family.
AMR has participated in Home for the Holidays for more than two decades. However due to COVID, AMR has been unable to provide this special Christmas wish until this year. While spending time with family is a tradition for
most, for others, it can be complicated without the resources of medical professionals.
AMR is partners with Children's Subacute Center to make this special visit happen.
Ramon Paez, a transport respiratory therapist for AMR's Redlands Operations in San Bernardino County, has earned the nickname "Uncle Ramon" with many of the children's residents at Children's Sub-Acute. Perez offered to come in on Christmas Day to take Edgar home to be with family. Ramon, along with crew members Emergency Medical Technicians (EMT), Edwardo Rodriguez, and EMT Jovvany Medina, took Edgar home. Edgar was happy and smiled several times. Edgar's family was appreciative to be able to spend some quality time with Edgar in their own home on Christmas Day.
Paez, CCT-RT, described it, "a pleasure to provide this charitable. I love seeing the family being able to interact with the patient in a home setting. The joy in his mother's eyes when she opened presents with her son in their home was so pure, it warmed my heart."
Natalie, Edgar's godmother, shared how great the experience was to have Edgar home on Christmas with his family.
"Everybody was so happy, including Edgar's mom, Laura, to be able to have Christmas together," Natalie said. "Edgar enjoyed being home seeing familiar faces. He was so calm and peaceful and enjoying the moment," Natalie said. "The team that brought Edgar home, especially Ramon who knows Edgar very well, were extraordinary and did such an excellent job of taking care of Edgar. Thank you for everything!"