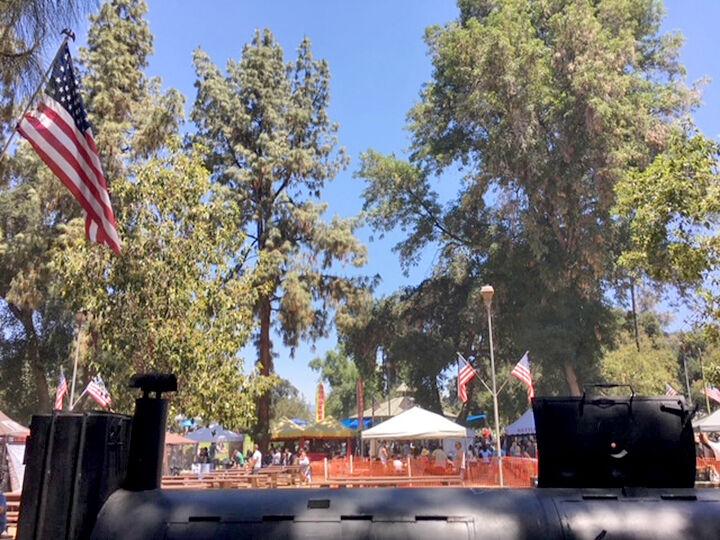 Traditional Redlands Independence Day activities in Sylvan Park will once again be celebrated this year after being canceled last year because of the COVID-19 pandemic.
Headlining the festivities will be the Redlands 4th of July Band under the direction of Curtiss Allen Jr. and a new feature, the Red, White and Blue Children's Parade. The 50-member band will honor our nation's independence beginning at 11:45 a.m. on Sunday, July 4, with the parade stepping off during the band's intermission at about 12:45.
The Sylvan Park celebration will complement the aerial fireworks display to be launched from the Moore Middle School athletic field at 9 p.m. Sunday, said Tim Murone, who heads up the nonprofit Redlands 4th of July Committee, presented this year by the San Manuel Band of Mission Indians.
The fireworks launch site and nearby neighborhoods will not be open to spectators, Murone said, but will feature larger shells that will shoot higher, making the fireworks display visible from most parts of town. The fireworks show along with music by the 4th of July Band will also be on You Tube, with a preshow beginning at 8 p.m.
In the late afternoon, there will be flyovers by various aircraft as in past shows. The planes and times will be announced in the Redlands Community News and on Facebook.
Live music
The 55th Sylvan Park celebration will be much like in past years, said George Barich, who once again is chairing the festival's planning committee. Hours will be from 9 a.m. to 5 p.m.
"Our goal is to present an event where people can have fun at no cost or very low cost while celebrating our nation's independence," he said.
In addition to the 4th of July Band concert and the children's parade, The District 909 Band will provide live music from 11 to 11:40 a.m. and from 2 to 5 p.m. The Great Y Circus will feature jugglers and other ground-level performers at 3 p.m., and the Boy Scouts of America will conduct flag ceremonies. Other features will be announced in coming weeks.
Barich said all Sylvan Park plans are subject to the governor and the state lifting most COVID-19 restrictions in the governor's expected announcement next Tuesday. "If that does not happen, we would have to cancel the Sylvan Park plans. However, the fireworks would continue as planned," he said.
Kids Zone
The Kids Zone will have activities such as face painting, wall climbing, slides and a goldfish booth for a small fee. The Boys Scouts and other organizations will have booths, games and displays providing for an entertaining and educational environment at no charge. The Sunrise Rotary Bookmobile will be present offering free children books.
Food and drink
Food and beverage booths will feature items such as burritos, tamales, tacos, barbecued tri-tip and pulled pork sandwiches, burgers, brats and corn dogs, Chick-fil-a sandwiches, kettle corn, ice cream, funnel cakes and Italian ice.
Other booths will have items for sale or will offer free information about their organizations.
Some picnic tables in Park Section A and C will be available, but families are urged to bring their own blankets or chairs for eating and watching the stage activities.
A beer garden will be operated again by the Sunrise Rotary Club from 10 a.m. until 4 p.m.
Children's Parade
The Red, White and Blue Children's Parade is a new event for kids 12 years old and younger.
The kids may have decorated bicycles, tricycles, wagons, strollers or other children's vehicles as long as they are not motorized. Costumes are urged. Pets are not allowed. Children age 6 and younger must have a parent walking with them. Children 7 to 12 must have a parent present in the park.
Uncle Sam will lead the parade along its half-mile route totally within the park. Parade monitors will be stationed along the route to offer assistance if needed. The parade will begin and end near the playground equipment at Chapel Street and High Avenue. All participants will receive recognition for completion of the parade.
More information about the Sylvan Park festival will be published in the Redlands Community News, which is the media sponsor of the event. It will also be posted on the RedlandsFourthOfJuly.com website and on Facebook, Murone said
The committee
The Redlands 4th of July Sylvan Park Committee is a subcommittee of the longtime presenter of the fireworks and other activities. It is chaired by George Barich, who has headed the Sylvan Park subcommittee for past 12 years. Other committee members are Curtiss Allen Jr., Shelli Stockton, Jim Nolin, Jerry Bean and Marilyn Bean.
The committee is seeking community donations to help pay expenses of about $10,000 for the Sylvan Park event. Donations may be made on the committee website listed above or mailed ­to 278 Tennessee St., Suite 12, Redlands 92373.
Gerrard's Market, 705 W. Cypress Ave., is selling 4th of July T-shirts for $20 to support the events. ­T-shirts for this year and for past years will also be on sale on July 4th at the Redlands 4th of July Committee booth in the park.