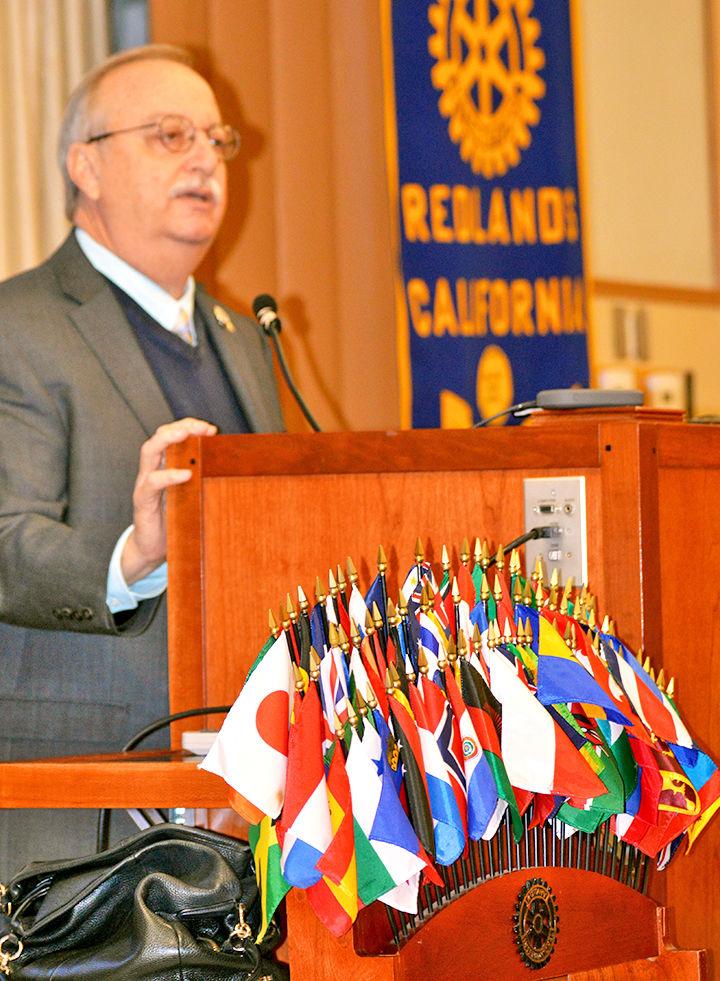 Measure G will provide the city of Redlands a "buffer from the state's heavy handedness on housing development," said Mayor Paul Foster told the Rotary Club pf Redlands on Thursday, Feb. 6. It is imperative that voters support the divisive measure, he said.
"I did not want to present a divisive bill to the community, and frankly this one is, but there is no way to avoid this issue," said Foster.
In the state's Legislature there are two primary topics on the agenda, housing and homelessness, and almost all of the 28 housing bills approved and signed last year take away some form of local control. SB 330 directly impacts Redlands, said Foster.
SB 330, signed by Gov. Gavin Newsom last year, eliminated the locally approved initiative that provided a 400 unit per year cap.
According to the bill, SB 330 imposes a ban on raising housing fees, establishes a 12-month timeline for processing all housing permits and caps the number of public hearings for new housing development.
Foster said that in the past the new housing goal was about 2,200 residential units and Redlands never had trouble meeting it.
The goal for the next five years, yet to be officialized, is between 4,000 to 5,000 houses, double the usual, he said.
Foster said another bill, SB 50, which came short three votes of passage, would have taken away all the remaining controls in measures N, R and U. However, "that is still going to happen," he said.
"There will be a housing production bill dropped on the residents of California by the time this legislation ends," he said.
"This is how it ties to Measure G. My goal had been that we will have the ability to guide our own path for a couple of years if SB 50 passed and now anything like SB 50.
"To do that we have to get rid of these three existing measures, if we don't the council is confined to sitting on its hands waiting until the state comes and tell us what to do."
Foster said that if the city does not meet the transit oriented developments then it will have to build sprawl and if the city does not have enough space it will have to rezone from commercial to residential, and agricultural to residential, with the risk of losing open spaces.
"We will have no choice," said Foster. "I'm not trying to scare anybody. I'm not even trying to change your minds."
Foster said that the City Council will honor the results and will not try to impose another measure.  
Without Measure G, the Redlands Mall cannot be developed, proponents argue.
In fact, the council has the power to approve any project at the mall in its current condition, but no development company would want to invest the amount of money needed to prep the place for construction, he said.
"First of all, the Redlands Mall is on Measure G. Secondly, you can build on the site with a four-fifths vote, but there is a huge but," Foster said.
"You can't build more than a couple of stories. That site is a very substandard site.
"If a developer could build a successful mixed use project on that site, it would already be done.
"It doesn't pencil out when you are paying $15 million to $20 million for the site, then you gotta come in and buyout the lease at CVS or relocate them, millions of dollars, you have to buyout the lease with Denny's, and the bank and the mattress store, another big sum of money.  Then you have to demo the building, you have to raise the property a little because it is in a floodplain, so an immense engineering task. So in theory before you even pound the first nail you got $30 million to $35 million more on the site, and you haven't even started the project."
Foster said it would take millions more to do the full design and the engineering work and all plans that have to be approved.  
"You can't build a two-story project or even really a three-story project on that site and have it be profitable," he said. "That's why it has not been done."