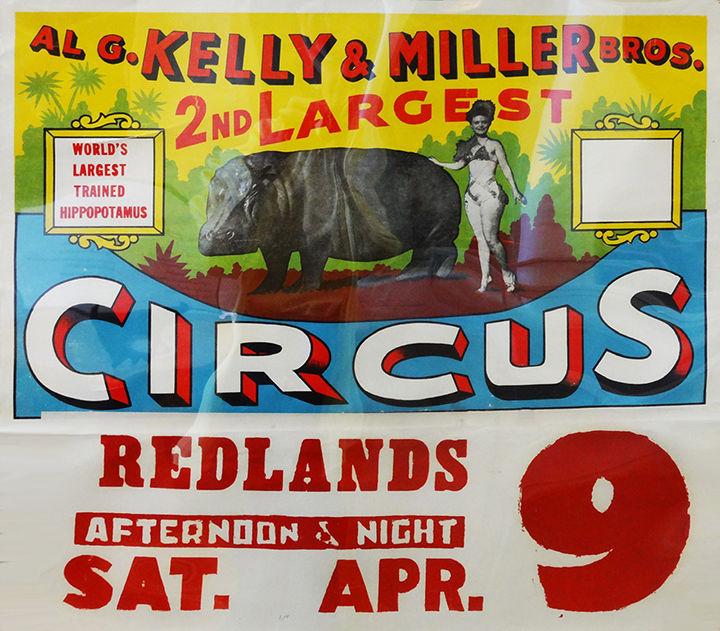 Multiple posters advertising circus performances in Redlands constitute some of the more eclectic artifacts that reside in the Museum of Redlands' collection.
Circus shows that stopped in Redlands as part of their transcontinental circuits were all the rage. On the posters, massive red block-print letters announce the Al G. Kelley & Miller Bros. Circus in 1960 while a close-up of a laughing multicolor clown, mouth agape, proclaims the coming of the Big Strong John Circus performance in 1976.
An elephant's trunk curls around the "C" in "Circus" on the poster for the Al G. Kelly & Miller Bros. advertisement — a nod to the establishment's ownership of 21 elephants. Claiming to be the second largest circus touring the country in 1960, Kelley & Miller Bros. transported its 450 circus employees and hundreds of animals in 65 trucks with 45-foot semi-trailers.
Besides elephants, other animals that would have performed comprised of giraffes, lions, bears and tropical reptiles. "Miss Oklahoma," supposedly the only trained hippo in the world at the time, was a star in the show. She reminded longtime circus fans of Lotus, a trained hippo that performed in Redlands in the 1930s with the Al G. Barnes Circus.
Local press from the era urged kids to greet the circus crew as they arrived on-site at the lot on West Citrus Avenue and New York Street to watch them pitch an enormous, air-conditioned tent with a seating capacity of 5,000. Redlands crowds watched a series of trapeze, acrobatic, and trampoline acts unfold during the show. The same year, the circus pitched its tents across the state in cities like Los Angeles and Santa Cruz.
Just over a decade after the Kelly & Miller Bros visited town, the Big John Strong Circus hitched their big top on New York and State streets. The 3,000-pound elephant, Baby Neena, helped mount the five tons of canvas for shows in 1974 and 1976. Though slightly smaller than the Kelley & Miller Circus, the Big John Strong Circus was certainly fast moving and far from short on diverse, colorful acts.
A famous German and Italian family of performers dazzled audiences with unsupported ladder and equestrian acts. Live Wire, Eddie Spaghetti and Mr. Meatball the clowns juggled and performed magic. From goats to gibbons, show-goers were privy to witnessing impressive drills and skits by rare animals. Tickets sold at $2.50 for children and $4.50 for adults.
Several performers from the YMCA Circus joined the Big John Strong Circus on its seventh  transcontinental tour.