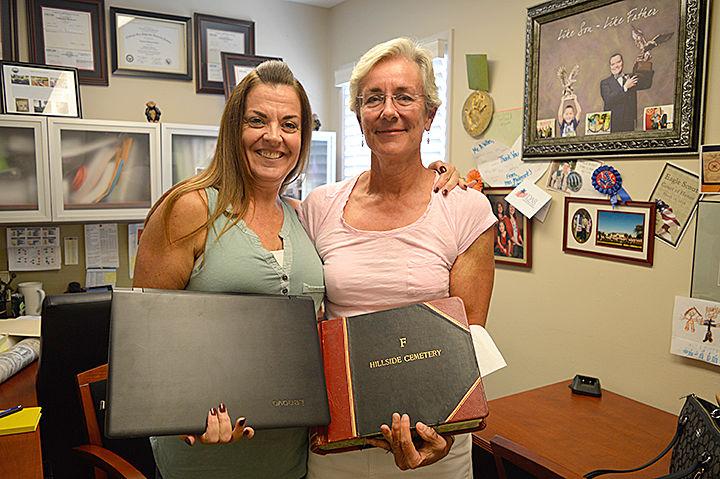 One by one, the names of almost 7,000 deceased people were digitized at Hillside Memorial Park in Redlands by a handful of volunteers, a painstaking task that took two-and-a-half years to complete.
On Friday, Aug. 2, Julie Lamoureux, and Carol Dyer, the two remaining volunteers who digitized the name Alice MacKrell two-and-a-half years ago recorded the name Madelene Anderson Starnes, who died on Dec. 16, 1976, at age 73, into a spreadsheet document.
 "For some reason, a whole book with records from 1975 to 1996 was missing from the digital records. So what we did was protect those records by transcribing them into a computer memory," said Carol Dyer, volunteer.
The massive task was undertaken by members of the Redlands Area Historical Society, an organization that has as main purpose to support and to advance the area's historic resources.
Leslie Irish, head of the group, managed the volunteers and the meticulous process. Once a week, the ladies spent at least two hours transcribing the information from paper to digital.
Armando Valles, general manager at Hillside, said that eventually people would have access to these records by a click of a mouse. Meanwhile, the different digital records need to be reformatted into one, he added.
"Throughout the years, many people have volunteered to transcribe the names and they all used different formats. As an accountant, I like backup copies. We need backup copies," said Valles.
The book in its original state includes the names of 6,936 people, their ages, dates of birth, dates of death and in some instances cause of death.  Because of privacy issues, causes of deaths could be omitted in the public records, Valles said.  
The black and red book with an F inscribed at the top went back into a vault where the cemetery protects its valuable and irreplaceable information.
The digital technology is allowing families to reconnect with family members, and ever since the introduction of smart phones, instant communication is available.  Smart phones and technology can also help families learn more about the deceased. As technology advances, cemeteries across the country are slowly accepting the idea of coding tombstones so that people could leave messages for their loved ones and even record stories.
Quick Response (QR) codes, which typically contains information about the item to which is attached, could give people a look back at the life of a departed individual. Digitizing is the first step. Hillside is far from installing QR codes, but is in the forefront of protecting records.