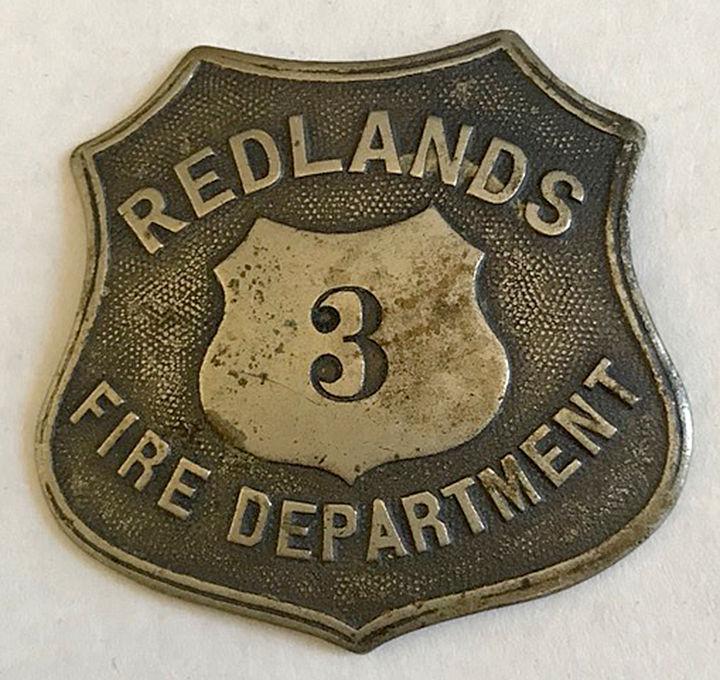 The Museum of Redlands recently received a Redlands Fire Department badge owned by Howard Fletcher. Sometimes an item from the past raises more questions than it answers. This is one of those.
Howard Louis Fletcher (1892-1973) was partner with his younger brother Edward "Ted" Fletcher as owners of a wood products manufacturer, the Fletcher Corp., started by their father. Fletcher mills supplied the decorative trim for many of Redlands' early homes and their products were widely known in Southern California. Their planing mill at Fifth and High streets was torn down in the 1980s to make way for the Vons/Trader Joe's plaza on Orange Street.
Howard Fletcher's obituary states that he held membership No. 1 in the Redlands Volunteer Firemen's association, "having been dedicated to this group more than a half century."
Fletcher's family believed that the badge was from the original volunteer Redlands Fire Department.
Howard was not yet born when that brigade formed in 1888 and it is not clear whether the members of the Redlands Volunteer Firemen's association were active firefighters or a civic support group for the department.
Was the badge worn by Howard as a volunteer firefighter or did he collect it as a tie to the past?
It makes sense that the owner of a wood products manufacturer would take an interest in the activities of the local fire department.
It is unclear when Redlands converted from all volunteer to all professional firefighters. It is also unclear whether there was an overlap when both types of services were utilized. Perhaps volunteers were organized under the umbrella of the Redlands Volunteer Firemen's association. A look through a sample of Redlands City Guides does not find a listing for this organization.
In any case, Howard Fletcher was an interesting fellow. He served in the U.S. Army during World War I. As an avid collector of rocks and minerals, he was a charter member and former president of the Orange Belt Mineralogical Society, and was active with the Yucaipa Shell club and the International Wood Collectors' Society.
Perhaps a reader will know about the Redlands Volunteer Firemen's Association or the origins of this badge and contact the Heritage Room with more information at (909) 798-7632.
Museum of Redlands matching donation drive
To donate Redlands-area-related historical items: Contact the A.K. Smiley Public Library Heritage Room at (909) 798-7632.
$2 million matching campaign drive: The Museum of Redlands is in a $2 million matching-fund capital campaign drive by the deadline of Dec. 31, 2019, for renovating its building at 700 Brookside Ave.
Information: theMOR.org.