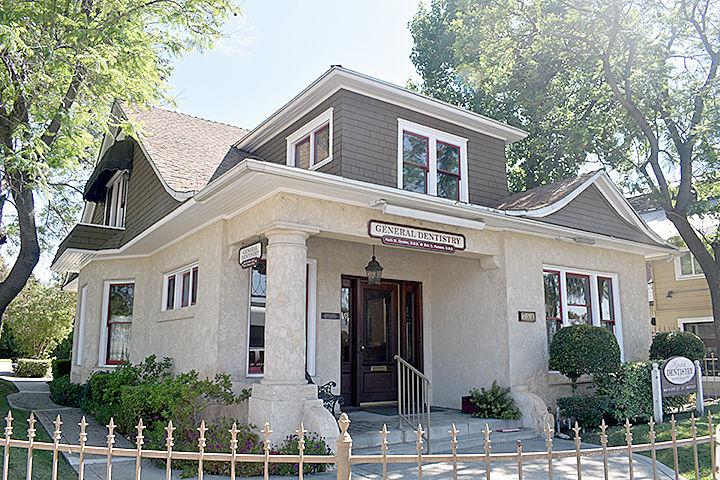 To demolish and build new, or not to demolish: that is the question faced by owners of some old buildings in historic Redlands where many old buildings still grace the downtown streets.
Adaptively reusing an old building has significant benefits for the owner, as described in an earlier article.
The process benefits the entire community, as well.
For the community, adaptive reuse gives a "there" there, a sense of Redlands being its own unique place, looking distinct from other communities.  
"Think about the neighboring communities that are less that 30 years old: can you picture each one separately, distinguish one from another?" asks Redlands Conservancy Executive Director Sherli Leonard. "Then think about what Redlands looks like — what buildings come to mind? Barton House? Olive Avenue Market? Santa Fe Depot? Mitten Building? Burrage Mansion?
"Every one of these buildings has been or is being adaptively reused, thus giving Redlands its distinctive look, not to mention higher property values."
Many of the businesses along Brookside Avenue, the stretch between Citrus Avenue and Barton Road, are in buildings that were residences. These cottages have been adaptively reused for dental, medical and insurance companies.
Dr. Mark Gorden, a founding member of Redlands Conservancy, still has his dental office in an adaptively reused cottage that he shares with his business partner. Dr. Gorden started the conservancy's Adaptive Reuse Award program, and has said that his patients appreciate the comfortable and inviting qualities of the cottage.
Some adaptively reused buildings have become destinations on their own, thus attracting the valued customers.
For example, the Honda Yamaha of Redlands Building at Seventh Street and Redlands Boulevard was built as a packinghouse in the early 1900s. When owner Tony Raley and architect Gary Stegemann began to design the renovation for Raley's motorcycle dealership, they kept the big elements that were distinctive for early 20th century packinghouses, specifically, the north-facing clerestory windows, the wide open floor space and original floors.  
"Raley has said that customers often come to his store just to see the building itself," said Leonard.  
Dr. Terry Vines, a local dentist, has been a major proponent and practitioner of adaptive reuse, starting with his reuse of a Victorian house on Vine Street across the street from the A.K. Smiley Public Library many years ago.
He converted this building, which was built as the first Redlands Hospital, into his dental offices. Later, he adaptively reused the Pure Gold office building on Brookside into his dental offices, and he purchased the historic 1867 Barton House from the city to reuse for offices.
He also relocated two large houses from Redlands Hospital property and restored them to sell as residences.  Making good use of fine old buildings has been a regular strategy for Dr. Vines, and Redlands has benefited.
Redlands Conservancy created a walking tour of the adaptively reused buildings in the downtown area and a driving tour of the areas beyond the downtown. An electronic version of the tour is available on the website, redlandsconservancy.org.
"Redlands is fortunate to still have a stable of old buildings that can be adaptively reused, and to have a community that places a high value on adaptive reuse," said Leonard.