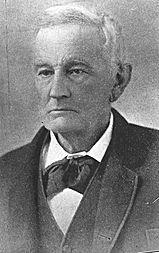 1858: Ben Barton builds his first home in the future Redlands on Barton hill.  He builds a winery and expands the vineyard to 80 acres.
George Crafts buys land for his brother, Myron Crafts, in East Valley.   
1859: Ben Barton plants 60,000 vines and xpands the original Tenney vineyard.
Lewis F. Carpenter plants Crafton vineyard.
1861: James W. Waters sells land to Ben and Eliza Barton between Texas and Church streets for $800.
George Crafts sells 450-acre Crafton land to Myron H. Crafts.
First water suit of Old San Bernardino vs. "Upper Settlement" Crafton farmers over Mill Creek Zanja water rights.
1865: Charles Mathew Lewis, sheepherder for Ben Barton, builds a hut to watch over sheep on the future Kingsbury corner.   In 1881, Robert Morton expands the hut for his home.