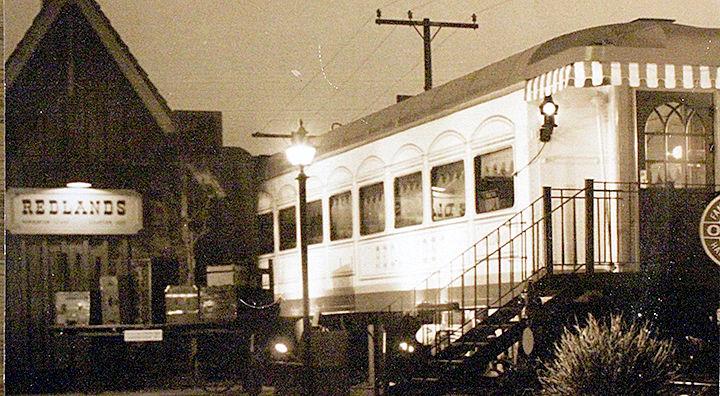 Last summer, the Museum of Redlands accepted a selection of Railroader Restaurant menus.
Father-son Harold and Reginald Winter joined forces in fall of 1969 to establish the first Railroader Restaurant in Redlands at 1615 Industrial Park Road.
The family restaurant consisted of a newly built depot accompanied by a restored caboose, dining car and freight car mounted on real tracks. Taken together, the cars were originally equipped to accommodate 42 customers as they enjoyed breakfast through dinner — from about 11 a.m. to 10 p.m. daily.
Bright red and black interior décor signified an intentional emulation of the Pullman Palace Car Co.'s famed Delmonico Dining Car.
The Railroader frequently advertised "Famous Malts & Hamburgers also Omelets and Dinners," in local papers. After a year of observing the restaurant's success, the owners signed new leases for Railroaders in Riverside, Pomona, Claremont and San Bernardino. The undertakings reportedly cost $125,000 to construct and $150,000 to equip per unit.
"Something Different!" announced an ad in the San Bernardino County Sun, "A new concept in dining out for the whole family! Dine in a real railroad car!"
The illustrated menus lend insight into popular culinary tastes and railroad jargon. Line graphics and snappy descriptions of hamburgers, super malts and three-egg omelets dominate the content -- meals such as "The Coal Burners Omelet" and "The Cinder Cruncher" hamburger never exceeded $2.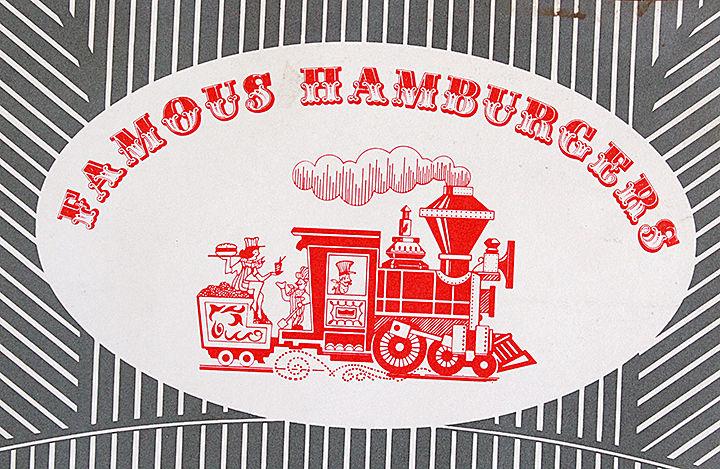 Meanwhile, the junior menus shaped as conductor masks or striped engineer headgear with adjustable head straps, reminiscent of Burger King paper crowns.
The menus appealed to their readers via fun facts:
"Cornfield meet," slang for head-on collision.
And "Inder cruncher," a switchman.
"Snoozers," for sleeping cars.
"The Coal Car," a chocolate sundae for  children 12 younger for 30 cents.
In his 1972 Redlands Daily Facts daily "With a Grain of Salt" column Frank Moore mused, "Perhaps Redlands will become sort of famous as the town where a great chain of Railroader restaurants started, just as San Bernardino is known as the founding place of McDonald's hamburger heavens."
History, however, has a mind of its own, and ultimately disproved Moore's optimistic hypothesis.
One unexpected and unlucky visit headlined by the Redlands Daily Facts as the "railroader break-in" occurred in 1976 when burglars kicked their way through a car's roof and swiped a $200 Coca-Cola advertising mirror.
Three years later, the Railroader Food Co. filed for reorganization. Reginald Winter listed debts of more than $700,000 to 244 creditors and assets of more than $900,000 in the company's bankruptcy filing.
The Hemet, Claremont and Riverside sites were the first to be sold. The Redlands site fell vacant soon thereafter, and the 1984 sale of the San Bernardino site brought an end to the company's five-year reorganization. By 1985, all railroader cars had been auctioned off, and the restaurants had closed for good.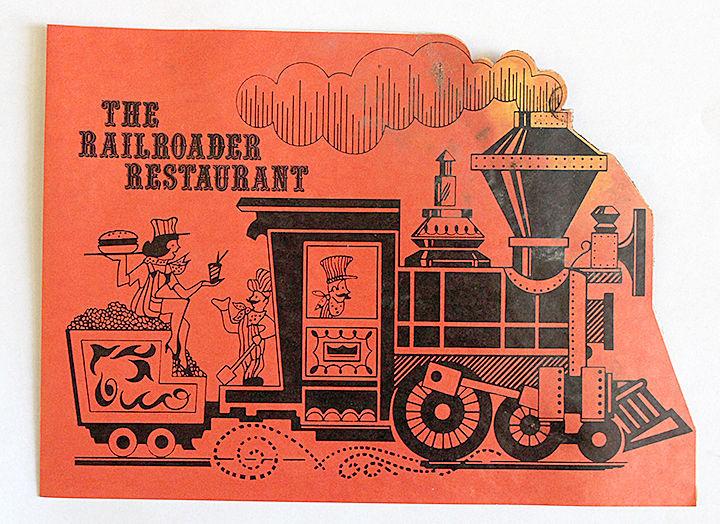 Though their Railroader Restaurant vision did not persist into the 21st century, the Winters…