In celebration of 150 years of the Smileys at Mohonk Lake, New York, and 125 Years of A.K. Smiley Public Library, 90 Redlanders, family and friends descended upon Mohonk Mountain House June 7-14.
Mohonk, which is now in the fifth generation of family leadership, is an amazing testament to the creativity, values, and stewardship of the Smiley family.  Beginning in 1869, Albert K. Smiley, with his identical twin brother Albert, opened a summer resort on the lake that quickly grew in popularity.  When Alfred left to create a resort at Minnewaska Lake only a few miles away, their 27-years-younger brother Daniel came in to help manage the operation.  
The Mountain House was expanded several times, with the last major addition of guest rooms completed in 1902.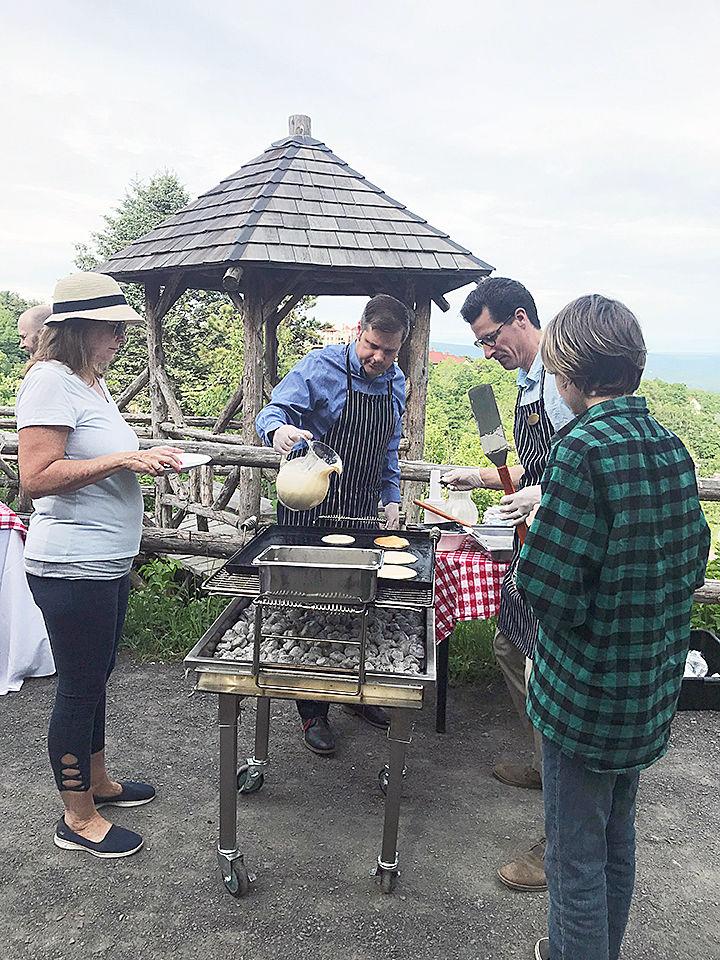 Redlands directly benefitted from Mohonk with the arrival of the twins in Redlands in 1889. They, along with Daniel, brought important values of education and philanthropy, as well as an awareness of the necessity for beauty in the natural and built environments for the soul.  
They, along with their contemporaries, created the library and Family Service Association, as well as contributed to other important early endeavors, setting the bar of expectation for involvement and philanthropic support for future generations of Redlanders.  It has been joked that while the Smileys made their money at Mohonk, they spent it in Redlands.
Led by Larry and Char Burgess, Shelli Stockton, and Nathan Gonzales and Todd Loza, and joined at Mohonk by Smiley Brothers CEO Tom Smiley, his cousin Eric Gullickson, president of Smiley Brothers, and Eric's wife Robyn Gullickson, the group was treated to exciting opportunities commemorating not only the milestone anniversaries, but also the special relationship that the two places, separated by some 3,000 miles, share.
First-time Redlanders to Mohonk may have been surprised to see large, historic photos of Redlands lining some of the hallways, and images of the Smiley family, so familiar to Redlanders, in their New York settings.
As part of the celebration numerous programs were developed specifically for the group. Two different historical programs were given by Burgess and Gonzales, complete with a sing-a-long of "Put Me Off at Redlands", written in 1915 and dedicated "to the Smiley Brothers, who did so much for Redlands"; an evening of films from the late-1920s and 1930s of generations of Smileys at work and play at Mohonk and Redlands was hosted by Pril Smiley; staff conducted special behind-the-scenes tours of the brand new $19 million kitchen project, the engineering systems, the Greenhouse, and the Daniel Smiley Research Center; lectures were delivered by writer James Fallows and David Yarnold, president of The Audubon Society; and daytime excursions travelled to Hyde Park, the Mohonk Preserve, Huguenot houses in New Paltz, and the walking bridge over the Hudson River at Poughkeepsie.  
The putting tournament, a longtime Mohonk tradition, was resurrected just for the Redlands group, with siblings Jim Gerrard and Gail Rice taking the best combined score for the championship trophy and medals, and Betsy Heinze demonstrating her skill with the best individual score.  
At the signing party for Larry Burgess's new book "Mohonk and the Smileys: A National Historic Landmark and the Family that Created It," Smiley Library board president Bill Hatfield presented proclamations from the library and city of Redlands to Mohonk in honor of 150 years of stewardship. Rounding out each day was a cocktail party followed by plentiful dining options.
It may sound counterintuitive, but visiting Mohonk provides Redlanders the opportunity to gain new insight and understanding for their own town's fascinating history, imparting a deeper and more sophisticated understanding of Redlands and the people who created it.
Nathan D. Gonzales, PhD, is an archivist and head of special sollections A.K. Smiley Public Library.