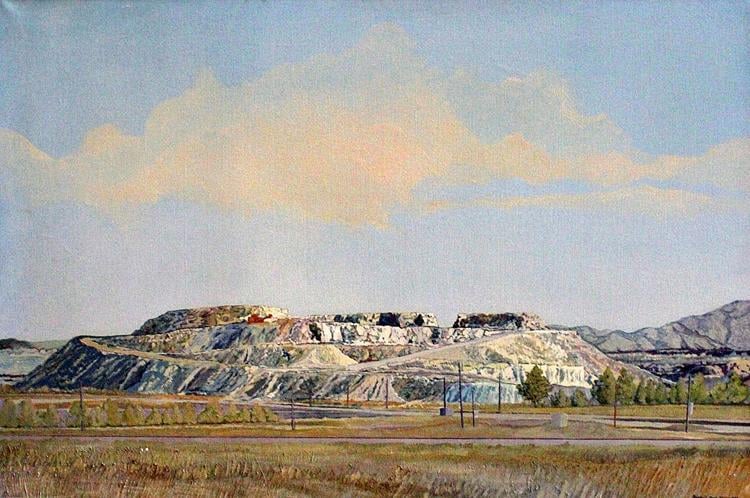 The 1979 oil on canvas painting "Slover Mountain," by Marshall Davis Taylor is one of the largest in the Museum of Redlands collection.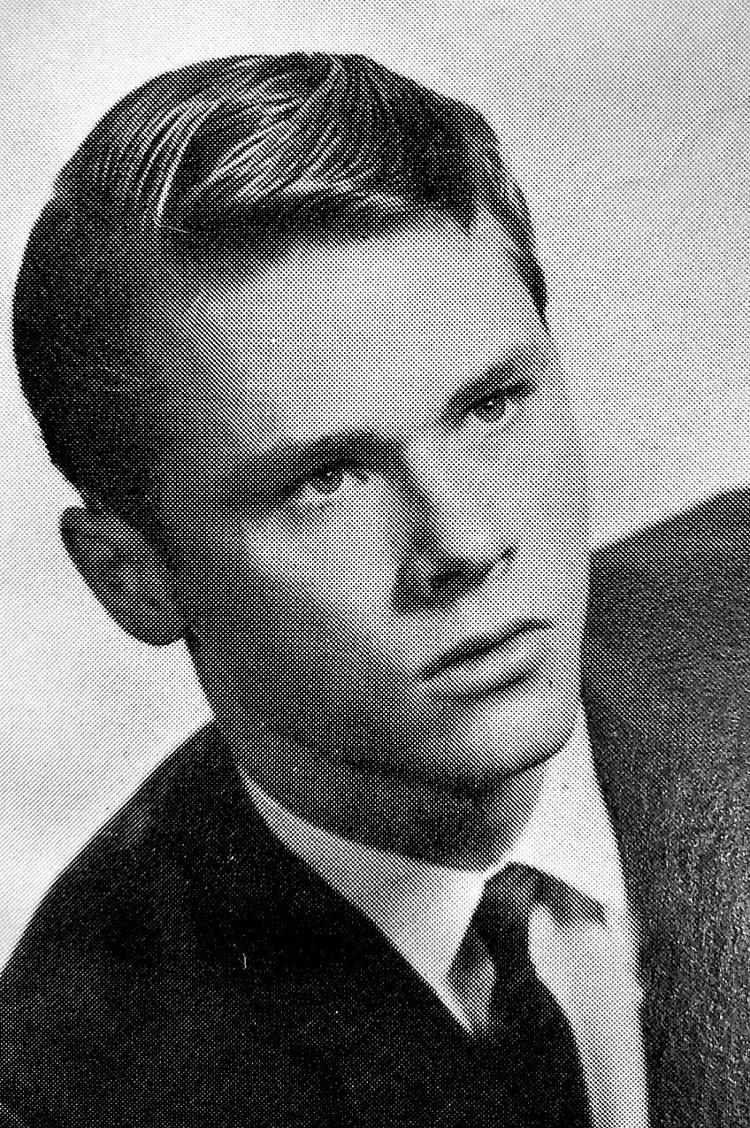 Taylor proved to be an artist prodigy at an early age. During his senior year at Redlands High School in 1966, Taylor racked 43 awards at the annual Chepulechi fine arts awards program. From jewelry to figures in collage or oil still life, the teenage Taylor collected awards for nearly every artistic medium and style.
Post-graduation, Taylor continued to produce and display artworks in Southern Californian galleries. In the 80s, artistic institutions in Los Angeles, Palm Springs, and Riverside advertised his mixed media and abstract collages.
Produced slightly before these aforementioned shows and measuring a whopping 52-by-36 inches, this artwork presents as strikingly curious in terms of size and subject matter.
Seemingly an ordinary landscape at first glance, Slover Mountain possesses an intriguing history — perhaps it was this trait which caught the artist's attention as opposed to strictly its physical appearance.
The former mountain's namesake hails from Isaac, also known as Cristobal, Slover. The Kentuckian beaver trapper and grizzly bear hunter settled in a cabin near what was then known as Cerrito Solo (Lone Peak) as early as 1842 to pursue his passion of bear hunting.
The same year, Judge Manuel Dominguez from Los Angeles climbed to the top of that peak to survey the land including Colton, San Bernardino, Yucaipa and Redlands on behalf of the Mexican government.
When Slover died of a bear attack at Cajon Pass some years later, Cerrito Solo was dubbed Slover Mountain by fellow trappers and locals.
Originally looming 510 feet tall at the time of its "discovery," in the mid-19th century, Slover Mountain has since reduced to a hill of no more than 200 feet in height.
Beginning in 1881, groups of men from Riverside quarried marble from Slover Mountain. Six years later, California Marble Co. employed 45 men across three quarries to produce limestone and varieties of marble — white, grey, sea green, light blue, and even rare black.
This black marble came to adorn Redlands mantels, along with staircases and wainscoting at the Academy of Sciences building in San Francisco.
By 1894 the California Portland Cement company took over the manufacture of hundreds of thousands of cement barrels that eventually formed Redlands sidewalks and the Hoover Dam, as well as paved some Los Angeles streets.
Thus, these early endeavors signal the genesis of one of the most long-lasting and large-scale industries in San Bernardino County.
In a series of articles from a Redlands Daily Facts column titled, "With a Grain of Salt," authors Frank and Bill Moore made frequent mentions of Slover Mountain. Oftentimes, their tone rang nostalgic and melancholic with a twinge of bitterness as they lamented the steadily disintegrating landmark.
"When you catch the Slover mountain out of the corner of your eye, speeding along the San Bernardino freeway toward Colton, you have the impression that its days are numbered," they wrote forebodingly in a 1961 article.
To donate Redlands-area-related historical items: Contact the A.K. Smiley Public Library Heritage Room at (909) 798-7632.
$2 million matching campaign drive: Today, Feb. 14, is the final day of the $2 million matching-fund capital campaign drive for the renovation of the Museum of Redlands building at 700 Brookside Ave.
Information: theMOR.org.